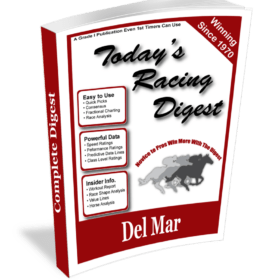 Whether you are new to handicapping or a seasoned professional Today's Racing Digest's 50 plus years of rich robust analytics, artificial intelligence, data science, and boots-on-ground experience will give you the help you need to cash bigger tickets more often by uncovering overlooked value often missed by the rest of the betting public.
The following Top 10 Handicapping Angles for Del Mar will help you focus your handicapping efforts so you can quickly rule out likely false favorites while uncovering overlooked contenders that can payout big!
1) Look For 2-year-olds With Trainers that Like To Win "First Time Out"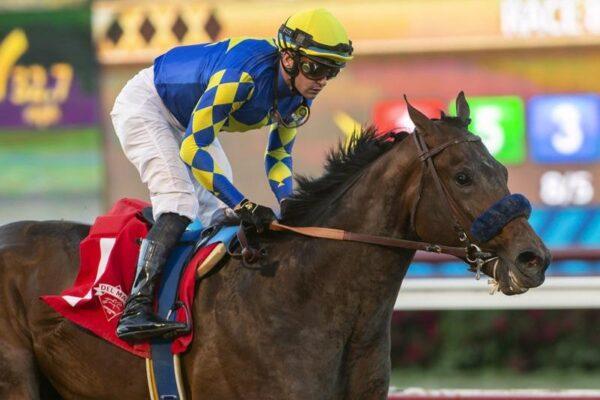 Summer is often the time when owners and trainers like to show off their youngsters and see what kind of talent they have. You might remember several promising 2-year-old's such as Charm, Songbird and yes, even Triple Crown winner American Pharoah all making their debut at Del Mar!
The trick with handicapping 2-year-old's is knowing which trainers tend to try and win first time out and which typically prefer to give their rookies a start and tighten the screws for start #2.
If you are following the races closely day in and day out you probably already have a good idea of which trainers excel in which conditions; however, if you're like most of us with day jobs and other life responsibilities we need a better more efficient way to identify trainer patterns.
The Digest's Curated Trainer Stats Shows You Only The Relevant Trainer Stats You Need To Know
Today's Racing Digest race sheets are specifically designed to save you time by only showing you the trainer statistics that are relevant and important in today's race. Now you can quickly compare each trainer's performance records for any moves they might be making in today's race.
Quick Tip: bolded trainer stats indicate a better than normal performance.
In the example below, looking at the Digest's Race Sheet Horse Info Box we can see that Newgate debuted for a trainer that wins with 31.2% with first time starters in straight Maiden races. The colt also has solid win-early breeding (16.4%) and he won his debut July 30, 2022. Look for a combination of strong trainer and sire stats when handicapping 2-year-old Maiden races to help you find those 2-year-olds that are ready to win.

Digest Pro Tip: Today's Racing Digest exclusive Workout Report provided by our on track workout analyst, gives you an insiders look at the true fitness and ability of each horse which can be especially helpful with 2-year-old's at Del Mar and other lightly raced horses.
In the example below from the Digest workout report, Newgate was given a positive analysis prior to his winning debut race that was also listed in bold suggesting this horse owns plenty of talent.

2) Resist Playing Favorites Unless You Can Find An Advantage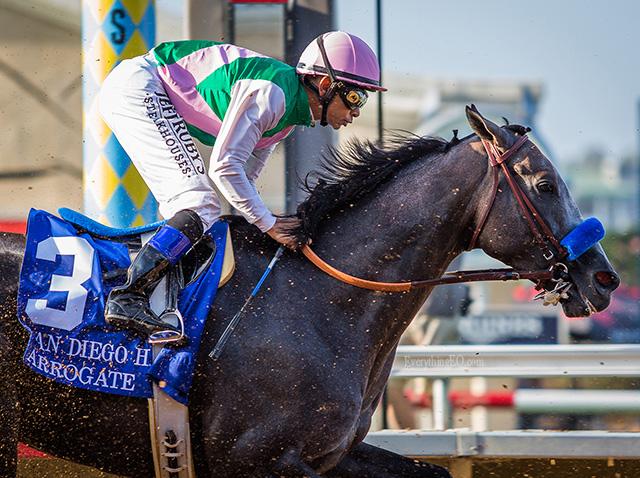 Historically, favorites win about 33% of the time not only at Del Mar, but for tracks across the country. While a 33% win ratio isn't a bad win percentage it is bad on your bankroll. Profitability studies show that consistently betting the favorites over the long-term will result in a flat bet loss. The reason for this is often the payout on the favorite is lower than their true chances of winning even if it is 33% of the time. However, there are certain conditions where favorites have had a strong advantage or where they have had a tough time winning.
Knowing which race conditions to bet against a favorite can give you a big advantage at the window.
The "Digest" Race Sheets make it easy for you to understand how often a favorite wins in each race by giving you the winning percentage and the percentage in-the-money (1st, 2nd or 3rd) for favorites in each race.
In the example from the Digest Race Sheets below, favorites have won 28.6% of the time in these type of races and finish in the money (1st, 2nd or 3rd) only 42.9% of the time. The favorite in this race was Mackinnon who finished 4th. Not only did he not win, he didn't finish in the money (1st, 2nd or 3rd). This was a race where the favorite was likely vulnerable. The second favorite won the race and was chased home by a pair of longshots producing a nice Trifecta payoff of $1,648!
3) Know Which Horse Is a "Horse For The Course"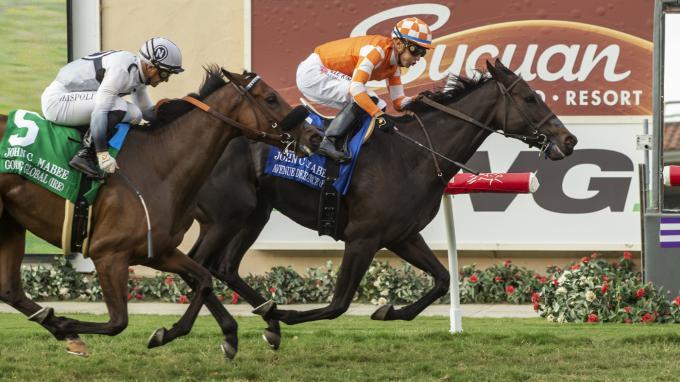 Del Mar is known as the track "where the turf meets the surf" and there are some horses (and trainers) that really perk up when running at the seaside track. Whether it is past success or repeat winners during the meet, pay close attention to these type of horses that improve their form when racing at Del Mar over the dirt or turf.
Look for horse's with a high percentage of in-the-money finishes in today's race conditions
The Digest Race Sheets makes it easy to quickly identify a "Horse For The Course" with the easy to use Horse Records that give you how each horse has performed over the Del Mar track at today's race distance and surface.
In the example from the Digest Race Sheets below, we can see that Avenue De France has started seven times routing over the Del Mar turf course winning twice, with one 2nd and four 3rd's. Judging from that record, Avenue De France seems to run well at Del Mar and would seem to merit attention when racing in a turf route at Del Mar.

4) Find Horses With a Running Style That Gives Them An Advantage In the Race
Most horses have one particular running style early in the race. The speed at which the race is run (pace scenario) tend to favor one horse's running style over another. How a race is run early often dictates which horse will prevail at the finish line. At Del Mar, horses with early speed that race on the main track (dirt) typically have a huge advantage. During last year's summer meet early speed was winning 74% of the time in dirt sprints and 75% in dirt routes.
Compare the running style of each horse with the track profile for that race to know which horses have a pace advantage.
In the header box in the Digest Race Sheets our expert handicappers tell you what type of running style each horse is expected to run in today's race. You can compare each horse's running styles with the track profile section showing you the percentage of times each running style has won today's particular race.
track profile section of the Digest Race Sheets you can find the percentage of times each running style has won today's particular race.
In the example from the Digest Race Sheets below, there were 17 races at this distance, frontrunners (F) have won 47.1% of the time. If you look in column 7 PER, you can see that Go Joe Won is a frontrunner. Go Joe Won seemed to have an advantage based on past results and in fact he did go on to set the pace and held for a win paying $28.20 on Aug 4, 2022.
5) The Ocean and Tides and The Effect On Del Mar's Track Bias
There are more than a few horseplayers that believe the ocean tide plays a large part in how the Del Mar dirt track can help favor early speed or late-runners. We can't say for sure if this is true, but we've seen enough days at Del Mar with strong bias's that we wouldn't rule it out either!
Whether you believe the tide patterns from the local beach affect the main track or not, there figures to continue to be days with strong track bias. If you are not familiar with it, a track bias is when a racing surface favors a particular running style of position on the track. Historically at Del Mar a faster inside part of the track tends to favor early speed horses while a faster outside part of the track favors late running horses.
Find horses that raced against a bias last time out as they may have been better than looked on paper.
You can easily identify any race bias in a horse's previous by looking at Today's Racing Digest's race sheets in the TRK BIAS column. (see example below) We note the type of bias (O = outside, I = inside, F = speed bias, L = late runner bias) as well as the strength of the bias on a scale of 1 to 3, with 1 being a mild bias and 3 being a dominant bias.
In the example from the Digest Race Sheets below, Basame Mucho showed early speed over a track with a strong bias (F2) on June 19 2022. He did finish 2nd, but by over eight lengths . This horse had a favorable track bias to race on and he still didn't win. This may be a horse to bet against in its next start. As we expected, Basama Mucho next raced on Aug 18, 2022 and finished 7th at 4/1.
6) Look For "Fresh" Horses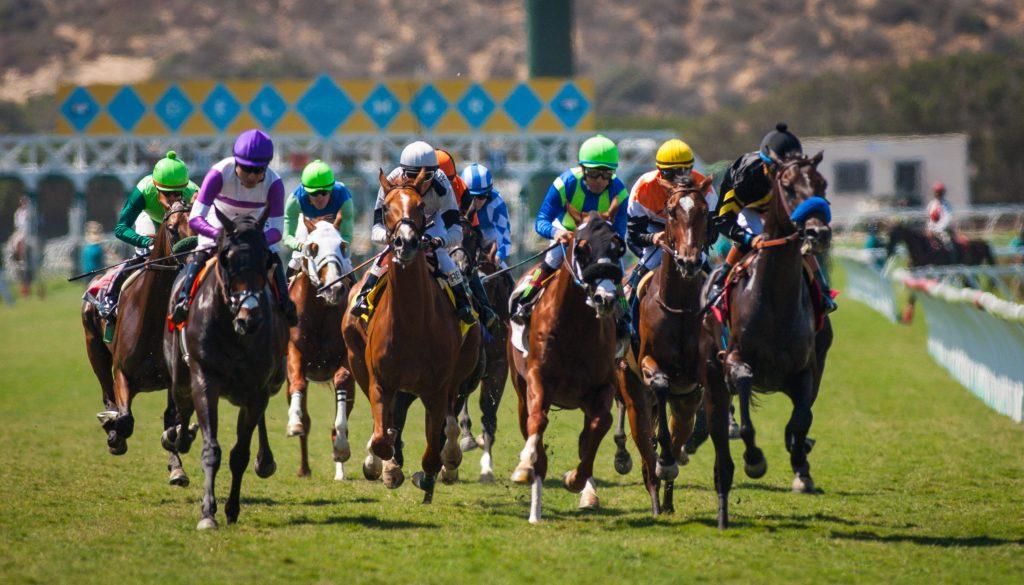 Everyone seems to want to win at Del Mar and trainers who are very good with layoff horses can be dangerous. Owners love those Del Mar winner's circle photos and some tell their trainers to wait to run there.
Curated Trainer Stats helps you easily identify trainers that do well with layoff horses
In Today's Racing Digest's race sheets you can find these layoff horses in each horse's data box under trainer stats "90+" which means at least a 90 day layoff since its last start.
In the example from the Digest Race Sheets below, P.D'Amato has a 20.0 win percentage with horses that haven't raced within 90 days. The trainer stat will be bolded if it is a noteworthy result to pay attention to. The example, also shows that with 90+ day layoffs he has had 210 with 42 wins, 25 places, and 31 shows.

7) Take Advantage of the Larger Pick 4 and Pick 5 Pools
Looking for a large payoff? The Del Mar Pick 4 and Pick 5 can pay off in the thousands for a single bet that can cost you as little as $0.50. The Early Pick 5 (first 5 races) at Del Mar also offers their lowest takeout rate at 14% which can help improve your expected return.
If your short on time the Digest Quick Picks are like the "Cliff Notes" for today's races
If you're short on time or don't have a strong opinion in a race the Digest's Quick Picks can help. The Quick Picks is kind of like our "Cliff Notes" for the Digest where our staff of expert handicappers summarize their analysis for each race in on easy to read page. In addition to top choices, main threats, and long-shot plays for each race Quick Picks also gives you betting strategies and suggested multi race bets.
For the Pick 5 tickets, you can find the cost of the ticket on the top of the Quick Picks page. Use all the horses in bold when placing the ticket together. The Digest Pick 4 suggested tickets can be found on the bottom of the Quick Picks page listing the horses we like to win in each race along with the cost of the ticket.
Pro Tip: Rumor has it that race tracks tend to build race cards with difficult to predict late races in hopes of "forcing" a carryover to a busier weekend day and/or important stakes race day. This gives the tracks tools they can use to help market those busier race days and drive handle up thereby increasing the tracks revenue. As a handicapper, if you find yourself scratching your head while trying to fill out the last part of your horizontal exotic wagers it might behoove you to hold off a day and save that bankroll for tomorrows carryover.
8) Look For a Small Stable to Employ a Big Name Jockey
A great rider and an accomplished trainer can't win on a bad horse. However, "good" horses can be beaten by a jockey's poor decision or by a trainer who has a hard time cinching up a saddle correctly. Let the record guide you in this area. Throw out horses trained by trainers who have a low percentage of wins or are in ongoing slumps. Just as professional athletes in all sports go into slumps, so do trainers and riders. The more they lose, the more they think and the more they think, the more they lose. That's just the way it is.
A winning angle to look for is when a small stable employs a big name jockey such as Flavien Prat or Juan Hernandez. These two jockeys often have plenty of options to choose from especially for the bigger stables like Bob Baffert or Pil D'Amato. But when they ride for a lesser-known stable that just might signal the confidence a trainer has in his horse's ability to win.
Find Jockey Trainer combinations that have a history of winning together
The Digest Race Sheets make it easy to find and compare jockey/trainer performance records allowing you to quickly uncover those trainers who might have a high confidence in their horse's ability to win in today's race.
In the example from the Digest Race Sheets below, Peso debuted on July 24, 2022. He was ridden by Ricardo Gonzalez and finished 11th. In his next start, trainer Bob Baffert employed a "go to" rider in Juan Hernandez. They previously won nine times from 24 starts together along with five 2nd's and six 3rd's. Peso is likely well meant in this race and he did win Aug 18, 2022.

9) Look For Value In the Vertical Exotics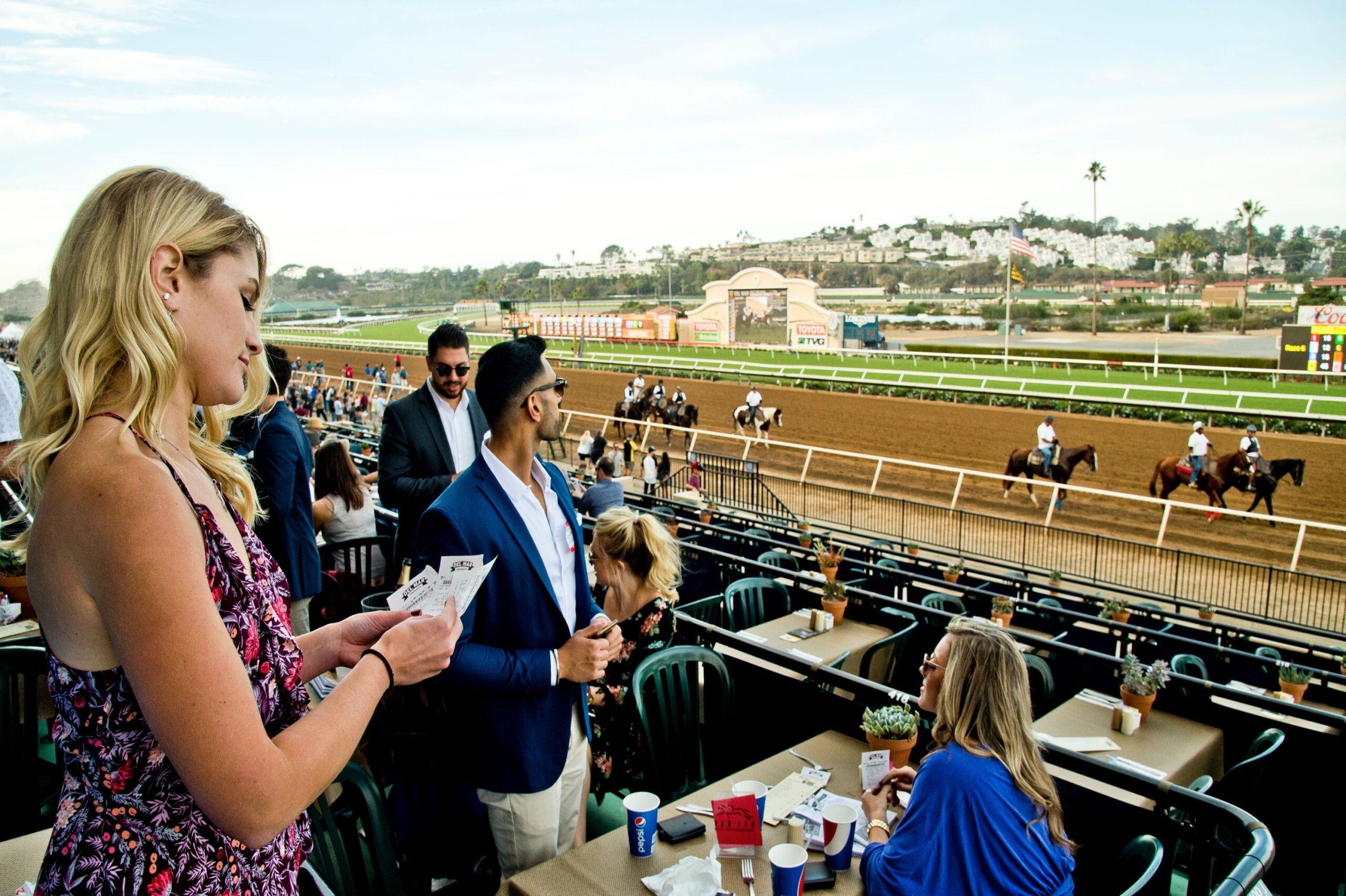 Many owners love to have their picture taken in the Del Mar winner's circle and the popularity produces the largest average field size in California. This can also lead to a lot of races where a favorite stands out and it is too low to just wager it to win. You might want to try to handicap which horses will finish 2nd, 3rd or even 4th and wager on one of the vertical exotics (exacta, trifecta, superfecta)
Look for horses that chart within five lengths of the winner.
The Fractional Charting is a good way of looking for possible higher-odds horses that may have a chance of finishing 2nd or 3rd. It can also help you find those long-shots that can hit the board giving you those boxcar payoffs. Look for horses that chart within five lengths of the winner (one second) and use them to help fill out the second, third and fourth slots of a Trifecta or Superfecta wager. In addition, with $.50 minimum Trifecta and $.10 minimum Superfecta wagering available, you can spread your tickets deeper by adding a longshot or two for less money.
In the example from the Fractional Charting below, Box Of Chocolates won this race Aug 18, 2022 at 3/1. Keying Box Of Chocolates on top for the Trifecta with the other seven contenders paid $179.00 for a $21 wager ($.50 minimum). The Fractional Charting is one of the first pages you will see in the Complete Digest.
Pro Tip: Rumor has it that when a Turf Route shows up at Del Mar many in the DMTC's Executives offices will run to get their Digest's Fractional Charting to see who charts on top to help guide their win bets.

10) Take Advantage of the "Claiming Game"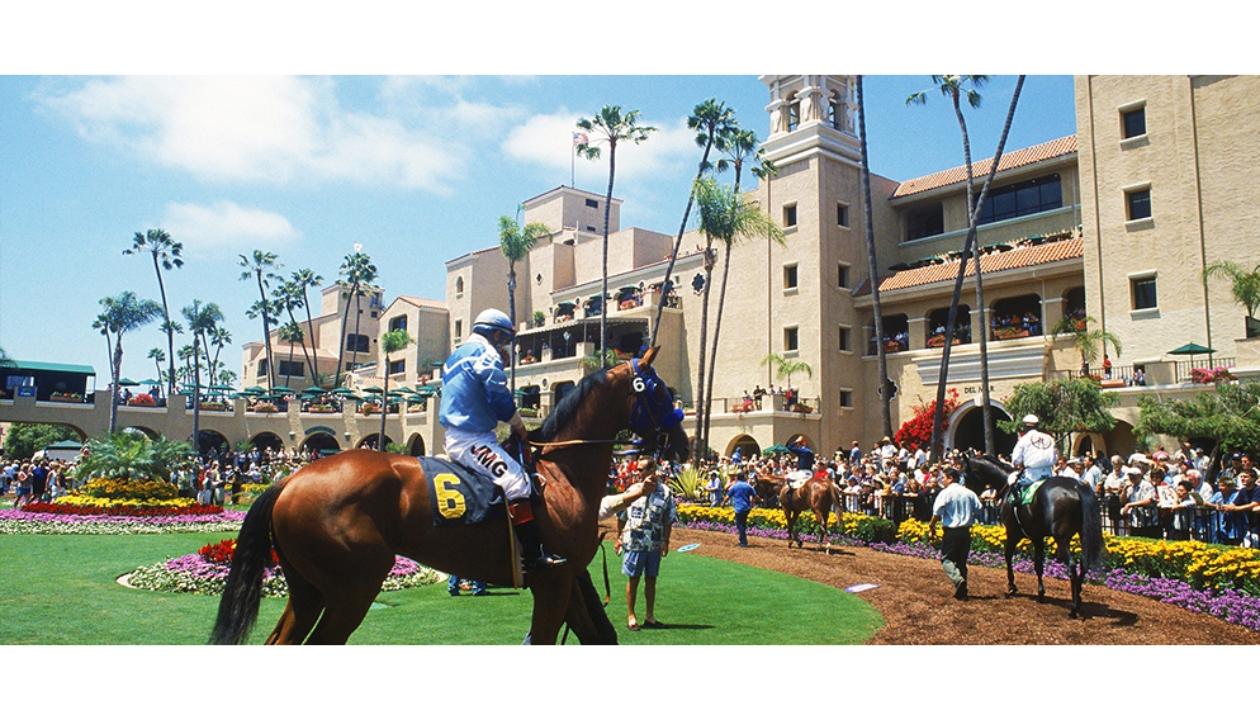 As mentioned above, it seems everyone wants to win at Del Mar and there will be more than a few horses that will change stables after being "claimed" by another owner. A claiming race is basically an open sale for all runners at the listed price before the race starts. Some trainers can win often first time off a claim while others it might be second time out.
In the example from the Digest Race Sheets below, Jewelofakid was claimed in her last start May 19, 2022. We know this as there is a "C" at the end of her Data Lines for that race (all the way at the end on the right). Trainer Robertino Diodoro claimed her that day and he wins at a 22.0% clip first off the claim. That is a very good percentage and Diodoro is an active claiming trainer with 369 claims listed in the Trainer Stats. Jewelofakid did win off the claim on Aug 4, 2022. Use the 1ST CLM and 2ND CLM Digest stats to your advantage to see which trainers do very well off the claim and those that don't.