Bet and Win Like a Pro with Today's Racing Digest's Top Picks
Published every race day since 1970, our easy to use horse racing tip sheet gives your our top selections, main threats, long-shot plays and betting strategies from each edition of Today's Racing Digest.
Try Quick Picks For Free

| Track | Price | Sat 30th |
| --- | --- | --- |
| Santa Anita | FREE | |
The Digest's "Cheat Sheet" for Today's Races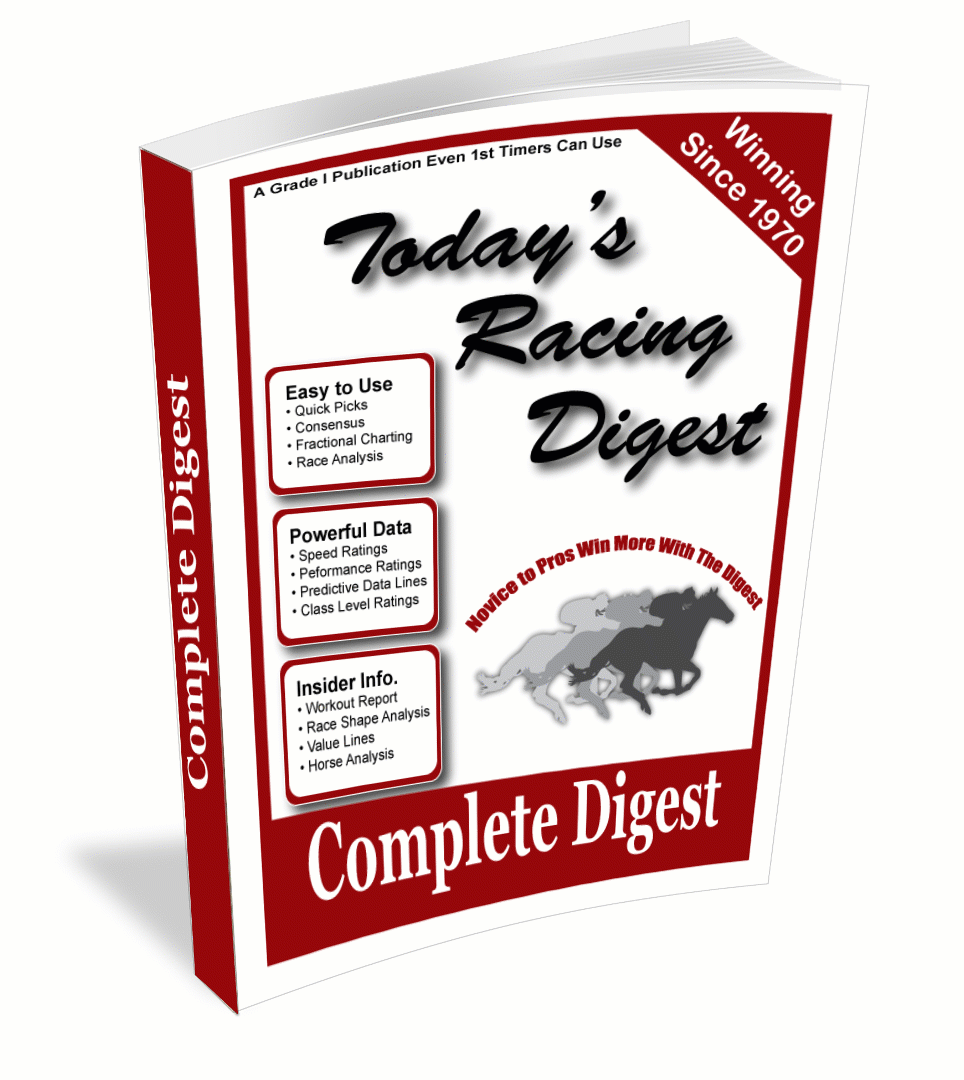 Quick Picks is one of the most popular Today's Racing Digest's products and is included in the Complete Digest or can be purchased individually by track.  Quick Picks are put together by Today's Racing Digest's team of expert handicappers after they have analyzed all of the data and information written the analysis and have made their final decisions on how the race will be run. This means you get the experience, knowledge and value of everything found in Today's Racing Digest in one easy to use page.
Quick Picks are helpful as a stand alone tip sheet or used combination with your own handicapping or already favorite tip sheet.   Quick Picks can help when you are not sure that you picked the right horses to win or you want to confirm that you have accurately identified the contenders and main threats on today's card. It's also the perfect product if you're new to handicapping and you need a quick and easy way to determine where to place your bets. The Digest's Quick Picks is a quick and easy way to sort this all out.
Handicappers Who Love Quick Picks
Gotta tell ya, Fast Figs is a main tool that I utilize alongside Method Horse II. Together, I am able to isolate the main contenders in a given race. I'd be a different handicapper without it. Thanks you guys!
R. Williams
(customer since 2009)
"Congratulate the handicapping team on the OUTSTANDING job they did today, especially in the Travers and on the Del Mar card."
A. Alaoui
(Customer since 2010)
"I have been using the Racing Digest since the 70's. It helped me win a Pick 9 at GG on a $2 ticket in 1988 for $114,000. "
P. Dummel
(customer since 1974)
An Easy To Use Tip Sheet That Will Make You a Winner
Get Today's Racing Digest's recommended best picks and betting strategies for each track.
Winning Horse Racing Picks and Wagering Strategies in an Easy-To-Read, One-Page Report.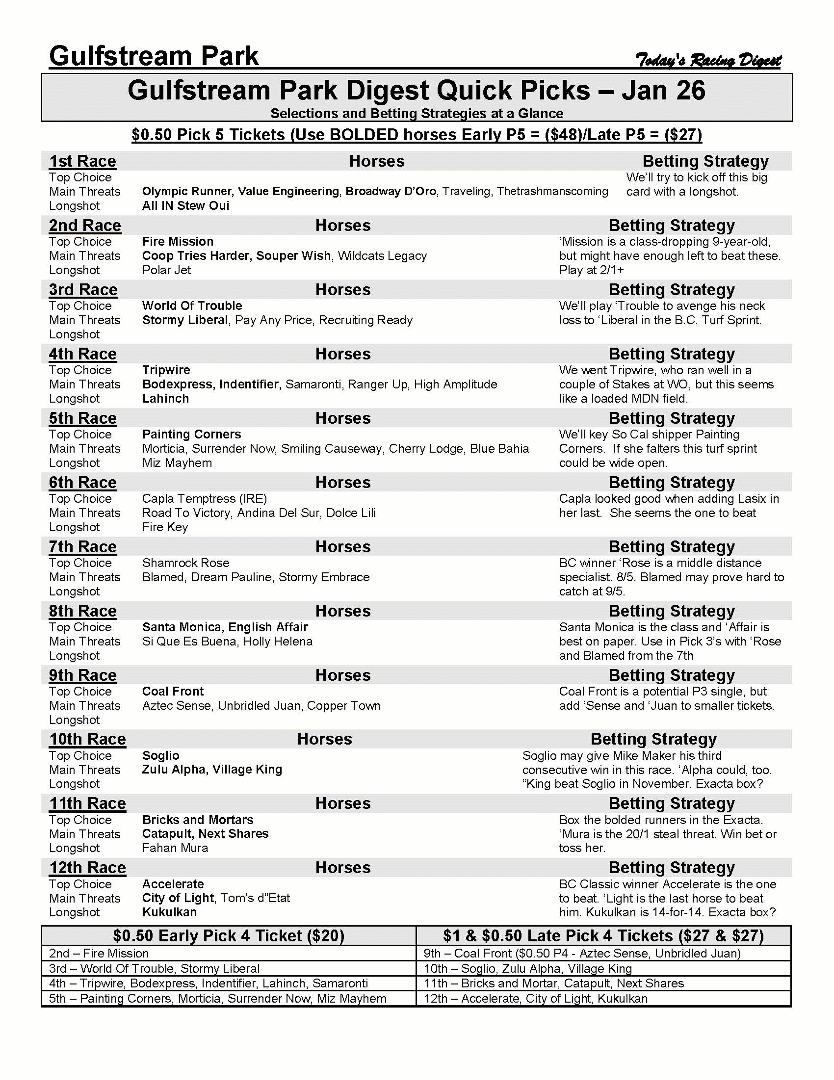 Get Our Top Choice, Main Threats and Longshot Picks
Betting decisions made easy for consistent winning tickets.

Go big with the longshots, or single a Top Choice and fill in the exotics with the solid main threats.
Betting Strategies that Maximize Your Payouts
Learn which horses to single, key or use in the exotics.

Quick Picks will help you put together winning multi horse tickets ensuring you have a winning day at the track.
Maximize your profit by including only those horses that can win.
Anyone can pick a winner in a race or 2 but to do it 4 times in a row takes years of experience and a deep knowledge of the horses,  tracks, and connections. Every race day since 1970 Today's Racing Digest's team of handicappers have handicapping tracks across the country and have learned the intricacies of each track, horse and their connections.
Get the best mix of horses that maximize your chances and profit in the Late Pick 4.

After pouring over all of the available handicapping information we calculate the probabilities of each horse's ability to win with thier expected payout.  This information is then used to put together all of the suggested Pick 4 and 5 tickets.
Get Suggested Early and Late Pick 5 Tickets
Hit the "Big One" with confidence playing the Early and Late Pick 5's

Winning the Pick 5 is hard to do even for a professional handicapper who spends hours pouring over all of the available information while clearly understanding how each race may unfold.  Today's Racing Digest's Pick 5 Tickets do the work for you giving you the best chance possible for winning big.
Handicappers Who Love Quick Picks
"I had never been to the track before and purchased Today's Racing Digest. By the end of the day I had doubled my money using the Consensus and Quick Picks Page. It was easy to use and told me which horses to bet on."
Eric R.
"KODOS to the digest staff on Saturday nailing down the pick five $1,263 and early pick four $531. Thanks for all the help."
Doug L.
"I never knew there were so much information involved with handicapping. Today's Racing Digest does the work for me and has given me the picks I need to win more money."
Sam H.