Del Mar Horse Racing Picks Tips & Insider Analysis
Since 1970, horse racing handicappers have relied on our expert picks, exclusive and insightful data driven reports & insider analysis making it easy to uncover overlooked contenders that can beat their odds.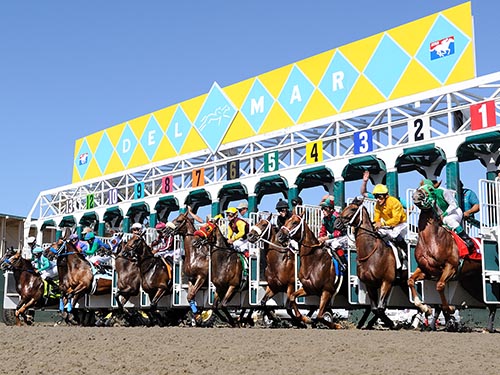 Some handicappers claim the local tides can impact the speed of Del Mar's track.  While we haven't done a formal study to confirm or deny this claim we do know "Horses For the Course" do well here.
Racing Schedule: July 21, 2023 - Sept. 10 2023 and Nov. 10, 2023 - Dec. 3, 2023
Key Races: Oceanside Stakes (Jul. 21), San Clemente G2 (July. 22), Bing Crosby G1 (July 29), Clement L. Hirsch G1 (Aug. 5), Del Mar Oaks G1 (Aug. 19), Pat O'Brien G2 (Aug. 26), Pacific Classic G1 (Sept. 2), Del Mar Handicap G2 (Sept. 3), Green Flash Handicap G3 (Sept. 4th), John C. Mabee G2 (Sept. 10), Del Mar Debutante G1 (Sept. 9), RunHappy Del Mar Futurity G1 (Sept. 10) see the full stakes schedule
Del Mar Today's Racing Digest Products
Today's Racing Digest gives horse racing handicappers easy to use picks along with a complete 360 degree analysis of how each horse is expected to perform in today's race.  Each edition includes our exclusive race sheets and Fractional Charting pace report, Fast Figs performance numbers, easy to use Quick Picks with betting suggestions, and all of the other insightful reports listed below that will help you easily uncover horses that can beat their odds.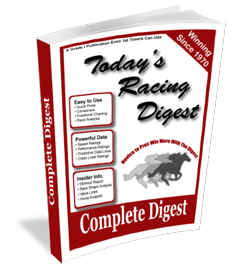 Featured Product
Complete Digest
(Your total cost for Digest-related features will not exceed $10.00

per card.)
Del Mar Expert Handicapper Picks, Tips & Reports
Expert picks, tips, selections and insider analysis from professional handicappers that have been certified and proven to be the best of the best in consistently uncovering horses that can beat their odds at the tracks they cover.
Del Mar Thoroughbred Analytics Products
The leading provider of exclusive data-driven handicapping statistical reports and insider analysis along with horse racing picks that consistently uncover horses that can beat their odds.
Product
Track
Description
Price
Wed 27th
Thu 28th
Best Bets & Live Long Shots
Western Tracks
(LEARN MORE)

Best Bets & Live Long Shots

Each day's races are reviewed and using a proven filtering methodology only the highest probability (Best Bet Recommendations) and best value (Live Long Shots) winning races are selected to be included in this package. This ensures that your bankroll is being maximized for the best chance of success and profitability. Each package includes Thoroughbred Analytics Premium Analysis for the best betting opportunities and live long shots across the region.

More Information

$7.50
-
Live Longshots
Western Tracks
(LEARN MORE)

Live Longshots

Expertly Play Long Shots That Can Win and Payout Big

An easy to use report that helps you quickly identify only those horses that have a decent shot at winning but also have good odds.

More Information

$5.00
-
Best Bet Recommendations
Western Tracks
(LEARN MORE)

Best Bet Recommendations

Quickly Identify The Best Horse Racing Bets of the Day

Save time and maximize your profit potential by focusing your handicapping efforts and bankroll on only the best horse racing bets of the day from across the country.

More Information

$5.00
Del Mar Insider Handicapping Tips
Horses That May Be Overlooked at Del Mar This Week
| Race Date | Race # | Horse | Learn More |
| --- | --- | --- | --- |
| | | | |
| | | | |
DMTC's FREE Pick Of The Day
4th Race
Horses
Betting Strategy
Top Choice
Esprit Enchante, Ur in Trouble
'Enchante is working well, but 'Trouble can win easily if she repeats her 7/22 debut. 5/2+ . The 2 Baffert runners are on the bet against list.
Main Threats
Rascality, Sandy Bottom, Blissterinthesun, Nothing Like You
Longshot