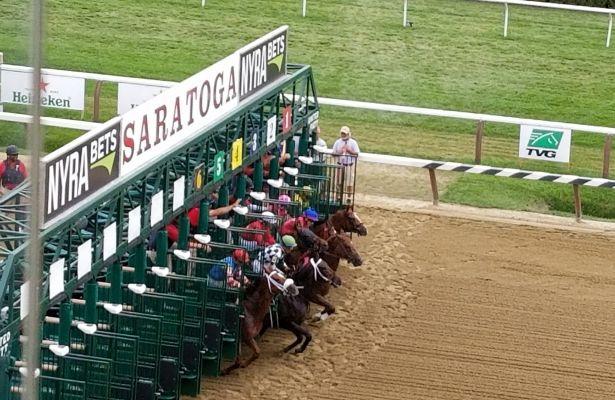 By Jarrod Horak
I enjoyed handicapping these New York-bred stakes races at Saratoga on Sunday, Aug. 27. I previewed the races for the Digest and ended up going 3-for-6 with a second. These six stakes races wrapped up the Travers week stakes action. There is one week and ten stakes races to go at the Spa, and the meet runs through Labor Day.
Click here for Saratoga Racing Picks, Tips, and Insider Analysis
Fleet Indian – 1 1/8 miles dirt
It was nice to see a fast track on Sunday and I got off to a quick start in this stakes affair. I was against heavy favorite Timely Conquest because of the added ground of this race. I had my doubts that she could see out the trip. She did grab the early lead through splits of 24.07, 48.97, and 1:14.21, but my top choice Ichiban ($6.60) hounded the chalk from the outset, and she took over under Jose Ortiz and the final outcome was never in doubt. She won by 5 1/4 lengths over her stablemate Amanda's Folly, and the latter was 15 1/4 lengths clear of Timely Conquest. Krystalheir eased and walked off as the 20-1 outsider. Linda Rice saddled the winner and runner-up, and the final time was 1:53.23.
West Point – 1 1/6 miles inner turf
The turf course was listed as good and Jerry the Nipper got out there and tried to back down the pace after an opening quarter in 23.91. The half was run in 48.83 and they went three quarters in 1:13.64. His lead kept diminishing because my top choice Spirit of St Louis was all over his flank, and the latter took the lead and briefly looked home free. City Man ($7.90) stalked the pace and was always traveling well under Joel Rosario, and he kept coming in the stretch and ran down Spirit of St Louis and scored by a length and a quarter. Spirit of St Louis was the favorite and he ran a quality race in a clear runner-up finish for Ortiz Jr and Chad Brown. Jerry the Nipper was best of the rest in third. Dakota Gold and Ocala Dream also ran. The final time was 1:42.63. I would consider playing Spirit of St Louis again next time. He ran well against a seasoned group of state bred stakes performers, and he still has upside.
Funny Cide – 6 furlongs dirt
El Grande O added blinkers and tried to take it to his rivals from the outset. After a brief stumble, he fled the rail post and went 22.54 and 45.97. He faced some pressure at this point from Works for Me but shrugged that one off. He was a length in front early and that advantage was cut in half, but he reasserted himself and was up a length again. It looked like he would keep on going but race favorite The Wine Steward ($4.20) was grinding away from a stalking position and he got the job done by a head. El Grande O did everything but win and was 5 1/2 lengths in front of clear show finisher Whatchatalkinabout. Works for Me, Always a Warrior, and a very disappointing Trust Fund completed the order of finish. Manny Franco rode the winner for Mike Maker and the final time was 1:10.92.
Yaddo Handicap – 1 1/16 miles turf
I was way off the mark in this race. I was betting on a slow pace and played the race accordingly. She's Dancing got clear through a quarter in 23.52 and a half in 48.90. My top choice Whatlovelookslike was wide around the first turn and was able to work her way in a bit. She sat in second and poked her head in front after three quarters in 1:13.54, but the closers were coming. Actually, one in particular. New Ginya ($19.80) was last for a good portion of the race and put in a big run under Dylan Davis to take over in the lane. She was quickly clear in the stretch and crossed the line 3 3/4 lengths in front of late running runner-up Spungie. Runaway Rumour stalked the pace and landed the show and Whatlovelookslike was clear of the rest in fourth. Classic Colors, Golden Rocket, Lisa's Vision, and a fading She's Dancing completed the field. The final time was 1:43.06 and Christophe Clement was the winning conditioner. I might play Whatlovelookslike again next time. The race flow ended up against her and she was not embarrassed.
Seeking the Ante – 6 furlongs dirt
I bounced back with a top choice winner in this juvenile filly sprint. Cara's Time dueled with Tricky Temper early and zipped two furlongs in 22.51. Maiden second timer Stellamaris chased outside and was in front after a half in 46.76. She was in good shape with two furlongs to go but Caldwell Luvs Gold was starting to advance, and the match race was on. The two favorites separated themselves from the rest and Caldwell Luvs Gold ($7.60) was moving slightly better and scored by a half-length for Florent Geroux and Brad Cox. Stellamaris ran too good to lose and ended up 7 3/4 lengths in front of show finisher My Shea D Lady. Cara's Time was far back in 5th and Concerti trailed. The final time was 1:11.29. The top two ran big races and Stellamaris is too talented to be a maiden.
Albany – 1 1/8 miles dirt
Mariachi set the pace but I was not expecting him to stretch out and hang around. He went 24.11, 48.44, and 1:12.55, and called it a day sometime after that. My top selection Drake's Passage ($4.50) took all of the late money after starting out as the 2-1 second choice on the morning line. He chased from second, took off in the stretch, and bounded away to win by 7 3/4 lengths under Manny Franco. Jackson Heights rallied from last to complete the exacta at 15-1. Miracle Mike sat back early and picked up the show under Ortiz Jr. Maker's Candy stalked wide and finished fourth, and Mariachi weakened to 5th. Allure of Money stalked inside and faded, and Leo and Royal trailed. Romping winner Drake's Passage stopped the clock in 1:50.95 and red hot trainer Christophe Clement picked up his third stakes win of the day.
Are you interested in more Saratoga recaps? Check out the links below:
Saratoga stakes recaps (Aug. 23-25)
Travers undercard stakes recaps Aug. 26