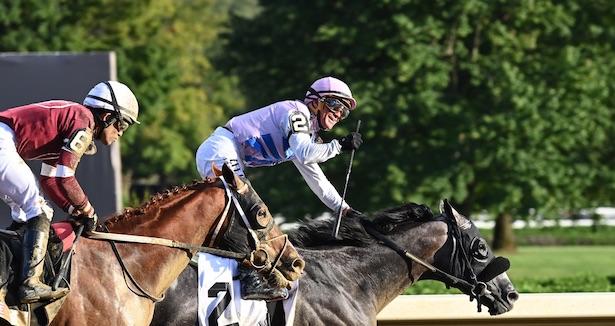 By Jarrod Horak
Arcangelo moved to the head of the sophomore male division with a strong victory over Disarm in Saturday's Grade 1 Travers Stakes at Saratoga Race Course. In this post, I will go through each of the Travers entrants and discuss their rides and trips. Tapit Trice was the most pleasant surprise, and Forte and especially Mage were the big disappointments.
Click here for Saratoga Racing Picks, Tips, and Insider Analysis
1st – Arcangelo – This was basically a replay of the Belmont Stakes. In the final jewel of the Triple Crown, the son of Arrogate saved ground stalking the pace, continued inside, grabbed the lead early and opened up while getting the jump on the closers, and held off Forte and Tapit Trice to win by a length and a half. This race was 11 weeks later, and he had a carbon copy trip for much of the running. He broke from post 2 and saved ground stalking the pace, but this time he went wide and moved around the three leaders, and he hit the front, opened up by three lengths, and held off Disarm by a length. He has now won four straight and is suddenly the leader of this division, and Javier Castellano gave him perfect rides in his last two Grade 1 wins. The BC Classic is 10 weeks from now and he will probably train up to that race. Jena Antonucci really knows her horse and has handled him brilliantly this year. What a great training job.
2nd – Disarm – He was my value top choice in the Jim Dandy but that race did not set up for him. He was my underneath key in this spot. He added blinkers in the Travers and they seemed to help. Steve Asmussen said he wanted to find another two lengths and he did everything but win. He was in last place early but this was a bunched up field and he was always within hailing distance of the leaders. He saved ground and was fourth with a quarter of a mile to go, and he found running room inside in the lane and came after Arcangelo. The eventual winner got the jump on the closers and had enough of a cushion to hold off this runner by a diminishing length. Joel Rosario gave him a great ride and he continues to improve. He was in a rush to make the Derby and did not have the proper race spacing in the spring. After running fourth under the Twin Spires on May 6, the son of Gun Runner picked up his first stakes win in the Matt Winn (G3) at Ellis Park on June 11. He finished fourth in the Jim Dandy and moved forward in the Travers. The PA Derby might be next and he could easily win that contest.
3rd – Tapit Trice – I have always been a fan of this one and it was nice to see him bounce back with a quality effort after his subpar Haskell. He was very good earlier this year in the Tampa Bay Derby (G3) and Blue Grass (G1). He was a flat 7th of 18 in the Kentucky Derby and just missed the place by a nose in the Belmont after a wide trip. He was a no show in the Haskell and he added blinkers in the Travers. I thought this effort was reminiscent of his Blue Grass. In that race, he broke from post 1 and made an early move into tepid splits to engage Verifying. He used his stamina to outfinish that rival, and in this race, his new rider Jose Ortiz steered him outside and he moved up early to chase the pace in third. He was right with the leaders around the far turn and into the stretch, and he ended up a clear third. He has started seven times this year and this might be a good time to give him a rest. He has banked more than $1.1 million in 2023 and has earned a break. His next start is undecided.
4th – Forte – He had a very odd journey to say the least under leading rider Irad Ortiz Jr. I thought he was in serious trouble when he started acting up in the gate. He broke outward at the start but straightened up quickly and was in second early. For some reason, Irad left the rail and that allowed Arcangelo to secure inside position. He was still in an okay spot in fourth after the first turn, and dropped back to fifth and was right behind Arcangelo at that point. He kept losing position and somehow dropped back to last, and he was racing a bit wide at this point. How does he go from a good tracking position from the inside post to racing outside at the back of the pack? Ortiz Jr. saw Arcangelo tip off the inside and make his move around the three leaders, and he was a few lengths behind that one and tried to launch a wide rally. He briefly picked up some momentum around the final turn but he swung very wide and lost his mojo. He was widest of all in the stretch and kept plugging away for fourth. I picked him on top in the Travers because of his professionalism and consistency, and I did not see this flat effort coming. I was very surprised that he was fractious in the gate, and Arcangelo stole his projected trip. Is he overrated, and has the rest of the crop caught up to him? That is definitely possible, but you almost have to give him another chance. This race might be an outlier. From September 2022 through July 2023, he went 6-for-7 with a runner-up finish in the graded ranks (4 G1 wins). His Belmont Stakes runner-up finish after recovering from a foot bruise in his first start in 10 weeks was impressive, and he added blinkers and showed improved tactical speed in his Jim Dandy victory. I don't think there if much between him and Arcangelo, but he must prove himself all over again in his next start. He might train up to the BC Classic.
5th – National Treasure – He took advantage of a golden pace advantage in the Preakness Stakes and that was his lone stakes triumph in his last seven starts. The keep alternating with blinkers on and off, and they were removed in this race. I mentioned in my Digest Travers preview that he never made the lead without blinkers, and he did not get to the front in the Travers. He chased from third early, moved up to second after six panels, and weakened after that. I liked him in the Preakness but was off the bandwagon in his last pair. I have no idea what they have in store for this one.
6th – Scotland – He was trying to give Bill Mott his first Travers victory and he was in front for a mile. He could not keep pace with the big boys in the final quarter of a mile and weakened in the lane. The gelded son of Good Magic got a late start to his career. He graduated in his career debut in March and just missed at Keeneland second time out. He won at Churchill on June 3 and earned a spot in the Travers after a front running score in the restricted Curlin at 1 1/8 miles on July 21. He was not quite ready for prime time on Saturday and I am sure Bill Mott will give him time to grow and develop some more.
7th – Mage – I do not know what happened here. I did not like him in this spot but was not expecting a non-effort. The pace meltdown in the Kentucky Derby was his lone stakes win, and he lost ground in the stretch in his other four stakes starts prior to this race. He got no pace help in the Preakness and his Haskell runner-up was a decent prep for this engagement. Javier Castellano snubbed him for Arcangelo, and Luis Saez was supposed to ride him in this race but was injured earlier in the week. Flavien Prat was his substitute rider and he never looked comfortable. He was pinched after the start, and raced wide and never got seriously involved in an effort that was too bad to believe. The unraced juvenile was making his seventh start of the year in this race and you have to think he will end his sophomore campaign now. What a year he has had. He went from debut maiden winner in January to Derby hero in May, and he earned $2.5 million this year. Hats off to Gustavo Delgado for getting this horse to peak on the first Saturday in May.
Are you interested in more Saratoga recaps? Check out the links below:
Saratoga stakes recaps (Aug. 23-25)