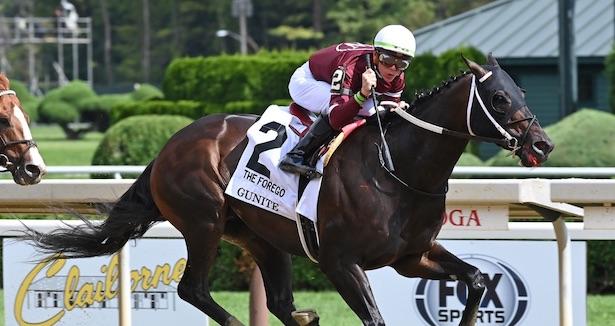 By Jarrod Horak
I am still in shock over what happened at Saratoga on Saturday. The sudden breakdown of Maple Leaf Mel right before the wire a few weeks ago was extremely painful to witness, and after covering the aftermath of that harrowing turn of events on this website, I was really hoping for smooth sailing the rest of the meet. Now, the entire racing world is mourning again after watching New York Thunder go down in the Grade 1 H. Allen Jerkens Memorial on the Travers undercard. The recent spat of breakdowns at the current Saratoga meet has left us reeling and looking for answers. I have been following horse racing for decades and cannot remember a more somber time to be a racing fan. This should be a joyous moment with the stakes stars shining at Del Mar and Saratoga. The Breeders' Cup is on the horizon and the next road to the Triple Crown Series is right around the corner. Instead of cheering, we watch each race cautiously and cross our fingers that everyone makes it across the line safely. I enjoy this game immensely and hope everyone in the industry can come together and figure out how to take racetrack safely to the next level. The future of the sport depends on it. On to the Travers undercard stakes recaps, except for the Jerkens. Out of respect for New York Thunder, I won't be discussing that race, and I will cover the Travers in another post.  
Grade 1 Forego – August 26 – 7 furlongs
This race was a rematch of the Alfred G. Vanderbilt (G1). In that event, Elite Power ran down my top choice Gunite in deep stretch to prevail by a head at six furlongs in the slop. The track was listed as fast when this extended sprint was run, and once again I gave Gunite the nod, and this time he delivered under Tyler Gaffalione. He was quicker than Pipeline though controlled splits of 23.16 and 46.20. I knew this one was over after the tepid opening quarter. Gunite ($4.60) was not going to let his advantage slip away this time, and he turned away Elite Power and won comfortably by a bit less than two lengths. Elite Power was clearly second best and lost nothing in defeat. This snapped his 8-race winning streak, and the defending BC Sprint hero should get more pace to chase in that event at Santa Anita later this fall. High Oak was best of the rest in third and I am proud of this one. He won the Grade 2 Saratoga Special in 2021 and looked like he was going places, but he lost his way after a scary fall in the 2022 Fountain of Youth. He showed signs of life in a runner-up finish at the Spa on July 29, and now he has run back-to-back quality efforts after his Forego show finish. Kudos to jockey Katie Davis for getting this one to feel relaxed and confident again. Pipeline weakened to fourth and Synthesis trailed the Forego field. The final time was 1:21.53 and Steve Asmussen was the winning trainer. Look for Gunite and Elite Power to meet again in the BC Sprint.  
Grade 1 Ballerina – August 26 – 7 furlongs
In the 2022 edition of the BC Filly & Mare Sprint, Goodnight Olive got the best of Echo Zulu by 2 1/2 lengths. Chad Brown's mare was in good form again this season but not quite as fast as she was last year, but the same cannot be said of Echo Zulu. Steve Asmussen's filly was sensational in the local Honorable Miss (G2) a few weeks ago, and she was the solid favorite in this spot. She put on a show. Echo Zulu looked like the controlling speed on paper, and she made the front through fractions of 22.45 and 45.23. Irad Ortiz Jr. was riding Goodnight Olive, and he was forced to apply pace pressure when nobody else did. The latter did everything she could but Echo Zulu ($3.20) was having none of it. She swatted away last year's champion female sprinter and kicked clear to win by 2 1/2 lengths. Goodnight Olive was a deceptively good second considering the race flow was against her and she was forced to do the pace dirty work, and she ended up 6 1/4 lengths in front of show finisher Matareya. Caramel Swirl missed the show by a nose and was followed by Dr B, Sterling Silver, and Maryquitecontrary. The final time was a swift 1:20.95 and Florent Geroux gave the winner a smart ride. Which BC race will Echo Zulu go for? The Filly & Mare Sprint at seven panels makes plenty of sense, but she is also more than capable of defeating males in the Sprint at six furlongs. Goodnight Olive must be considered a solid contender in the Filly & Mare Sprint later this fall, and I can see her successfully defending her title in that event, unless Echo Zulu shows up.  
Grade 1 Sword Dancer – August 26 – 1 1/2 miles inner turf
The turf course was yielding and this race was a bit of a puzzler. I definitely wanted to go for a price and I landed on the right overseas shipper. Channel Maker made the lead and he was the only horse I threw out in this race. He was coming off a win in the local Bowling Green (G2) but has everything his own way that day, and his form prior to that race was sketchy. The early fractions were 23.65 and 49.58. Stone Age (IRE) was the 2-1 favorite and he had the lead after six panels in 1:15.93, but his new trainer Chad Brown said this was just a starting point and he was just 80% fit. That is all I needed to hear, and it turned out that he did need his first start since February. Bolshoi Ballet (IRE) was getting a great inner tactical trip under John Velazquez, and I was loving his tactical position and 5-1 price. My value top choice struck the front after a mile and a quarter, and that was all she wrote. Bolshoi Ballet ($13) was well clear at the end by 4 1/2 lengths. Soldier Rising (GB) made a sustained run from off the pace and was clearly second best in a quality effort. Pioneering Spirit picked up the show under Ortiz Jr. This one has turned into quite the runner for Linda Rice. He won four straight prior to this strong showing. She claimed him for $40k in March and he broke his maiden in May. Quite the rise up the ranks. Daunt was fourth and Stone Age weakened to 5th. Channel Maker trailed. The final time was 2:29.29 and Aidan O'Brien saddled the winner. This was not the strongest Grade 1 but the winner and runner-up ran decent races.  
Are you interested in more Saratoga recaps? Check out the links below: