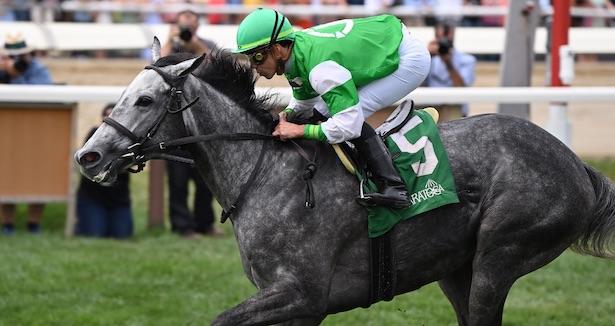 By Jarrod Horak
The Travers week stakes schedule began with the John's Call on Aug. 23, and Tawny Port was best for Joel Rosario and Christophe Clement. The Ballston Spa was run the next day and there was a huge upset, and we saw a pair of strong winning performances in the Smart N Fancy and Personal Ensign on Friday.
Click here for Saratoga Racing Picks, Tips, and Insider Analysis
John's Call – August 23 – 1 5/8 miles turf
The turf course was labelled as firm and the temporary rail was set at 12 feet. Tide of the Sea carved out the early fractions. He went the opening half in 46.85, six panels in 1:12.13, and a mile in 1:37.76. Tawny Port ($7.50) chased from second, took over when Tide of the Sea began to weaken, and was clearly best by 3 1/2 lengths under Joel Rosario. Christophe Clement was the winning trainer and the final time was 2:38.63. Sy Dog was bet down to favoritism and he rallied to finish a clear second. Good Skate stalked the pace and was best of the rest in third. British Royalty never got seriously involved and Tide of the Sea faded badly. Burning Bright hit the rail and fell after suffering a fatal cardiac event. His jockey Luis Saez was injured. He fractured his left wrist and dislocated his right collarbone. He is expected to be out of action for three to five weeks.
Grade 2 Ballston Spa – August 24 – 1 1/16 miles inner turf
The weather was showery and the turf was listed as firm (temporary rail at 14 feet). This was a strange race. Overmatched 55-1 outsider Sister Bridget (IRE) was intent on the early lead under Katie Davis. Technical Analysis (IRE) was the heavy favorite and her rider Jose Ortiz wanted the front end as well, but she was not quick enough to get it and Ortiz tried to wrangle her back a bit. Too late. The damage was done. The opening quarter was 23.50 and Sister Bridget extended her lead to three lengths after a half in 48.67. She was done shortly after that and Technical Analysis struck the front, but the closers were coming. Evvie Jets ($60.50) figured to be part of the pace but Manny Franco smartly took her back early and she stayed inside. The speed came back to her and she got the best closing trip and scored by a head over my value top choice Fluffy Socks. The latter got a great setup and rallied outside under Irad Ortiz Jr. Overseas shipper Jumbly (GB) rallied for the show and Gam's Mission was a neck behind her. Technical Analysis was next and Consumer Spending was an unlucky 6th. Chad Brown's "other" filly was crying out for running room in the lane but had nowhere to go late. She may have won this race if a hole opened. Surprisingly was outkicked and it was a long way back to Sister Bridget. The final time was 1:43.06 and Mertkan Kantarmaci was the winning trainer. I want two horses out of this race. Technical Analysis was coming back in three weeks and the race flow was against her. Consumer Spending did not get a fair chance to run in the stretch. She can go better with a clean trip next time but the race shape was in her favor this afternoon. 
Smart N Fancy – August 25 – 5 1/2 furlongs turf
The turf was good and the temporary rail was set at 12 feet. There was not much drama in this race. Strong favorite Roses for Debra ($2.70) stalked the pace outside under Irad Ortiz Jr., and she pounced on the leaders and bounded away to win by an easy 3 1/4 lengths. Bubble Rock chased the pace and landed the place, and Train to Artemus set the pace and weakened to third late. Talkin Tipsy was the outsider and she trailed throughout. The final time was 1:01.82 and chalk up another turf stakes win for Christophe Clement.
Personal Ensign – August 25 – 1 1/8 miles dirt
The main track started out muddy and ended up sloppy, and early speed was strong from the middle of the card through the end of the day. We saw five wire-to-wire winners on Friday including Idiomatic in this race, and only one of those was the post time favorite. Brad Cox's sharp filly Idiomatic got out there and controlled the pace through moderate fractions of 24.53, 48.84, and 1:12.61. Malloy, a 45-1 outsider, chased from second and strong favorite Nest tracked wide from third. Secret Oath saved ground in fourth under her substitute rider Javier Castellano, and Clairiere was last early. Idiomatic ($10) maintained a length advantage and Nest came after her in the stretch but was turned away, and the longtime leader kicked away and crossed the line four lengths to the good under Florent Geroux. Secret Oath kept on plugging away and edged Nest for the place by a neck, and it was 12 lengths back to Malloy. Clairiere never picked up her feet and Sixtythreecaliber trailed. The final time was 1:49.12 and there is lots to unpack here. Idiomatic has now won three straight graded events and is clearly on top of her game, but she had everything her own way over a speed favoring wet track. It was nice to see Secret Oath bounce back after a freshening, and now we come to Nest. The beaten favorite never looked comfortable from the post parade all the way to the wire. She ran okay over a wet track she seemed to dislike, and she probably deserve another chance. Draw a line through this one for Clairiere. She is much better than this but it should be noted that she is clearly most effective at 1 1/6 miles. Idiomatic, Secret Oath, and Nest are scheduled to meet again in the Grade 1 Spinster at Keeneland on Oct. 8, and my initial reaction is to give Nest the edge. 
Are you interested in more Saratoga recaps? Check out the links below: