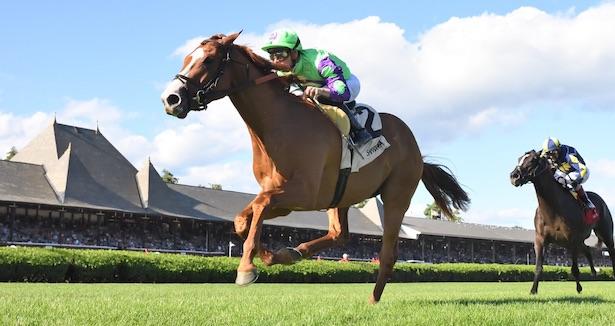 By Jarrod Horak
We saw some impressive efforts in the stakes ranks at Saratoga for the week ending August 13. There were at least three performances worthy of blue-ribbon status, and I decided to go with Carl Spackler (IRE) as the star of the week. Chad Brown's emerging stakes star made the grade in the rescheduled Hall of Fame Stakes, and he turned some heads in a visually pleasing victory from off the pace. 
Click here for Saratoga Racing Picks, Tips, and Insider Analysis
Johnstone Mile Handicap – August 9 – One mile dirt
This was an interesting 5-horse affair and it did not turn out like many expected. Sunset Louise was 1.95-1 and she stumbled at the start and recovered to make the lead. Know It All Audrey was the longest shot and she chased from second and moved up through fractions of 24.33 and 47.34. The latter hit the front through six panels in 1:12.15 and my 7-1 value top choice Timeless Journey was advancing. My top hit the front and got clear by a length and a half but Venti Valentine was closing ground after an uncomfortable start and she rallied to win by a half-length. Timeless Journey held the place by a half-length over even money favorite Betsy Blue. The latter raced wide and moved up from last place to finish a clear third. Know It All Audrey was next and it was more than a dozen lengths back to Sunset Louise. Venti Valentine stopped the clock in 1:38.98 and paid $12.40 to win for Manny Franco and Jorge Abreu.
Union Avenue Handicap (New York-bred) – August 11 – 6 furlongs dirt
This was a match race on paper and Grannys Connection had the tactical edge. She did not have a great start from the inside post but recovered quickly and was a length and half clear through an opening quarter in 21.89. Kant Hurry Love chased from second and it was those two from start to finish. The half was run in 44.81 and Grannys Connection remained clear. Kant Hurry Love kept plugging away and never stopped trying, but Grannys Connection ($2.90) kept her at bay and scored by a length and a half in a race without much movement. Bank On Anna was third throughout and Vallelujah and Tempermental trailed. The final time was 1:11.09 and Javier Castellano guided home the winner for Tom Morley. 
Grade 2 National Museum of Racing Hall of Fame – August 11 – One mile inner turf
We may have seen the best sophomore male grass horse in the country in this race. This one was originally slated to run on Aug. 4 but bad weather forced the cancellation of the late races that day, and it was moved back a week. Carl Spackler (IRE) was my top choice a week ago and I stuck with him after the redraw. He was in post 10 originally and ended up in post 2 for this engagement. The only surprise was his running style. I thought he could get forward but he did not have the best beginning and Tyler Gaffalione handled him patiently. His stablemate Appraise (IRE) made the lead under Flavien Prat and he clicked off an opening quarter in 24.37. Mysterious Night (IRE) was the new leader through a half in 47.45 and six panels in 1:11.88. Appraise got back to the front after that and Carl Spackler ($6.70) was moving up. The latter saved ground, moved out a bit, swung out in the stretch, and finished full of run to score by an easy 2 1/4 lengths as the betting favorite. Appraise held second by a nose over late running morning line favorite More Than Looks. The latter drifted up to 3.10-1 and finished up nicely. Ocean Vision (IRE), Behind Enemy Lines (GB), Mischievous Angel, Mysterious Night, Bat Flip, and General Jim also ran. The final time was 1:36.29 on a course labeled good. Chad Brown just keeps churning out these promising turf runners, and Carl Spackler reminds me a bit of Raging Bull (FR). Brown trained that one as well and he won the Hall of Fame (G2) and Saranac (G3) at Saratoga in 2018, and shipped to Del Mar and captured the Grade 1 Hollywood Derby at the end of his 3-year-old campaign. He would go on to win the Shoemaker Mile (G1) in 2020 and the Maker's Mark Mile (G1) in 2021. The Sands Point (G2) at 1 18 miles at Aqueduct on Oct. 14 makes sense for Carl Spackler, and I can see him ending his sophomore season in the Hollywood Derby.   
Evan Shipman Handicap (New York-bred) – August 11 – One mile dirt
Americanrevolution was making his much anticipated return to the races and was 45 cents on the dollar, but his chances were compromised after stumbling at the start from the inside post. Sheriff Bianco made the lead through fractions of 24.01, 47.28, and 1:11.67. Barese chased from second and Americanrevolution got back in the race and came after the leaders in the middle but could not overcome the bad start and 11 month layoff. Dr Ardito ($15.20) went last-to-first under Manny Franco and kicked away late to win by 1 1/4 lengths. Sheriff Bianco was clearly second best and Bankit chugged along to finish a clear third. Americanrevolution weakened to fourth and Barese trailed. The final time was 1:37.77. Dr Ardito is now 7-for-10 and is back in good form for Chad Brown. As for Americanrevolution, this was an inconclusive effort and he probably deserves another chance, but he might not be as good as he once was. He has now dropped four straight and not won since the Grade 1 Cigar Mile in 2021. 
Galway – August 12 – 5 1/2 furlongs turf
The turf course was listed as good. Love Reigns (IRE) was the post time favorite but she raced wide and was never in the mix. Stone Silent made the front and tried to steal it at 10-1, but 17-1 longshot L J's Emma ($36.20) ran her down and scored by a neck for Luis Saez and Eddie Kenneally. Stone Silent ran a quality race in a clear runner-up finish, and 13-1 stalker Isabel Alexandra (IRE) grabbed the show by a nose over Love Appeals. Redefined was next, followed by Reflexivity (IRE), a very disappointing Love Reigns, Beauty of the Sea, My Sweet Affair, and Dream Concert. The final time was 1:02.27 and the temporary rail was set at 27 feet.
Grade 2 Saratoga Special – August 12 – Race 8 – 6 1/2 furlongs dirt
Strong favorite Rhyme Schemes dominated this one while stalking the pace from the outside post. Market Street hit the front through fractions of 22.18 and 45.71. Woodcourt chased from second and Rhyme Schemes ($4.10) was always moving well, and the latter hit the front, quickly opened up, and was 9 1/2 lengths clear at the wire for Ricardo Santana Jr. and Norm Casse. Market Street gamely held the place over my top choice Haul. The latter had a messy beginning and that early trouble cost him dearly. He moved up and kept on trying under Irad Ortiz Jr. in a clear show finish. Lasso and Edified were next, and Woodcourt faltered and eased across the line. The final time was 1:17.12 and Ryme Schemes stamped himself as the horse to beat in the Grade 1 Hopeful at the Spa on Monday, Sept. 4.  
Grade 1 Fourstardave Handicap – August 12 – One mile inner turf
I picked Annapolis on top in this race and he was getting the right trip, and I felt fairly confident for much of the running. 21-1 outsider My Sea Cottage (IRE) set the tempo and 35-1 bomber So High (GB) chased from second. The opening quarter was run in 23.31 and the half was contested in 46.57. Annapolis was in a great spot in third under Irad Ortiz Jr. He moved up to second and he had the measure of My Sea Cottage. Casa Creed sat outside in fourth and was waiting to pounce under Luis Saez. Annapolis struck the front in the lane but he failed to kick away. Casa Creed ($5.70), trained by Bill Mott, was lurking in the lane and he quickened late and went on by in deep stretch to tally by 3/4ths of a length. Annapolis held off Ice Chocolat (IRE) to secure the place by a half length, and it was 4 1/2 lengths back to a weakening My Sea Cottage in fourth. Emmanuel finished a flat 5th at 3.45-1 in a disappointing effort, and Full Screen and So High trailed. The final time was 1:34.20 and the Kelso result was verified in this spot. Casa Creed has now handled Annapolis in back-to-back local flat mile graded races at the current stand, and he is just better than the Pletcher trainee currently. The Fourstardave was a Win & You're In for the BC Mile, and Casa Creed will train up to that race. Annapolis exited the race in good order and will attempt to defend his title in the Grade 1 Turf Mile at Keeneland on Oct. 7.  
Mahony – August 13 – 5 1/2 furlongs turf
Big upset in the final stakes race of the week. Surface switcher Uncashed and 16-1 outsider Harry Time (IRE) dueled through quick splits of 21.49 and 44.64, and both faded and set the table for the patient runners. Closethegame Sugar ($41) sat in midpack, moved up under Jose Lezcano, and gamely held off 11-1 shot Private Creed to score by a half-length. Eye Witness rallied from last to edge his stablemate No Nay Hudson (IRE) for the show spot. Son of a Birch and Gaslight Dancer were next, and a wide Drew's Gold stalked and weakened from the outside post. Uncashed and Harry Time completed the order of finish. The final time was 1:02.54 and Adam Rice saddled the winner. 
Are you interested in more Saratoga recaps? Check out the links below: