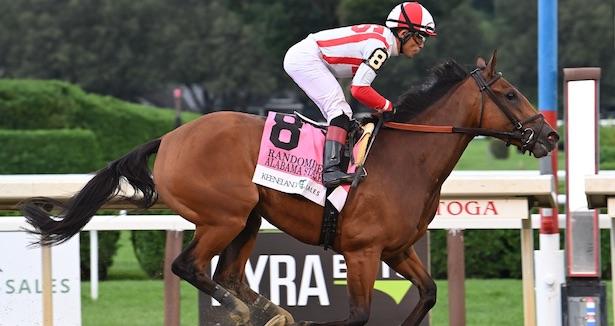 By Jarrod Horak
Week six at Saratoga is in the books and Randomized turned in a star performance. Chad Brown's filly hit the front early and never looked back in the Grade 1 Alabama for sophomore fillies traveling a mile and a quarter on the main track.
Click here for Saratoga Racing Picks, Tips, and Insider Analysis
Suzie O'Cain – August 16 – 1 1/6 miles inner turf
The turf course was rated as good and the temporary rail was set at 27 feet. The pace was honest and this one came down to the two closing favorites. The fractions were 23.71, 46.80, and 1:11.25. Silver Skillet sat the best closing trip under Joel Rosario. She was back in 6th and was always a length or two in front of post time favorite Orange Freeze. The speed came back to the field and Silver Skillet ($8.50) attacked first and pulled away in the lane to secure the victory by 3 1/4 lengths. Orange Freeze could not go with the winner and settled for the place under Flavien Prat. Bernt Again rallied for the show in a race dominated by patient types. Smoke Eyes was an even fourth and Thundara passed tired rivals and finished midpack under Javier Castellano. Snowy Evening, pace presser Im Just Kidding, fading front runner Kosuke, and Collaboration also ran. The final time was 1:41.67 and Christophe Clement saddled the winner. 
Rick Violette – August 17 – 1 1/16 miles on turf
The turf was still labeled as good on Thursday and chalk another one up to favored patient types. The rail was still at 27 feet and the splits were 24.61, 48.41, and 1:12.17. Let's Go Big Blue and Jose Lezcano got the jump on fellow closer Ramblin Wreck' and things tightened up late. The former held on by a nose but he drifted out. The inquiry sign was flashing and Irad Ortiz Jr. claimed foul. Ramblin' Wreck ($3.80) was placed first through disqualification. The top two finished 5 1/2 lengths in front of show finisher Willintoriskitall. Itsallcomintogetha, King of Comedy, and Vacation Dance also ran. The final time was 1:41.40 and Danny Gargan was the winning trainer.   
Skidmore – August 18 – 5 1/2 furlongs dirt
This race was originally scheduled for 5 1/2 furlongs on turf and was transferred to the muddy (sealed) main track. There were four defections including morning line favorite No Nay Mets (IRE). The bettors landed on Seize the Grey as the favorite and that was certainly understandable. He broke his maiden in prominent throughout fashion on a wet track at Saratoga on July 29. He figured to impact the pace in this spot but had an uncomfortable beginning and was last early. My top choice Ship Cadet broke running under Manny Franco through fractions of 21.77 and 45.47. El Grande O sat a nice tactical trip from an outer post and those two had the race to themselves. Ship Cadet ($6.90) showed no signs of stopping and held a game El Grade O at bay and scored by a length and a quarter. The runner-up kept on fighting and was slowly gaining on the winner, and he ran a quality race under Jose Ortiz. Seize the Grey came alive from off the pace. He swung out widest of all in the lane and was 7 1/4 lengths in front of the rest in a very good performance considering the start. Billy the Greek, Go Otto Go, Antonio of Venice, Untroubled, Sebastian Run, and fading pace presser Five 'o Somewhere completed the order of finish. The final time was 1:05.30 and the top three performed well. 
Grade 2 Lake Placid – August 19 – 1 1/16 miles inner turf
The course was good and the temporary rail was set at 27 feet. Chad Brown had four live contenders in this spot and you just knew one would win, and I landed on the right one. Heavenly Sunday made the early running from the inside post through a quarter in 24.05, a half in 48.37, and six furlongs in 1:12.58. Gloria's Princess chased from second and Junipermarshmellow tracked from third, and none of those runners were around at the end. Aspray stalked inside and Prerequisite stalked outside, and Surge Capacity and post time favorite Tax Implications (GB) were patiently handled, along with Soviet Excess. Aspray ($8.70) was ridden by Flavien Prat and he gave her a great ride. She saved ground from post 2, tipped off the inside in the lane and pulled clear to win by two lengths. Her stablemate Surge Capacity rallied for the place and Soviet Excess rallied from last to edge Tax Implications by a neck for the show. Prerequisite was a wide 5th and early runners Gloria's Princess, Heavenly Sunday, and Junipermarshmellow trailed. The final time was 1:42.85 and Chad Brown saddled another stakes winner and he was not done on Saturday.
Grade 1 Alabama – August 19 – 1 1/4 miles dirt
Pace makes the race and there was no closing happening in this fast track affair. Randomized was the expected front runner and she made the lead under Joel Rosario. Chocolate Gelato had some speed and was stretching out, and it sure looked like she was entered as a rabbit for her stablemate Gambling Girl, but she was sluggish early and wide into the first turn. Defining Purpose was the only entrant putting any kind of pressure on Randomized, but her rider Brian Hernandez Jr. was not interested in a pace battle. The fractions were 23.45, 47.86, and 1:12.33. Each interior fraction was slower than the next (24.41, 24.47, 24,84, 25.90), and Randomized ($16.20) was enjoying life on the front end. Defining Purpose briefly cut into the margin after a half-mile, but Randomized extended her lead after that, and she cruised home by four easy lengths. Wet Paint, the post time favorite, was given every chance to succeed under Flavien Prat. The closing favorite ended up saving ground stalking the pace from post 2, but the race flow was against her. She kept on plugging away and outfinished Defining Purpose for the runner-up spot by a length and a half. The latter was 8 1/2 lengths in front of 61-1 outsider Sabra Tuff. The latter was at the back of the pack and passed a handful of tiring runners. Taxed finished 1 3/4 lengths in front of Gambling Girl but was disqualified for clipping heels with that rival after the start. Gambling Girl lost multiple lengths early after the clipping incident and she reportedly bled. Sacred Wish stumbled at the start and hit the gate from the inside post, and she weakened after stalking the pace. Fireline was bumped around at the start and never got seriously involved. Julia Shining chased from midpack while racing wide, and she eased in the lane. This was her first start since April 7 and there was clearly a lack of fitness. Chocolate Gelato eased. The final time was 2:03.07 and Chad Brown did it again, but this was a strange race. Multiple runners had trouble right out of the gate especially Gambling Girl. Closers had no chance and the winner had everything her now way. Randomized is now 3-for-5. She made the lead three times and won all of those races. She failed to get to the front twice and was beaten in those events.  
Bolton Landing – August 20 – 5 1/2 furlongs turf
The turf course was good and the temporary rail was set at 27 feet. Takemetothebeach was a late scratch and that left a field of five. Astonesthrowaway felt pressure from She's Fire through a quarter in 22.52 and a half in 45.65, and neither of those two were late factors. Crown Imperial and Amidst Waves stalked the pace and it came down to those two. Amidst Waves was the favorite with Irad Ortiz Jr. aboard and she made a wide move, and Crown Imperial stayed inside. Amidst Waves ($5.10) hit the front in midstretch and started to drift in. She kept drifting in and got close to Crown Imperial, and she held on by a nose. The runner-up got a great trip and just missed in a solid effort. Gram rallied from last to pick up the show. She's Fire and Astonesthrowaway trailed. The final time was 1:03.38 and George Weaver saddled the winner. Amidst Waves was my top choice, and this was my most productive week at the Spa with stakes picks. I went 5-for-6 and the only race I missed was the Alabama. My top choice Julia Shining is still running, and I could not have been more off the mark in that race. Two weeks to go and Travers week is just around the corner.   
Are you interested in more Saratoga content? Check out the links below: