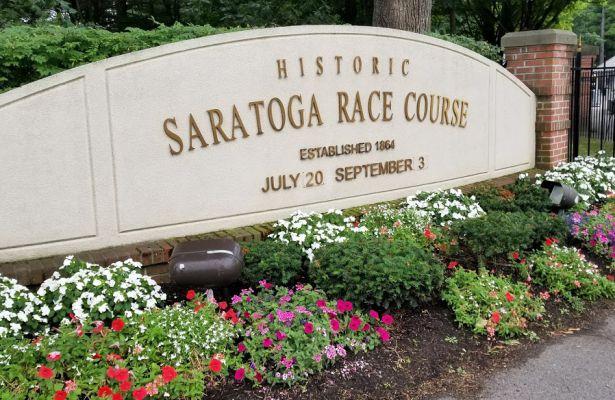 By Jarrod Horak
The Saratoga summer meet wrapped up earlier today and the stakes schedule ended with a shocking result. Nutella Fella stunned his rivals and paid $111 in the Grade 1 Hopeful. Irad Ortiz Jr. was the leading rider, and the trainer title came down to the final race of the meet. Linda Rice needed to win the finale with Lt. Mitchell to finish in a tie with Chad Brown, and she did it. Brown had a five-win cushion with two days to go and Rice ran him down to finish in a dead heat. Klaravich Stables ran away with the top owner award. After all of the turmoil and tragedy at Saratoga this summer, it was nice to see the meet end on a high note.  
There was some interesting news out of Saratoga earlier today. With construction ongoing at Belmont Park, the next two editions of the Belmont Stakes might be run at the Spa. The details are sparse at this time, but if the Test of the Champion does indeed end up at Saratoga in 2024 and 2025, the race will probably be shortened to a mile and a quarter. We will know more in the coming months.
Racetrack safety has been a hot topic throughout thoroughbred racing this year. We went through a difficult stretch at Churchill Downs earlier this spring, and they were forced to halt their meet and move live racing to Ellis Park due to multiple equine fatalities under the Twin Spires. Saratoga went through a similar bad stretch this summer, and they thought about canceling New York Showcase Day after New York Thunder went down in the H. Allen Jerkens Memorial on the Travers undercard. They decided that the main track surface was not to blame for the dozen fatalities, so they soldiered on and got through the rest of the meet safely. 
After multiple tragic events at Saratoga this summer, there is talk of removing one of the two turf courses and installing an all-weather track. Having a trio of surfaces is the way of the future. Gulfstream Park is leading the way and Belmont Park is hot on their heels. A synthetic surface at the Spa is a great idea for many reasons. There are proven to be safer for horses and if the track comes up wet, which it did on many occasions this summer, they can move the races to the all-weather track, and that would almost certainly reduce equine injuries and lessen the number of scratches. In addition to making surfaces safer, many tracks are using scientific breakthroughs and artificial intelligence to further enhance racetrack safety. Much has been done to reduce injuries and fatalities but we must continue to do more if this sport is to survive.
That does it for my Saratoga coverage. I hope you enjoyed my thoughts this summer and I look forward to a safer future for the equine athletes. 
Are you interested in Saratoga stakes recaps? Check out the links below:
New York Showcase Day stakes recaps
Saratoga 2023 Stakes Recaps (Aug. 30-Sept. 1)
Saratoga stakes recaps for September 2