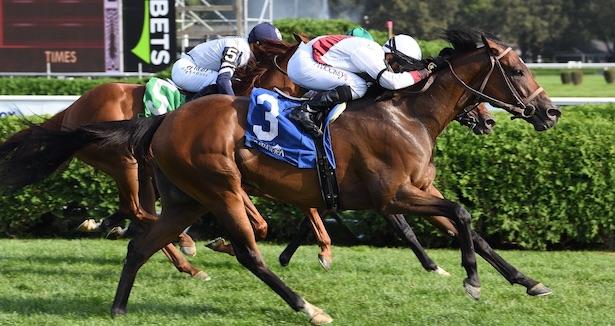 By Jarrod Horak
I did not have wagering success in the four stakes races at Saratoga on Saturday, Sept. 2, but I was pleased as a racing fan with one outcome in particular. The one performance that really stood out was Thin White Duke's rallying win in the Harvey Pack Stakes. You cannot help but root for tough veterans like that, and his surprise victory definitely brought a smile to my face. 
Grade 2 Flower Bowl – 1 3/8 miles inner turf
Strange things can happen in 4-horse fields, and pace makes the race. That sums up what happened in this graded marathon on firm turf. Parnac (FR) shook off mild pressure from overseas import Tamarama (GB) in the early going and took charge through a quarter in 25.19, a half in 51.33, and six panels in a dawdling 1:18.82. Strong favorite McKulick was content to sit in third under leading rider Irad Ortiz Jr., and Amazing Grace (GER) took up the rear. Not much changed until the stretch. Tamarama was the first to crack and McKulick tried to make a race of it, but Parnac ($18.40) had energy in reserve and held nicely to pull off the upset by a length and a quarter. McKulick held second by a neck over Amazing Grace, and Tamarama was another length back in fourth. The final time was 2:18.60 and Dylan Davis rode the winner for Christophe Clement. I would not hold much stock in this result. Parnac has improved in these longer races but had everything her own way vs. three opponents.
Grade 2 Prioress – 6 furlongs dirt
Speed is king or at least it was in this race. Alva Starr dueled with Jersey Pearl early. The opening quarter was run in 21.73, and the former was in front by a length after a half in 44.64. Dazzling Blue was the strong favorite and she chased from the outside post. She briefly made a move but Alva Starr ($9) opened up on them and the ball game was over in a flash. She streaked across the line by 8 3/4 lengths, stopping the clock in 1:09.14 and Jose Lezcano guided home the winner for trainer Brett Brinkman. Jersey Pearl was clearly second best and Dazzling Blue was 7+ lengths clear of Unsung Melody and Unified Alliance. Alva Starr is obviously a talented sprinter but she is probably not this much better than the likes of Dazzling Blue, but she was on this day.
Harvey Pack – 5 1/2 furlongs turf
This race had a great storyline. It was formerly run as the Lucky Coin and renamed after legendary NYRA personality Harvey Pack. Thin White Duke was the defending champ, and one of his owners, renowned handicapper and turf writer Steven Crist, was one of the first guests on Harvey Pack's NYRA recap show in the 1980's. As for the race itself, Dancing Buck, making his first start since November 2022, made the pace through fractions of 22.42 and 45.36. My top choice Our Shot chased the pace and battled for the lead with post time favorite Big Invasion, but everyone took a back seat to Thin White Duke ($20.40). He was my underneath key but I have to say I was not upset when he was closing for the win. He rallied outside and got up by a neck under Jose Lezcano. Big Invasion held the place by a head over Our Shot, and Dancing Buck and Chess Master were next. Mister Mmmmm pulled up early and was vanned off as a precautionary measure, but he was apparently not injured (sigh of relief). Thin White Duke was returning in just 10 days for David Donk, and he was clearly fit and ready to roll. He has started 29 times with 6 wins, 4 seconds, and 7 thirds, and has now banked over $682k. You have to love these overachievers from small outfits. These feel-good stories make this game worthwhile. The final time was 1:02.18.
Grade 1 Jockey Club Gold Cup – 1 1/4 miles dirt
This was not the strongest field ever assembled for a Grade 1 event. Warrior Johny made the early running through fractions of 24.09, 48.86, and 1:14.10. When an overmatched front runner is carving out the splits, the race is typically won by a logical contender chasing from second. That happened in the Whitney and it was deja vu all over again in this spot. Bright Future ($9.50) was perched in second from the outside post under Javier Castellano. He moved to the fore after a mile, opened up by 2 1/2 lengths in the stretch, and he on by a desperate nose over Proxy. The latter stalked from the inside post, moved out and came after the eventual winner, and just missed in a game effort. Tyson stalked the pace and jut held the show by a nose in his first conventional dirt try. Clapton rallied from last and was edged for third, and Duke of Love was a wide 5th. Now we come to Rattle N Roll. I picked him on top and don't know what happened here. I was not shocked that he lost but really thought he would be on the board against this cast. He was in raging form and was freshened for this, and he was surprisingly as flat as a pancake. The race shape was probably not to his liking but that does not tell the whole story. He just never lifted a hoof. Warrior Johny weakened to 6th and 35-1 outsider Unbridled Bomber trailed. The final time was 2:03 flat. Bright Future, a Todd Pletcher trainee, was exiting a smart local optional claiming tally at a mile and an eighth. He took advantage of a favorable pace scenario and made the grade in his second stakes try. I would not be afraid to play against the top two in their next outings. I would consider backing Rattle N Roll next time depending on the situation, but I would demand a fair price after this puzzling performance. This was his chance to step up and prove that he was BC Classic worthy, and he clearly flunked that test on this day.
Are you interested in more Saratoga recaps? Check out the links below:
New York Showcase Day stakes recaps