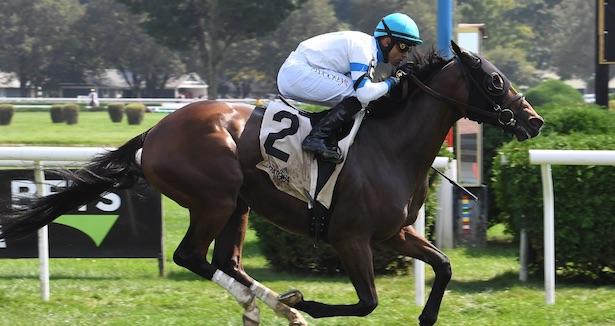 By Jarrod Horak
The curtain has come down on the 2023 summer meet at Saratoga. The final two Grade 1 races of the meet were for 2-year-olds, and neither had the result that many were expecting. Brightwork was hardly a big surprise in the Spinaway, but Nutella Fella's victory in the Hopeful was completely expected and seemed to come to out of left field. 
Grade 1 Spinaway – September 3 – 7 furlongs dirt
Ways and Means was the talk of the town heading into this race following her outstanding winning bow. Brightwork was her main competition and she had more seasoning, and her experience made all the difference in this race. Sugar Hi was pressured on the lead and the fractions were 22.40 and 45.09. Lemorian, Lady Moscato, and Brightwork were in chase mode, and Way and Means was in trouble early. Chad Brown's chalky filly did not have a great start and that caused her to get caught in tight quarters, and she clipped heels behind Brightwork. This was not the trip Flavien Prat was expecting. The three early runners started to weaken and Brightwork was in a great spot, and she pounced and was quickly joined by Ways and Means, and the match race was on. Brightwork ($8.00) got the right trip under Irad Ortiz Jr. and turned away Ways and Means, and she scored by a half-length. Ways and means finished 6 1/4 lengths in front of show finisher Wonder Ride. Alys Beach, Closing Act, Sugar Hi, Lady Moscato, and Lemorian also ran. The final entrant was Miz Sense and she had a tough week. She tossed the rider and ran off prior to the P. G. Johnson on Aug. 30, and was scratched. She came back in this heat but was extremely restless in the gate just as the latch sprung, and was declared a non-starter. Todd Pletcher has a head case on his hands. The final time was 1:23.17 and Brightwork's professionalism catapulted her to victory. John Ortiz's filly is now 4-for-4 and this was her second graded tally. Ways and Means lost nothing in defeat, and this was a great experience run after having everything go right in her bow. She should be a handful in her next start.
Bernard Baruch – September 4 – 1 1/6 miles inner turf
The turf was firm and the temporary rail was set at 9 feet. Bring Me a Check was stretching out in distance and he was in front through splits of 24.19, 47.94, and 1:11.43. Defending champ Emaraaty (GB) chased from second and turned up the heat after six furlongs. Pioneering Spirit was much closer to the pace than expected, and Wit stalked outside and Public Sector (GB) trailed. Pioneering Spirit ($8.20) was cutting back after finishing third in the Sword Dancer (G1) at 1 1/2 miles, and he was as fit as a fiddle and proved much the best by 2 3/4 lengths for Jose Lezcano and Linda Rice. Bring Me a Check held second by a neck over late runner Public Sector. Emaraaty weakened to fourth and Wit trailed as the beaten favorite. The final time was 1:40.69.
Grade 1 Hopeful – September 4 – 7 furlongs dirt
I really thought I had the winner of this race. My top choice Timberlake exited a pair of live heats at Ellis Park and was vastly better with the addition of blinkers in his maiden win. He was training lights out for this engagement, and his chances improved even more following the defection of morning line favorite Muth. Brad Cox's colt ran a big race on Monday under Florent Geroux, but another runner was shockingly best. The pace was hot and contested in this spot (22.19, 44.89). Just Steel went hard from the inside post as expected, and Yo Yo Candy and Mission Beach were intent on handy forward positions as well. Timberlake was not as quick off the blocks as the aforementioned runners, and he ended up running right up on the heels of the early protagonists. Be You, Pirate, and Gold Sweep were midpack or so, and Nutella Fella trailed them all. They went six panels in 1:10.87 and you could tell the early runners were spent. Timberlake was in a tight spot right behind the leaders, and he bullied his way through and briefly appeared to have this race won, but one closer was making a dangerous move under Junior Alvarado, and what a smart ride it was. Knowing the pace was fast, Alvarado kept Nutella Fella ($111) inside, and when the speed came back to the field, he swung out and gathered all of the stretch momentum, and he ran down Timberlake and kicked away to win by a length and a half. Timberlake fended off Pirate to secure the place by a neck, and maiden Be You was another 2 1/2 lengths back in fourth. Mission Beach weakened to 5th and was followed by Gold Sweep, Just Steel, Baytown Chatterbox, Valentine Candy, and Yo Yo Candy. The final time was 1:24.41. Hats off to trainer Gary Contessa. Nutella Fella, a debut Delaware Park winner and a bargain $12k son of Runhapy, was previously trained by Richard Sillaman and was making his first start for Contessa in this race. I want to see Nutella Fella prove himself when he does not get a dream setup. The one horse I really want out of this race is Timberlake and it is not because I picked him on top. He had an uncomfortable trip and was eager to run, and he showed some grit pushing through a tight spot. Much like Ways and Means in the Spinaway, this was a great education for the runner-up.
Are you interested in more Saratoga recaps? Check out the links below:
New York Showcase Day stakes recaps
Saratoga 2023 Stakes Recaps (Aug. 30-Sept. 1)