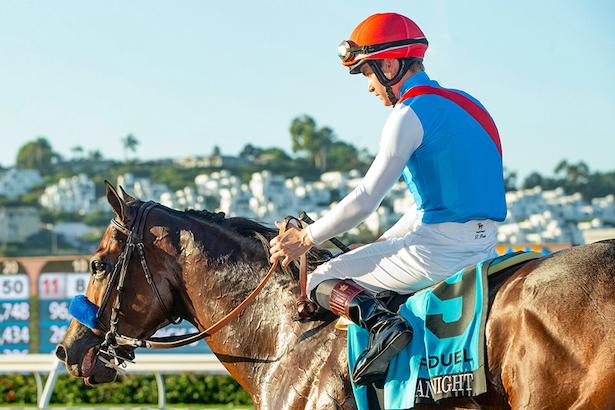 By Jarrod Horak
This was the biggest week at Del Mar so far. The Grade 1 Pacific Classic was the marquee race and Arabian Knight smartly wired the field in that heat, and he gets my star of the week award. Eight other stakes races were run between Sept. 2-4, and the summer meet is rapidly winding down.
Click here for Del Mar Racing Picks, Tips, and Insider Analysis
Grade 2 Del Mar Mile – Sept. 2 – One mile turf
Sumter blitzed to the front through an opening quarter in 22.77, and continued to show the way after a half in 46.08 and three quarters in 1:10.14, He started to back up after that and 22-1 stalker Visitant briefly hit the front, but Du Jour ($10.20) finished under a full head of steam after finding clear sailing, and he was clear by 2 1/4 lengths under Flavien Prat. The five-way battle for the place went to beaten favorite Exauted. Visitant got third and Irideo ARG), Twist (FR), and I'm a Gambler were next. Count Again , Balnikov (IRE), War At Sea, and a fading Sumter completed the order of finish. The final time was 1:33.82 and Bob Baffert has Du Jour in raging form again.  
Grade 3 Torrey Pines – Sept. 2 – One mile dirt
This sophomore filly race took a big hit when morning line favorite Faiza scratched. Olivia Twist defected as well, and that left California-bred filly Ceiling Crusher as the 2-1 favorite, and she dominated throughout under Edwin Maldonado. Ceiling Crusher ($6.80) was always in front (22.14, 46.29, 1:11.78). She responded when challenged and kicked well clear to win by an easy six lengths. Flying Connection stalked the pace, made a bid for the lead, and was clearly second best. Justique chugged along from last to finish a clear third. Coffee in Bed, Ocean Club, Pink Ace, and Anywho were next, and Infinite Diamond eased and walked off. Doug O'Neill's winner completed her flat mile journey in 1:37.41. 
Grade 3 Green Flash Handicap – Sept. 2 – 5 furlongs turf
The paper race pace was projected as above par and it sure looked like a closer would win this turf dash. The pace was quick in real time as well with Helladic, Bus Buzz, Fast Buck, and Turn On the Jets (IRE) making their presence felt from the outset (21.74, 44.70). My best bet top choice Motorious (GB) had substitute rider Geovanni Franco aboard, and he gave him a great ride. He sat in midpack and was out in the clear. He moved up turning for home, and stuck the front in the lane and was clear by 1 3/4 lengths at the wire. Cherubic Factor was up for the place at 22-1, and Beer Can Man completed the trifecta. Turn On the Jets, Lane Way, and Bus Buzz were next, and they were followed by Bran (FR), Silent Poet, Fast Buck, Packs a Wahlop, Helladic, and Kid Corleone. Phil D'Amato saddled the winner, and he stopped the clock in 56.07 and paid $7.20 as the betting favorite. Give Motorious some pace to chase and he will usually run a quality race. 
Grade 1 Pacific Classic – Sept. 2 – 1 1/4 miles dirt
This was an interesting renewal of this race with a nice blend of talented sophomores and solid older runners. My top choice Arabian Knight looked like the controlling speed on paper and he scooted right to the front under Flavien Prat (23.35, 46.60, 1:11.42). Slow Down Andy came after the early leader and the margin was just a head after a mile in 1:36.83. Slow Down Andy actually passed Arabian Knight approaching the top of the stretch, but the latter dug in and turned away his older rival, but his job was not completed. Haskell hero Geaux Rocket Ride worked out a ground saving tactical trip from the inside post under Mike Smith, and he came after Arabian Knight late in the game, but Bob Baffert's sophomore refused to lose and won by a neck, and galloped out well in front. Geaux Rocket Ride finished a length and a quarter in front of Slow Down Andy, and Senor Buscador made a wide, belated rally to complete the superfecta. Skinner worked out a decent closing trip from post 10. He had a big inside opening in the stretch and was plugging away, but was not making up sufficient ground and finished a clear 5th. Defunded, Piroli, and Tripoli were next, and Order and Law and Stilleto Boy eased and walked off. Katonah scratched. The final time was 2:03.19 and the top two have to be considered logical contenders in the BC Classic later this fall. Arabian Knight still has tons of upside with just four starts under his belt, and his best races are almost certainly in front of him. His early speed is a big weapon and I really like his fighting spirit. Geaux Rocket Ride has a nice cruising speed and he puts himself in a position to succeed in all of his races. He is lightly raced and continues to develop for Richard Mandella. Slow Down Andy was third in the BC Dirt Mile last fall and ran well in the local San Diego (G2) and in this spot. He simply ran out of stamina and is really a miler. Hopefully they go for the Dirt Mile and not the Classic. 
Grade 2 Del Mar Handicap – Sept. 2 – 1 3/8 miles turf
Crosby Beach had the lead for the opening mile (24.60, 48.74, 1:13.80, 1:39.28). The real running happened in the final three furlongs. Nineleventurbo stalked and forged to the front at 13-1, and it looked like he might pull off the upset, but defending champ Gold Phoenix (IRE) found his best stride in the lane and rolled home to a 1 1/4 length tally as the betting favorite under Juan Hernandez. Nineeleventurbo just held the place by a nose over Cash Equity (FR), and Missed the Cut was another nose back in fourth. Planetario (BRZ) stalked outside and failed to quicken in an even effort, and my value top choice Cathkin Peak (IRE) seemed to resent rating and appeared to be pulling. This was not the first time he has done that. He swung wide in the lane and took up late. I was afraid that this race might be too far for him. The 11-horse field was completed by Offlee Naughty, None Above the Law, Win the Day, and tiring early runners Crosby Beach and Azul Coast. Phil D'Amato saddled the winner and he paid $7. The final clocking was 2:15.34. Gold Phoenix loves the turf course at Del Mar. 
Shared Belief – Sept. 3 – One mile dirt
Tahoe Sunrise set sail for the lead from the inside post under Victor Espinoza. He was in front through a quarter in 22.23, a half in 46.10, and six furlongs in 1:11.65. He put away chasers Clouseau, Henry Q, and Low Expectations, and his chalky stablemate Mr Fisk started to come alive from the back of the pack under Juan Hernandez. Tahoe Sunrise dug in and Mr Fisk was getting closer, and they hit the line together. After a bit of a wait, a dead heat for the win was announced, and Bob Baffert trained both colts. Tahoe Sunrise, an American Pharaoh colt, paid $3, and Mr Fisk, a son of Arrogate, paid $2.80. The former was stretching out in distance and a flat mile might be his limit. Mr Fisk seems to want more ground and might continue to develop as distances increase. Smart Mo could not go with the top two and was best of the rest in third. Clouseau, Henry Q, and Low Expectations trailed. The final time was 1:37.33. 
Grade 2 Del Mar Derby – Sept. 3 – 1 1/8 miles turf
Longshot Justin's Legacy was intent on getting to the front under Edwin Maldonado, and the opening quarter was 23.91. Solid favorite Conclude was ridden by Hector Berrios, and he let the early runner go and sat in second, but he took over quickly after a half in 47.90. I thought that was the winning move. He was three lengths clear after a half-mile and was a length in front through six panels in 1:12.20. He was still a length and a half clear in the stretch and Maltese Falcon (IRE) was closing inside and my top choice Almendares (GB) was rallying outside. Maltese Falcon was making up the most ground but could not quite get to Conclude ($4.20), and the latter prevailed by a head. Almendares was another length back in third and Panic Alarm (IRE) found his best stride late and missed the show by a half-length. Smart Code did not have smooth sailing and ended up 5th, and Kid Azteca, a fading Justin's Legacy, Requist, and Ah Jeez also ran. The final time was 1:48.61. 
Tranquility Lake – Sept. 4 – One mile dirt
Fun to Dream was 30 cents on the dollar but I had my doubts. She gave up way too early in her Clement L. Hirsch (G1) return, and this spot almost seemed like an afterthought. I went with sharp class riser Micro Share and she looked good in this spot. Yuki (CHI) was aggressively handled under Hector Berrios through fractions of 22.39, 46 flat, and 1:11.37. Micro Share ($8.20) was cutting into the leading margin under Mike Smith and got to within a head of the lead after six panels. She struck the front in the stretch and scooted away to win by 3 1/4 lengths. Yuki was clearly second best and Fun to Dream just did hold the show over Smoothlikebuttah. It was a long way back to Uni Chiquitita (CHI). The final time was 1:38.28. I was a fan of Micro Share when she was a sophomore last year. They tried her in the SA Oaks but something went awry and she eased at 7-1 odds that day. She disappeared for 9+ months and finally resurfaced in January 2023. It took her a few races to get back on the winning track, but she has now won three straight and will probably try a graded race next. Her connections might consider the Zenyatta (G2) at Santa Anita on Oct. 1.
Generous Portion – Sept. 4 – 6 furlongs dirt
Crazy Hot was the favorite for Jeff Bonde. She has not been the best gate horse, and once again she did not have a smooth getaway. She straightened out quickly after ducking in at the start under Mike Smith. She rushed up inside to set the pace (22.69, 46.78). Talent for Gold briefly chased, and Prancingthruparis took up stalking duties under Antonio Fresu. It was a two-horse race most of the way, and Crazy Hot ($3.80) held a safe cushion throughout and tallied by a length and a quarter. Prancingthruparis never gave up and kept coming after the winner in the stretch. She was making some inroads but ran out of ground, and was 7+ clear of late running show finisher Fly a Fantasy. Blevys Tiger surprisingly took back and was wide and a bit green in her first conventional dirt try. Putt for Dough and Talent for Gold trailed. Crazy Hot, a daughter of Goldencents, stopped the clock in 1:11.93. 
Check out all of the Del Mar stakes recaps each week!
Del Mar week 1 stakes recaps (July 21-23)
Del Mar week 2 stakes recaps (July 27-30)
Del Mar week 3 stakes recaps (Aug 4-6)
Del Mar week 4 stakes recaps (Aug. 11-13)
Del Mar week 5 stakes recaps (Aug. 18-19)