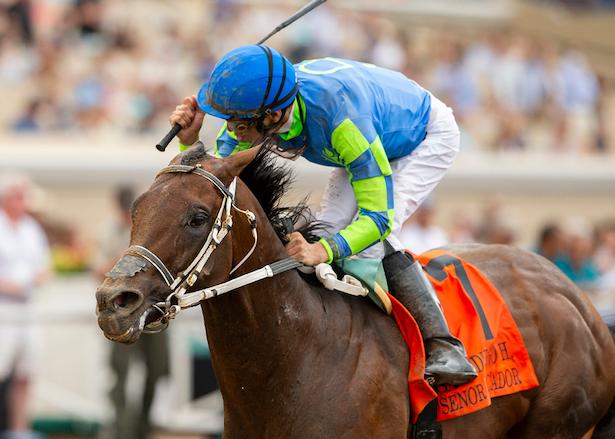 By Jarrod Horak
The second week of the Del Mar summer meet featured five stakes races. Senor Buscador pulled off the biggest surprise at 13-1 odds in the Grade 2 San Diego Handicap, and he will probably go next in the Pacific Classic (G1) on Saturday, September 2.
Click here for Del Mar Racing Picks, Tips, and Insider Analysis
Fleet Treat – July 27 – 7 furlongs
Smiling Lady was the early leader and Big Pond chased from second. Overwhelming favorite Ceiling Crusher was bumped early and stalked near the inside, and Chismosa was last early. Big Pond ($9.80) got the best forwardly placed trip while out in the clear and dug in and prevailed by a length. Chismosa moved up wide and tried to go with the winner but did not have quite enough late energy and ended up a second. Ceiling Crusher, the 1-5 chalk, finished 7+ lengths in front of the rest. Cholly, Smiling Lady, and Absolutely Zero also ran. Tom's Regret scratched. The final time was 1:23.37.  
Daisycutter – July 28 – 5 furlongs turf
Sassy Nature was fleet early. She reeled off an opening quarter in 22 flat. Princess Adaleigh chased from second and Wide West (IRE) and Secrets Told were forwardly placed as well. Even money favorite Twilight Gleaming (IRE) broke from the inside post and settled off the pace. My best bet top choice Amy C (GB) bided her time near the back of the pack under Umberto Rispoli. She patiently waited for running room and closed fast in the lane to score by a half-length over her stablemate Tony Ann. The latter was making her first start since November 2022 and was clearly second best. Princess Adaleigh edged Sassy Nature for the show by a neck, and Unbridled Mary was another nose back in 5th. Wide West was next across the line but was disqualified for interfering with Twilight Gleaming. The chalk briefly found running room along the inside in early stretch but Wide West came over on her and Mike Smith had to take up. She lost all chance after that incident. Xmas Surprise and Secrets Told trailed. The final time was 56.49 and Phil D'Amato's winner paid $9.20.
Grade 2 San Diego – July 29 – 1 1/16 miles dirt
Brickyard Ride was all alone up front and that was hardly a surprise. The talented California-bred sprinter had a theft on his mind and he ran quite well, but could not quite hang on. My top choice Slow Down Andy was always traveling well from the inside post. He saved ground stalking the pace and caught Brickyard Ride in the lane, but Senor Buscador ($29) came rolling home from last and finished best of all to score by a length and a quarter under Geovanni Franco. Slow Down Andy was second best and Brickyard Ride held off beaten favorite Defunded to secure the show by a half-length. Tripoli was another head back in 5th and was followed by Royal Ship (BRZ), Missed the Cut, American Admiral, and distant trailer Tisquantum. The final time was 1:42.54, and there is a very good chance that we did not see the Pacific Classic winner in this local prep for the Del Mar showcase event. 
Grade 1 Bing Crosby – July 29 – 6 furlongs dirt
A dozen sprinters broke from the gate and the finish was wild. Four longshots vied for early supremacy and Anarchist sat right off of those runners. Post time favorite Dr.Schivel was patiently handled while racing wide and California-bred wonder The Chosen Vron was within hailing distance of the leaders. Anarchist made a bid for the lead and stuck his nose in front in early stretch. He was joined on the outside by Dr. Schivel and The Chosen Vron was making up ground inside those two. There was a three-way battle all the way to the wire and The Chosen Vron ($11) got his head down on the line under Hector Berrios in a thrilling stretch battle. Anarchist was a head back in second, and it was another head to Dr. Schivel. Kid Corleone mixed it up throughout and completed the superfecta. C Z Rocket, American Theorem, Sibelius, Hoist the Gold, Get Her Number, Peaceful Waters, Todo Fino (CHI), and Spirit of Makena also ran. The final time was 1:09.24. The Chosen Vron was exiting seven consecutive state bred stakes scores and clearly had no trouble beating open company in this Grade 1 sprint. 
Grade 2 Eddie Read – July 30 – 1 1/8 miles turf
Hector Berrios continues to hold the hot hand at Del Mar. He is in a tie for leading rider with Juan Hernandez. He is an especially shrewd turf pilot, and he gave Gold Phoenix (IRE) a smart ride in this turf route stakes event. Masteroffoxhounds was dictating terms up front. His splits were 24.54, 49.20, 1:13.07, and 1:36.73. Gold Phoenix was saving ground while sitting chilly in midpack. He moved off the rail in the stretch, engaged the longtime leader, and got up to score by a bit less than a length. Balnikov (IRE) rallied for the place in the late stages and Masteroffoxhounds was another half-length back in third. Beaten favorite Count Again tried to rally from last but did not get the right setup and settled for fourth. This was his first start since May 2022. Cabo Spirit made wide early move but could not sustain it, and finishing behind him was I'mgonnabesomebody, Handy Dandy, Dicey Mo Chara (GB), and Mackinnon. The final time was 1:48.62 and Gold Phoenix paid $11 to win. Phil D'Amato saddled the top four finishers. 
Check out all of the Del Mar stakes recaps each week!
Del Mar week 1 stakes recaps (July 21-23)