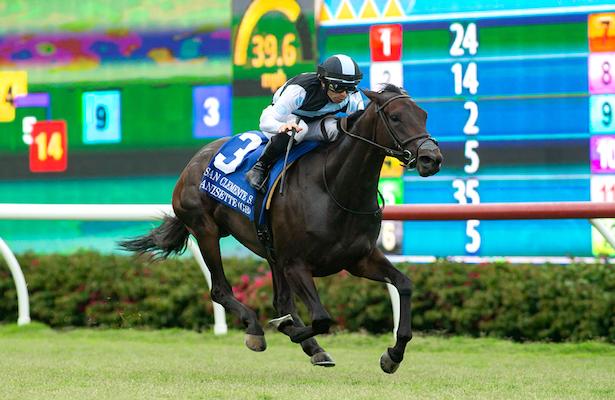 By Jarrod Horak
The 2023 Del Mar summer meet is off and running. There were five stakes races on opening week and four of those were flat mile turf events. We saw some impressive performances including Anisette's scene-stealing performance in the Grade 2 San Clemente Stakes on Saturday, July 22.
Click here for Del Mar Racing Picks, Tips, and Insider Analysis
Oceanside – July 21 – One Mile Turf
Game Time was intent on the lead from post 12 and Hector Berrios aboard Conclude let that one go and was content to chase from second. The latter took late money and his backers were loving the trip he was getting. Conclude ($11.40) moved to the front turning for home and had plenty left to hold off his stablemate Classical Cat in a length and a half victory. The runner-up was the favorite and this was his first outing since December 2022. Ah Jeez was an even third and was followed by Mas Rapido (GB), Game Time, Agency, Ze'bul, El Oro (FR), Zalamo (FR), Mr Fisk, a very disappointing Escape Artist, Kid Azteca, and Ever a Rebel. Phil D'Amato saddled the winner and the final time was 1:35.09.
Osunitas – July 22 – One Mile Turf
The pace was fast and my best bet top choice Warrens Candy Girl ($22.20) rallied for the win under Ramon Vazquez. Doug O'Neill has been sending out live runners early in the meet and his filly Awake At Midnyte stalked the pace and landed the place. Nevisian Sunrise sat in midpack and just grabbed show dough over Freedom Flyer, Symphony Perfect (IRE), and Lucky Girl (IRE). Canoodling battled on the pace and weakened to 7th, and Ascendancy, Uni Chiquita (CHI), Over Attracted, Very Scary, Anthonys Cleopatra, beaten favorite Honey Pants, and Ladywearsthering also ran. The final time was 1:35.35.
Grade 2 San Clemente – July 22 – One Mile Turf
I got my second best bet home in this flat mile turf affair for sophomore fillies. Another fast pace ensued and Anisette (GB) rumbled home from off the pace to win by 2 1/2 lengths under Umberto Rispoli. Ocean Club stalked the pace and landed the place for Drayden Van Dyke And Tom Proctor, and the show position was taken by surface switcher And Tell Me Nolies (35-1). The Wild Grazer (IRE) completed the superfecta and was followed by Delight, Olivia Twist, Flying Connection, Wed (FR), Paris Secret (IRE), Ancient Peace, Comanche Country (IRE), Spicybug, Broadway Girls, and early leader Fast and Shiny. The final time was 1:34.84 and the winner paid $6.20 for Leonard Powell.
Grade 3 Cougar II – July 23 – 1 1/2 miles Dirt
Kiss Today Goodbye was the post time favorite but he never got involved. Azul Coast set the pace from the inside post in his first start since November 2022. Bye Bye Bobby figured to carve out the fractions but he ended up chasing from second. The fractions were 24.86, 49.59, and 1:14.82. The early runners were staying on and Bye Bye Bobby briefly passed Azul Coast and was the new leader, but it would not last. Order and Law (31.60) stalked outside under Kent Desormeaux and he pounced on the top pair. He had the most late energy and kicked away to score by 2 1/4 lengths for trainer Bob Hess Jr. Azul Coast regained the place and ended up 3 1/4 lengths ahead of clear show finisher Bye Bye Bobby. Kitten Mischief, Ghazaaly, Rimprotector, and Kiss Today Goodbye completed the order of finish. The final time was 2:32.35.
Wickerr – July 23 – One Mile Turf
Lamplighter Jack made the early running as expected (23.15, 46.37), but he could not hold it together and faded out of contention. I'm a Gambler (IRE) pressed from post 11 and hit the front after six furlongs in 1:10.05. He stayed on but two others were coming. Flavius stalked the pace and was the new leader in the lane but midpack closer Du Jour ($11.60) rallied through traffic and made the last run to score by a half-length for Juan Hernandez and Bob Baffert. Flavius settled for the place and ended up a half-length in front of show finisher I'm a Gambler. Hit the Road just nipped Cash Equity (FR) for the final superfecta slot. Irideo (ARG), beaten favorite Cathkin Peak (IRE), Count of Amazonia (IRE), Restrainedvengence, Evening Sun (GB), Time to Party, Salesman (IRE), and Lamplighter Jack also ran. The final time was 1:34.13. Du Jour might be ready to rejoin the graded ranks after this sharp victory in the restricted stakes affair.