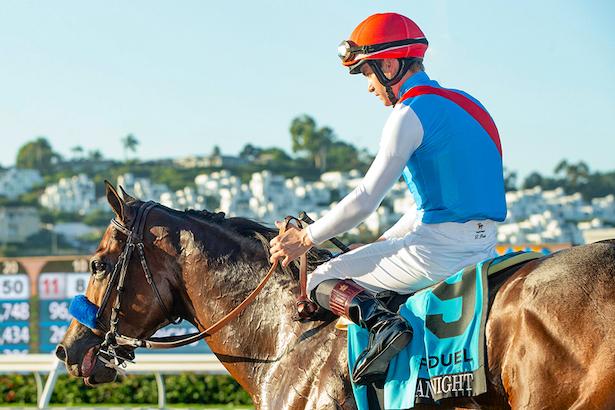 By Jarrod Horak
In this Breeders' Cup Classic rankings article, I will go through all of the 3-year-olds and rank them in order of preference. Eight sophomores have been pre-entered in the 2023 Breeders' Cup Classic.
I have been ranking the sophomore set all year long, beginning with my "Exceptional 11" Kentucky Derby contenders, and I kept following them throughout the summer in my Beyond the Crown series. The older handicap division lacks a clear leader and there is a very good chance that a 3-year-old will win the 2023 BC Classic.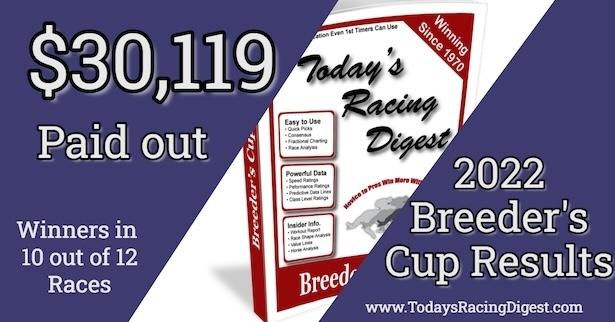 Breeders' Cup Classic Rankings: 3-Year-Olds (ranked in order of preference)
1 – Arabian Knight has the most upside and has been my top ranked 3-year-old male for quite some time. The Uncle Mo colt was my top ranked sophomore after his Southwest win in January, but he was removed from Triple Crown consideration so I dropped him from my list. He resurfaced as my top choice in my Beyond the Crown series after the 2023 Triple Crown, and he has remained on top ever since. His only loss in three starts was a show finish in the Haskell, and he chased 61-1 longshot Awesome Strong through a wicked opening quarter of 22.80. Bob Baffert's colt took the lead after that but that damage was done. That was his first start since January and he kept fighting to the wire and was best of the rest in third. Geaux Rocket Ride and Mage got past him and seemed to be pulling away, but Arabian Knight seemed to get a second wind in late stretch and actually galloped out in front. He showed his heart in the Pacific Classic. In that Grade 1 event at a mile and a quarter at Del Mar, he set the pace, turned away subsequent Awesome Again (G1) winner Slow Down Andy, and held off Haskell hero Geaux Rocket Ride to win by a neck, and he galloped out in front again. He is training forwardly for the BC Classic and should make his presence felt from the outset.
2 – Geaux Rocket Ride is a lightly raced sophomore and Richard Mandella is dangerous when the Breeders' Cup is held at Santa Anita. This late bloomer graduated in his sprint debut in late January, and was second to Practical Move in the San Felipe second time out. He got sick and missed the SA Derby, and returned with a nice win in the Affirmed. He shipped to New Jersey and smartly captured the Grade 1 Haskell with an inside/outside stalking trip from the rail post. He got a great inside stalking trip from the rail post in the Pacific Classic and missed by a neck. His best races should be in front of him and his tactical speed should lead to a good trip.
3- Arcangelo won his last four starts. In the Grade 1 Belmont Stakes at 1 1/2 miles, he saved ground stalking the pace and was just waiting for National Treasure to weaken. He hit the front early and held off late runners Forte and Tapit Trice to win by a length and a half. The Travers (G1) was a carbon copy. He scooted to the rail when Forte gave up inside position, and he stalked inferior front runners, made the lead early, and held off Disarm to win by a half-length. He will not be meeting inferior front runners this time, and stalkers with similar ability will likely move with him. He is a logical contender but might need an inner trip again for his best chance.
4 – Saudi Crown is 3-for-5 with two nose defeats. He made all the running in the Grade 1 PA Derby in the slop last time. He won't get loose on the lead with Arabian Knight in the field, and this is his first start beyond a mile and an eighth.
5 – Mage is at the mercy of the pace. His only stakes win in six appearances was in the Kentucky Derby, and the son of Good Magic got a great closing trip in a race that fell apart on the front end. I do not expect a pace meltdown in the BC Classic and a minor award is probably his limit.
6 – Derma Sotogake was outstanding in the UAE Derby, and his 6th of 18 in the Kentucky Derby was solid enough. He has not started since May and seems up against it in the BC Classic.
7 – King of Steel is an overseas turf route specialist exiting a Grade 1 win in the Champion Stakes under Frankie Dettori at Ascot on Oct. 21. He is back in two weeks and appears to be targeting the Breeders' Cup Turf over the Classic. He is probably a bigger threat in the turf race.
8- Dreamlike is an upcoming sophomore for Todd Pletcher. The Gun Runner colt was a close third in the Wood Memorial and was still a maiden at that time. He romped in a maiden route after that, and flopped in an allowance race in August. He made a nice late run over a speed favoring Parx oval in the PA Derby, and he was getting to Saudi Crown late in the slop. This is a tall order and I think he could be a decent sort next year.