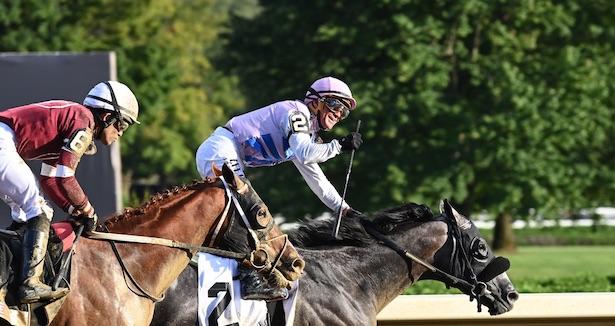 By Jarrod Horak
I feel vindicated for keeping Arabian Knight on top of my list after he finished third in the Haskell. That effort was definitely better than appears, and he rebounded with a strong front running victory in the Grace 1 Pacific Classic at Del Mar on Saturday, Sept. 2. Arcangelo won the Travers late last month, and those two are the big names in this division as we head into the final three months of the year. The next big race on the sophomore stakes calendar is the Grade 1 Pennsylvania Derby at Parx on Sept. 23. This is my third report in this series, and I will update my list again In October.
In other sophomore news, Disarm is out for the remainder of the year. He came out of his Travers runner-up finish "jammed up", as his trainer Steve Asmussen worded it. He has been sent to Rood and Riddle Equine Hospital in Lexington, Kentucky for further evaluation.  
Arabian Lion, Disarm, Scotland, and Skinner drop off the list, and they have been replaced by Reincarnate, Saudi Crown, Practical Move, and Dr. Venkman.
Jarrod Horak's Exceptional 11: 3-year-old male division (9-7-23)
1 – Arabian Knight (Uncle Mo – Borealis Night, by Astrology) – Trainer: Bob Baffert
He was my top ranked Derby contender over the winter and I put him back in the top spot after the Triple Crown Series in June. I kept him on top after his better than appears show finish in his Haskell return. That Grade 1 at Monmouth on July 22 was his first start in almost half a year. He was the favorite based on a pair of blowout wins to begin his career. They wisely kept him out of the Triple Crown races and let him mature and develop, and their patience has paid off. In the Haskell, he dueled with 61-1 outsider Awesome Strong through a blazing opening quarter in 22.80. Arabian Knight put away his pace rival but faced two fresh challenges from Geaux Rocket Ride and Kentucky Derby winner Mage. Those two surged ahead turning for home but Bob Baffert's colt refused to give up and fought all the way to the end. He did not lose any more ground once passed and actually galloped out in front. Fast forward to his next start in the Grade 1 Pacific Classic at Del Mar. He made the lead once again and turned away two challengers. Slow Down Andy came after him around the final turn and actually poked his head in front, but Arabian Knight fought back and put that one away, but his task was not done. His old pal Geaux Rocket Ride made a late bid but came up a neck short, and once again Arabian Knight galloped out far in front. The Pacific Classic was just his fourth start and now he is back on a regular schedule and might be ready to deliver a new career top in the BC Classic. 
2 – Geaux Rocket Ride (Candy Ride – Beyond Grace, by Uncle Mo) – Trainer: Richard Mandella
This one is a very dangerous BC Classic contender, and there is not much between him and Arabian Knight. He wired the field in his sprint debut on Jan. 29. They threw him right into a Kentucky Derby prep second time out. That was the San Felipe (G2) at 1 1/16 miles and he was the favorite. He did not win but ran well in a runner-up finish behind more seasoned rival Practical Move. The SA Derby was supposed to be next but he got sick and missed that race. He resurfaced in the Affirmed Stakes on June 4 and he was best as the strong favorite, and he shipped to Monmouth Park and worked out a crafty trip under Mike Smith. He had the inside post in the Haskell but Smith was able to steer him out, and he stalked while out in the clear, went right on by Arabian Knight, and turned away Mage to win by 1 3/4 lengths. He drew the rail once again in the Pacific Classic, and this time he save ground stalking the pace, and he came after Arabian Knight but was unable to get past that one. He has only started five times and the BC Classic will be at his home base at Santa Anita Park.
3 – Arcangelo (Arrogate – Modeling, by Tapit) – Trainer: Jena Antonucci
Many probably have this one ranked on top in this division, but I am not completely sold on him as the undisputed sophomore leader. His trainer Jena Antonucci did a fabulous job getting him to deliver peak performances in the Belmont Stakes and Travers, but his great trips had much to do with his success. Also, Javier Castellano put on riding clinics in both of those races. In the Belmont, he saved every inch of ground, attacked tiring early runners, and got the jump on the closers. The Travers was eerily similar. He saved ground for much of the running, but this time he swung outside and went past softened up early runners, and he got the jump on the closers again. I am not sure he is going to be able to win the BC Classic in the same manner. A horse like Arabian Knight is not just going to give up the ghost when Arcangelo comes after him around the far turn, and he is going to have to deal with other classy stalkers making the same move. How he reacts to a different set of circumstances and a real stretch battle will tell us much more about him. He is clearly very talented and it is possible that I am seeing a potential weakness when it does not exist, but I just have this lingering doubt and cannot shake it at this time. He will likely train up to the Classic and is one of the more likely winners of that race. If he does it again, he is the 3-year-old champ and Horse of the Year. 
4 – Forte (Violence – Queen Caroline, by Blame) – Trainer: Todd Pletcher
The juvenile champ has hit a bumpy patch. He just sailed through the Hopeful (G1), Breeders' Futurity (G1), BC Juvenile (G1), Fountain of Youth (G2), and Florida Derby (G1), but little has gone right since. He was the Kentucky Derby favorite but a foot bruise knocked him out of that race. He went on the 14-day vet list and was forced to miss the Preakness as well. He missed some training time and tried to win the Belmont Stakes off a 10 week layoff, and he rallied for the place in a gallant effort that day. He added blinkers in the Grade 2 Jim Dandy and nipped lone speed Saudi Crown in a controversial nose victory. No doubt Forte was best that day but Irad Ortiz Jr. had to bully his way between horses while creating his own opening. There was an inquiry but no change was made. I thought he was sitting on a big race in the Travers but everything went wrong. He got a curious, passive ride from the inside post. He was in a good tactical spot early but Ortiz Jr. vacated the rail and that allowed Arcangelo to steal his trip. He got shuffled out of position and was at or near the back of the pack down the backstretch, and he tried to make a wide move around the far turn and ended up a disappointing fourth. I am not quite sure where he stands at the moment, but I am just going to just draw a line though his Travers, and he is right at the top of the heap in this division on his best day. He will probably train up to the BC Classic, and you might actually get a price on him at Santa Anita in November.
5 – Tapit Trice (Tapit – Danzatrice, by Dunkirk) – Trainer: Todd Pletcher
I am not sure what they have planned for the rest of the year. I really liked him earlier this year after wins in the Tampa Bay Derby (G3) and Blue Grass (G1). The Kentucky Derby set up perfectly for him but he ended up a flat 7th of 18. He just missed the place with a wide trip in the Belmont Stakes (G1), and his Haskell effort was too bad to believe. He added blinkers and showed improved positional speed in an okay show finish in the Travers. He has already started seven times this year and I thought he peaked earlier this season He has competed in most of the big sophomore races this year and I would not blame his connections if they opted to give him a break. It is also possible that he targets the BC Classic. We should know more in the coming days and weeks. 
6 – Reincarnate (Good Magic – Allanah, by Scat Daddy)
I was a fan of his early on and had him ranked very high on my Derby list over the winter. He showed real determination in the Sham (G3) on Jan. 8, and he overcame an uncomfortable start and troubled trip to rally for the show on a wet track in the Rebel (G2). His Arkansas Derby (G1) show finish was disappointing because he got a fast track and worked out a nice tactical trip without any trouble. He was cooked on the pace in the Kentucky Derby so you can easily forgive that up the track finish. He controlled the pace and beat Skinner in the Los Al Derby on July 8. He was training for a possible start in the Travers, and he was reportedly moving with a purpose, but Bob Baffert called an audible and decided to target the PA Derby (G1) instead. The dangerous early-pressing type could easily ship and win at Parx. His most recent work was a five panel jaunt in 59.40 (2/40) at Del Mar on Sept. 3. 
7 – Saudi Crown (Always Dreaming – New Narration, by Tapit)
He did not begin his career until April 16 at Keeneland, and he won his 6 1/2 furlong debut on the front end. He took pace pressure and scored again in an allowance dirt sprint at Churchill Downs second time out. They tried the Dwyer (G3) next, and he set the pace and battled with Fort Bragg all the way to the wire. He missed by a nose and was 11 lengths in front of the show finisher. He tried the big boys in the Jim Dandy (G2) at 1/18 miles in his last start, and he set the pace, drifted out badly in the stretch, and was nipped by Forte on the line. I am not sure how far he actually wants to go, but he clearly has ability and is gearing up for the PA Derby. His latest morning move was a five panel bullet in 1:00.09 (1/10) on the training track at Saratoga on Sept. 2.
8 – Mage (Good Magic – Puca, by Big Brown) – Trainer: Gustavo Delgado
I always thought that his Kentucky Derby triumph had everything to do with the race flow, and that has proven to be the case. In the Kentucky Derby, the pace fell apart and he was the best closer, but he did not run the best overall race. That distinction goes to Derby runner-up Two Phil's. The Derby was Mage's only stakes win in six tries and that effort seems like an outlier. He got no pace help in the Preakness and stayed within hailing distance and finished second in the Haskell. The Travers was a real clunker under his substitute rider Flavien Prat. He had an uncomfortable start, and raced wide and came up completely empty. The unraced 2-year-old has accomplished more than his connections could ever have imagined this year, and I would not blame them if they decided to give him a much deserved break. It looks as though they are going to target BC Classic. He would need a complete pace meltdown to win that race, and I seriously doubt that will happen. 
9 – National Treasure (Quality Road – Treasure, by Medaglia d'Oro) – Trainer: Bob Baffert
His lone stakes win in seven tries occurred in the Grade 1 Preakness, and he had everything his own way in that race. I really liked him that day and was a fan of his early on, but I jumped off the bandwagon after the second jewel of the Triple Crown. He set the pace but could not see out the distance in the Belmont Stakes, and he was a weakening 5th in the Travers. I cannot figure out what they are trying to accomplish with the musical chairs blinkers game. They are on one race and off the next. If you look at his form, he is able to make the front when he is wearing the hood. That was the case in his winning bow and in the Preakness. When they decided to remove blinkers again in the Travers, I knew he would not make the lead, and he ended up stalking wide and fading. His only shot in that race was to set the pace and try to get a breather in the middle, but that never happened. I am not sure what is next but it cannot be the BC Classic. A race like the Dirt Mile makes some sense, or maybe they turn him back and try the Grade 1 Malibu on Dec. 26. Whatever direction they go, I hope they make a blinkers decision and stick with it.
10 – Practical Move (Practical Joke – Ack Naughty, by Fleet Alex)
An old friend returns to the list. Last year's Bob Hope (G3) hero won his last three graded dirt routes (G2 Los Al Futurity, G2 San Felipe, G1 SA Derby). He was one of the leading contenders for the Kentucky Derby but got sick and had to scratch out of that race. He got back on the worktab on Aug. 13 and has worked five times overall at Del Mar including a five panel bullet in 59 and change on Sept. 5. I am not sure what they have in mind but the PA Derby (G1) at Parx is on Sept. 23 and the Grade 1 Awesome Again at Santa Anita is a week later. He fits either of those races if he is back in top form and ready to go in his first start since April. 
11 – Dr. Venkman (Ghostzapper – Theory Of Change, by Archarcharch) – Trainer: Mark Glatt
This late starting gelding is rising quickly in this division. He stalked the pace and rolled to a big debut victory in his 6 1/2 furlong debut at Del Mar on July 21. He ran in an extended sprint in the optional claiming ranks on the Pacific Classic undercard, and stalked, took over, and finished up nicely in a facile 5 1/2 length tally as the strong favorite second time out. The long range goal is the Grade 1 Malibu at Santa Anita on Dec. 26, and he figures to start sometime before that race. His trainer Mark Glatt believes that he can stretch out, and this one is an exciting prospect for the rest of this year and into 2024. 
Are you interested in more reports in this series? Check out the links below!
Beyond the 2023 Triple Crown: Updated Rankings