How to Handicap Horses With Workouts
One of the best reasons to use Today's Racing Digest's workout reports is they will give you a better view of the current fitness and ability of the horse's you are considering wagering on or against.  Past performances can certainly tell you how a horse ran in previous races but just as important is how they have been training.  The workout reports can also give you additional insight when looking at unstarted Maidens, imports, lightly raced horses and comebackers. The Digest workout reports are exclusive to Today's Racing Digest which means you will have information that most of the betting public won't have which will help you uncover hidden value and identify false favorites.
Today's Racing Digest's workout reports aren't just for the handicapper.  Many of the top trainers, owners, professional and recreational handicappers and jockeys use the workout reports on a daily basis to help them get inside information on other horses running in the race.
---
30 Day Workout Report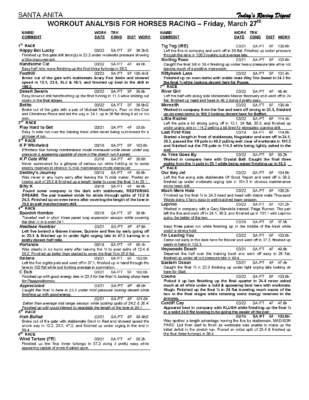 Today's Racing Digest has experienced clockers at each of the major tracks in Southern California, and exceptional as well as poor works are noted daily in our workout report.  The basic workout report gives you all of the workouts we have from the last 30 days for the horses running in today's race.  This is the same workout report that is included in the complete Digest sold on line and in the hard copy edition sold on track, in newstands, and OTB's throughout the west coast.
Workout Guide

As a guide for your judgement of workouts, the following list indicates the times considered excellent for the usual distances under usual circumstances:
Furlongs
Furlongs
Furlongs
Furlongs
Furlongs
Furlongs
Furlongs
(1/4 mile) :22.3
(3/8 mile) :34.4
(1/2 mile) :46.4
(5/8 mile) :59.2
(3/4 mile) 1:12.2
(7/8 mile) 1:25.3
(one mile) 1:39.3
faster
faster
faster
faster
faster
faster
faster
Bolded workouts are referred to as exceptional. Exceptional Works are generally among the fastest 5% of all the drills for that day. (The Digest does not require that all distances are represented among the exceptionals, as the times may be slower than the guidelines established above.) In addition, the Digest points out BTL (better-than-looked) drills, as well as any other morning exercises that seem noteworthy. The latter category takes into consideration team works, 'blowouts' from the gate, etc.
View available Workout Reports.
---
90 Day Workout Report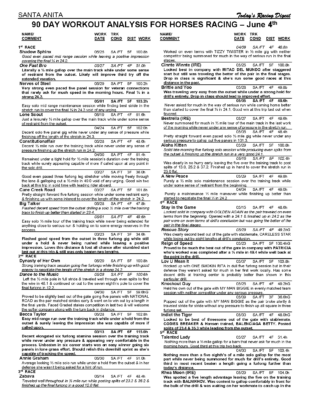 Today's Racing Digest's complete Digest comes with the 30 day workout report for horse's running in today's races.  If you are looking for workouts from beyond 30 days this is the report for you.  Every workout we have for the past 90 days on each of the horses running in today's races are included in this report. This reports let's you look back at the works BEFORE a horse's last race. Sometimes it takes a race for that key work to take full effect.
View available 90 Day Workout Reports.