How to Handicap Horses With Post Position Winners By Size Of Field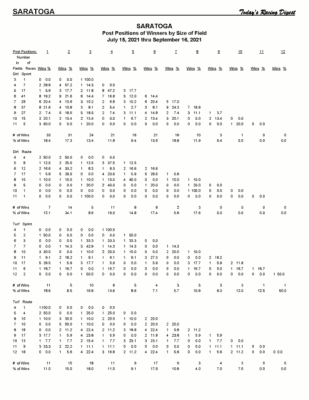 Winning post position statistics is probably not the first place you are going to look when handicapping a race.  However, it can be a valuable tool when you are undecided between one or more of your contenders.  There are a lot of variables that contribute to a horse winning a race and in certain racing conditions the post position can have an effect.  As an example, many believe that young horses (particularly 1st time starters) do not like to be drawn on the rail.  The theory is these younger horse's don't like to be in close quarters when racing and will shy away from other runners.   For whatever reasons, when using the Post Positions of Winners by Size of Field report you will see that some post positions do fair better than others.
Each report shows you the winners listed by post position for each distance/surface category.  The Digest also breaks down winning post positions by field size, giving the handicapper a closer look at winning post positions. (For example, the #1 post may be winning at a 16% rate in six-horse, six-furlong dirt fields, but may be winless in 10-horse fields.