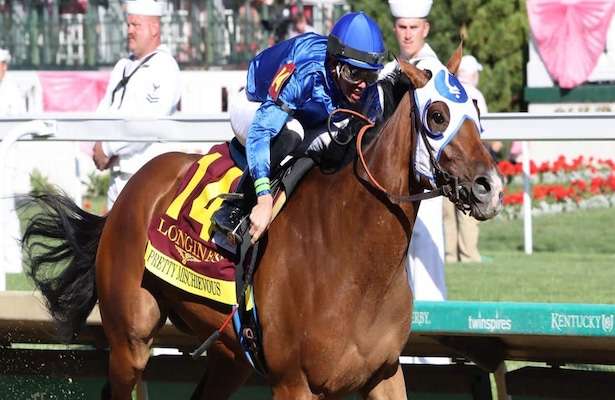 By Jarrod Horak
Pretty Mischievous held off Gambling Girl's late bid to capture the 2023 Kentucky Oaks by a diminishing neck. She got lost in the betting shuffle and went off at 10-1. Tyler Gaffalione rode the Into Mischief filly for Brendan Walsh, and she completed her 1 1/8 mile journey in 1:49.77.
There were no real standouts in this division heading into the Oaks, and that is the still the case. I am not sure this was the strongest renewal of the Oaks and will be looking for late bloomers to take the lead in this division as the year progresses.
Pretty Mischievous is a gem of consistency and her tactical running style always gives her a fighting chance. She is now 5-for-7 after this win, and she also placed in the FG Oaks and Golden Rod.
Gambling Girl came up with another quality effort for Todd Pletcher, but the horse I really wanted to back in the Oaks was her stablemate Julia Shining. She was stuck on the also-eligible list and failed to get in. The patient Curlin filly would have loved the race flow of this race, and she was training forwardly as well. Malathaat's sister is one to watch in future races at 1 1/8 miles and up.
The big disappointment was Wet Paint. She was so good in Arkansas but failed to produce her big late kick and ended up an even fourth.
1st – Pretty Mischievous – I was not sure about 1 1/8 miles from post 14 for this one, but she ended up getting into a nice stalking spot while out in the clear. She made her move and had a nice cushion in the lane, but her lead was dwindling and she held on by a neck. She wore blinkers for the first time in this spot and they seemed to help her focus. Chalk up another Oaks win for a filly exiting the FG Oaks, and this was her third victory under the Twin Spires.
2nd – Gambling Girl – Todd Pletcher's New York-bred filly just keeps hitting the board from off the pace in these big graded events. She was third in the Demoiselle, and second in the Busanda, Gazelle, and Kentucky Oaks. She had a big look at this one in the lane at 13-1 and ended up 2 1/2 lengths in front of the show finisher.
3rd – The Alys Look – She was the least fancied of the Brad Cox trio but finished highest. She was coming out of a show finish in the FG Oaks, and she plugged away from midpack and occupied that same spot in this event.
4th – Wet Paint – She was impressive from off the pace in her three stakes wins at Oaklawn prior to this event. She got enough pace help this time but did not produce that big late kick. Gambling Girl rallied from 11th and this filly was sitting in 9th under Prat, so there really were no excuses. She just did not do enough in the lane and settled for the final superfecta spot as the beaten favorite.
5th – Dorth Vader – Her problem going in was the added distance and that turned out to be her Achilles heel. She was in a good forward spot chasing the pace at 29-1, and she was second in the lane, but she was one-paced and ended more than five lengths clear of the 6th place finisher. Put her in a one-turn event between seven panels and a flat mile and she will be just fine.
6th – Flying Connection – She set the pace but her early advantage would not last. The New Mexico shipper gave it a good try but ran out of gas in the stretch.
7th – Defining Purpose – This one just cannot seem to run two alike. The Ashland winner stalked the pace from an outer post but had no answer in the lane.
8th – Mimi Kakushi – She shipped in from Dubai after winning the UAE Oaks. She saved ground stalking the pace from the inside post but failed to quicken when the real running began.
9th – Wonder Wheel – The 2-year-old filly champ is a shell of her old self. It is hard to believe this is the same filly from the Alcibiades and BC Juvenile Fillies. She lost all three starts this year and never got involved in the Ashland or this race.
10th – Southlawn – There was plenty of buzz surrounding this filly after her sharp win in the FG Oaks. Two fillies from that heat ran well in this spot but not this one. She had some early trouble, sat in midpack, and failed to kick it in.
11th – Affirmative Lady – The GP Oaks winner never got a call in this race. She was near the back of the pack throughout.
12th – And Tell Me Nolies – The California shipper was bothered early and never raised a hoof.
13th – Botanical – My top choice came into this race riding a 4-race win streak on all-weather ground. Her race was over early. She broke slow and got bumped around early, got dirt kicked in her face, and never looked happy.
14th – Promiseher America – She was banged around early and was wide around the first turn, and never got into comfortable rhythm.
Scratched Horses: Hoosier Philly (Also-Eligible), Julia Shining (Also-Eligible), Taxed (Also-Eligible).