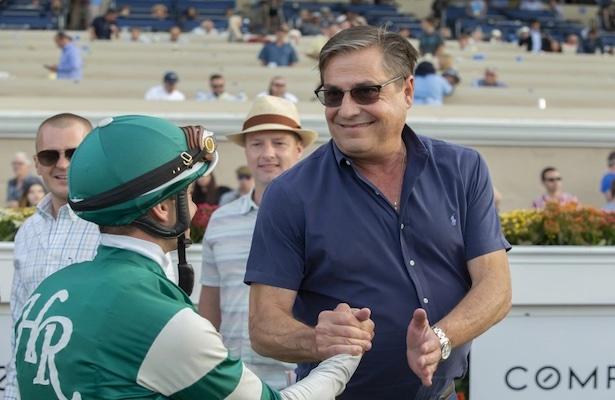 By Jarrod Horak
The 2023 Del Mar summer meet is less than a week away and the excitement is building. I covered riders to watch yesterday, and in this post I will take a look at the top trainers to keep an eye on. 
Click here for Del Mar Racing Picks, Tips, and Insider Analysis
2022 Summer Leading Trainers (wins): Phil D'Amato (19 wins), Bob Baffert (19), Peter Miller (17), Doug O'Neill (17), George Papaprodromou (14), Mark Glatt (14)
Bob Baffert easily had the highest percentage of winners at 25% (19-for-76). Phil D'Amato had almost twice as many starters and the same number of winners.
2021 Summer Leading Trainers (wins): Peter Miller (26 wins), Bob Baffert (20), John Sadler (18), Phil D'Amato (15), Richard Baltas (14), Doug O'Neill (14)
Peter Miller had a strong summer with 26 victories from 144 starters. Baffert went 20-for-65 (31% wins). Sadler was third with 18 wins and clicked at a solid 20%. Steve Miyadi quietly had a strong meet (7-for-25 – 28%).
2022 Top Money Earning Trainers: Phil D'Amato ($2,465,060), Bob Baffert ($2,060,250), John Sadler ($1,559,732), Peter Miller ($1,529,992), Doug O'Neill ($1,426,964)
Phil D'Amato and Bob Baffert both topped the $2 million mark in earnings, and Baffert did it with much less starters. Flightline was a big reason for John Sadler finishing third on the earnings list.
2021 Top Money Earning Trainers: Peter Miller ($1,888,594), John Sadler ($1,554,656), Bob Baffert ($1,516,800), Phil D'Amato ($1,380,576), Richard Baltas ($1,136,420)
Bob Baffert runs a high quality stable. He does not have as many starters as the other top trainers but almost all of his runners are live and many fire trifecta shots.
2022 Highest In the Money Percentage (12 or more starters): Dean Pederson (75%), Bob Baffert (70%), Alfredo Marquez (64%), Mark Glatt (51%), John Sadler (51%)
Dean Peterson had one heck of a summer meet. He went 8-for-12 on the win end. Bob Baffert had 76 starters and 53 trifecta finishes. Alfredo Marquez was just 1-for-14 but had good success underneath with 8 minor placings.
2021 Highest In the Money Percentage: Bob Baffert (63%), Leonard Powell (52%), Peter Miller (50%), John Shirreffs (50%), Richard Mandella (49%)
Bob Baffert just owns the win percentage and top three categories. You almost have to use most of his starters in trifecta wagers. Solid meet for Leonard Powell. He had 29 starters with 5 wins, 5 seconds, and 5 show finishes. John Shirreffs went 5-for-28 with half of his starters finishing in the money. Peter Miller started 144 horses and half finished in the trifecta.
Top 3 Trainers to Watch at the 2023 Del Mar Summer Meet
Peter Eurton – He was 6-for-44 at Del Mar last summer and 8-for-38 in 2021. He was rock solid at Santa Anita over the winter (19% wins) and had a big spring/summer meet at the Great Race Place (27% wins). His leading runner in 2023 is Exaulted. That one is a perfect 4-for-4 this year and he won the American (G3) and Shoemaker Mile (G1) in his last pair. His latest morning move was a 3f bullet on July 9. Vantastic won his last two starts, Dean Martini is back in form, and Cherubic Factor is a gem of consistency. All of those runners are working for upcoming starts and we may see each of them at Del Mar this summer.
Steve Miyadi – He had a fine Del Mar summer meet in 2021 (7-for-25). He was an okay 4-for-31 last summer but I think he can go much better this time around. Rose Maddox is his top money earner this year. She ran last in the Great Lady M (G2) last time but that was a tough spot with Eda and Elm Drive. The CA-bred daughter of Grazen should be much more competitive in a state bred stakes race next time. Tom's Regret, another CA-bred filly, fired trifecta shots in all eight starts. She exits a win in the Pleasanton Oaks on July 2. Lovesick Blues was part of the trifecta in her last five starts, and placed in stakes races in her last pair. Each of those runners has banked over $100k this year. He has other decent runners in his barn as well including Cornelia Fort, Desmond Doss, and sharp debut juvenile winner Smokem Ez.
John Sadler – The top four 2023 money earners in his barn have all won at Del Mar before. They are Kirstenbosch, Unbridled Mary, Kings River Knight, and Big Switch. He has the opening day Oceanside penciled in for recent Alcatraz hero Game Time, and he was second in the Cecil B. DeMille (G3) at Del Mar last fall. Ancient Peace landed the place in the Summertime Oaks (G2) June 3 and has been in steady training since. Anywho was fourth in the Summertime Oaks last time. The Bolt d'Oro filly won her first two starts and has been working once a week since late June. He does not have the likes of Flightline in his barn this year, but he has some decent runners and will probably have a successful summer meet.