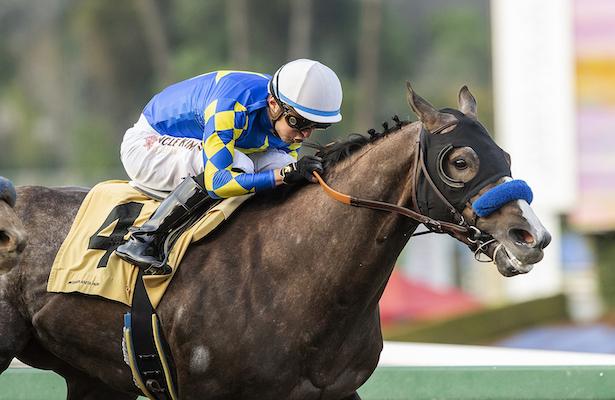 By Jarrod Horak
The 2023 Kentucky Derby featured a blistering pace and place finisher Two Phil's was the only forwardly placed runner around at the end. On July 8, two pace casualties from the Derby got back on track with stakes victories. 
First up was Verifying in the Grade 3 Indiana Derby. He dueled from post 2 before throwing in the towel on the first Saturday in May. His first start after the Derby was the Grade 3 Matt Winn at Ellis Park on June 11. He stalked, led, and was run down by Disarm in a clear runner-up finish at 1 1/8 miles that day. In the Indiana Derby at 1 1/6 miles, he sat in second, took the lead in the lane, and held off Raise Cain to prevail by a nose.
Later in the day on Saturday, Reincarnate and Skinner squared off in the Los Alamitos Derby at a mile and an eighth. Reincarnate was all over the Kentucky Derby pace before fading out of contention. In the Los Al Derby, he was able to get out there and set a controlled tempo, and he had plenty left to keep Skinner at bay in a 2 1/2 length victory. The latter was making his first start since a close show finish in the Santa Anita Derby. He got sick and was a Kentucky Derby scratch, and his trainer John Shirreffs pulled him out of the Affirmed Stakes on June 4 due to below par training. The Los Al Derby was his first start in three months and he should move forward next time.  
Kingsbarns, another Derby pace casualty, missed by a neck as the favorite in the Pegasus Stakes on June 17. Kentucky Derby runner-up Two Phil's romped in his next start in the Grade 3 Ohio Derby on June 24. Unfortunately, he exited that win with an ankle injury and was recently retired.
We have now seen four Kentucky Derby participants return to win stakes races (Disarm, Reincarnate, Two Phil's, Verifying), and three of those runners attended the pace at Churchill Downs. That Derby pace angle is worth remembering as the sophomore male division begins to heat up again this summer and fall.