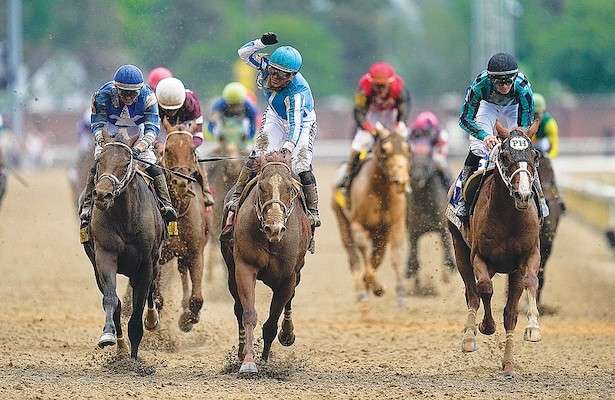 By Jarrod Horak
Kentucky Derby 2023 was a crazy race. Five horses scratched late in the week including morning line favorite Forte on the morning of the race. That left a field of 18 and Arkansas Derby hero Angel of Empire was the post time favorite, but Florida Derby runner-up Mage stole the show with a big late run. He got past Two Phil's in deep stretch and scored by a length.
The Derby fractions were strong and that was a surprise. Last year's Derby had a pace meltdown, and after that you would have thought the riders would be a bit more cautious, especially in a year lacking one-dimensional speed horses. Verifying was aggressively handled from post 2 and that was not a shock considering his draw. He was an early-pressing type and needed to avoid getting shuffled back early. However, it was very surprising to see Kingsbarns go after him from the get-go. That Pletcher runner showed running style versatility in his three prior starts, but Jose Ortiz made his decision to go for the lead and the two early runners hooked up through an opening quarter in 22.35 and a half in 45.73. They were still battling through six panels in 1:10.11 and the early fractions took a serious toll. Those two were cooked.
Two Phil's was never far behind the pace duel, and his rider Jareth Loveberry moved early and grabbed a clear lead through a mile in 1:36.06. You just knew the closers would be coming given the race flow, and Mage emerged from the pack and had all of the momentum in the stretch. He stopped the clock in 2:01.57 and paid $32.42 to win.
When the Derby pace gets hot and closers win, the speed horses are usually wiped out and end up skipping the Preakness. Plus, riders do not want a repeat of a speed duel two weeks later. That was the case last year and it will probably happen again in 2023. I will get more into that in my early Preakness preview next week.
1st – Mage – He got a great closing trip behind strong fractions. He broke a step slow and hovered near the back in about the two path. He stayed there until the final turn, and tipped out, rallied outside in the lane, and wore down an ultra-game Two Phil's to score by a length. Great ride by Javier Castellano and an equally impressive training job by Gustavo Delgado to get this lightly raced son of Good Magic in peak condition on the first Saturday in May.
2nd – Two Phil's – He ran the best race in the Derby. He sat behind the demanding fractions, made an early inside move to take a premature lead with three furlongs to go, and was clear in the lane but could not quite go with the winner late. He somehow held off closing favorite Angel of Empire to secure the runner-up spot by a half-length. I can see him making a serious impact in the Preakness if they go that route.
3rd – Angel of Empire – I thought he might run slightly better considering the race shape. The Derby favorite was back with Mage while saving ground. He moved with the winner and eased out and closed wide but was a bit flat late and failed to get past Two Phil's. He was a clear third in a solid effort but was another with a super closing trip and had everything go right under Flavien Prat. In the end he was not quite good enough.
4th – Disarm – Another with a very good trip. He saved ground in midpack and moved up outside, but was not gobbling up ground like Mage and Angel of Empire, and he kept plugging away for fourth.
5th – Hit Show – He actually ran a decent race from the inside post. He was in a good spot in 6th place through six panels, and moved up to third with a quarter of a mile to go. Manny Franco had him a bit too close to the pace and he flattened out in the lane and hung in there to complete the Super High 5.
6th – Derma Sotogake – This one got the wrong trip and setup. His connections wanted him to be forwardly placed stalking the pace but the fractions were too strong. Plus, he broke inward while brushing the gate and was back in 14th place. He steadily advanced from there but was not making up enough ground and ended up a respectable sixth.
7th – Tapit Trice – Based on the race shape, I can confidently say my top choice turned in the most disappointing effort in the entire race. He was slow to get going but that was fine considering the tempo up front. He trailed early before Luis Saez shifted him out on the backside. He was passing horses but bumped with Mandarin Hero and that certainly did not help his cause. He swung very wide into the lane but just could not muster enough of a rally to make an impression. He gradually moved up from 11th to 7th, and this seemed like a missed opportunity for Todd Pletcher's Tapit colt.
8th – Raise Cain – He was not in a bad spot in 9th early under Gerardo Corrales. He stayed within hailing distance around the final turn and into the stretch, but got tangled up with a tiring Kingsbarns and that was the end of his chance for a higher placing. He moved out after that incident but could do no better than 8th.
9th – Rocket Can – Added blinkers for this race and made an early move from 7th to 5th. He found some traffic after that and kept churning away. He finished a clear 9th and was not embarrassed.
10th – Confidence Game – This is about as good as he could do considering the layoff. He chased inside and was not very far back with a quarter of a mile to go. He was right with Two Phil's up to that point but Verifying was getting tired and he had to maneuver out of a tight spot. James Graham still had him in chase mode but he hit a wall in the stretch and weakened to finish 10th. I thought this was a very useful prep for the Preakness. He should be much fitter for that event if they opt to go to Baltimore.
11th – Sun Thunder – The blinkers did not have the desired effect. He was at the back with Tapit Trice and stayed near that rival until the stretch run, and never made a serious dent in this race.
12th – Mandarin Hero – He was wide from post 17 and that should not come as a surprise. That bumping incident with Tapit Trice seemed to take all of the starch out of this one, plus he probably bounced after a strenuous effort in his US bow in the SA Derby.
13th – Reincarnate – He was a pace casualty. Johnny V had him pressing the issue while three wide in third place. He hung in there for six furlongs or so and steadily faded from there.
14th – Kingsbarns – The pace did him in. He seemed like the type with the ability to let the front runners go, but that was not the trip he got. Instead, he inexplicably dueled with Verifying and those two knocked each other out. He did finish around 30 lengths in front of that runner but he was still nowhere at the end.
15th – King Russell – He was hung out to dry from post 18. He raced in 10th place for a half-mile and lost five positions after that.
16h – Verifying – The plan was probably to get clear early from a tough inner post. Tyler Gaffalione probably had a theft on his mind, but he never got a breather thanks to Kingsbarns. His race was over after six furlongs and he was miles back when all was said and done.
17th – Jace's Road – A brief pace factor while four wide, and he lost ground at each call and came to a stop.
18th – Cyclone Mischief – Widest of all from post 16 under Irad Ortiz Jr. This one came out of the Florida Derby just like the winner, but they were zip codes apart in this race. 
Scratched Horses: Continuar (JPN), Forte, Lord Miles, Practical Move, Skinner