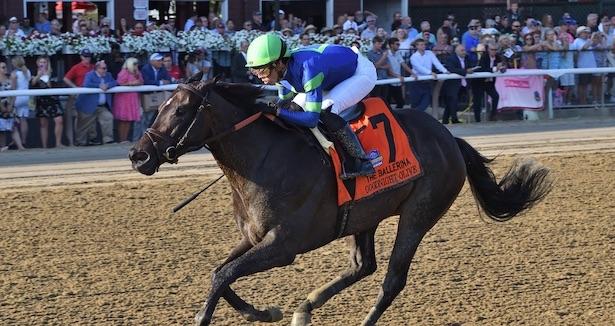 By Jarrod Horak
The 2023 Breeders' Cup Saturday races will be run at Santa Anita Park on November 4. Nine BC races are on the docket including the Classic, a race that should settle the Horse of the Year battle. In this post, I will share my early thoughts including updated information for all nine Breeders' Cup Saturday races with defections, Today's Racing Digest Final Time Ratings for the Filly & Mare Sprint, Distaff, Sprint, and much more. My BC Saturday video is included below.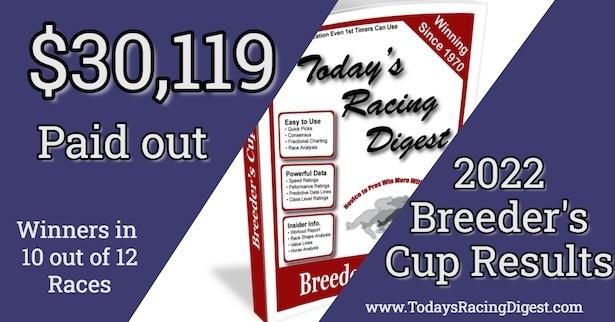 Breeders' Cup Saturday Races 2023 Defections
BC Filly & Mare Sprint
Caramel Swirl
BC Mile
Paddington
Sauterne
BC Distaff
Belleza de Arteaga
Sabra Tuff
BC Classic
Geaux Rocket Ride
Mage
BC Turf
Cellist
Piz Badile
Raptor's
BC Turf Sprint
Bad Beat Brian
Meikei Yell
Noble Reflection
BC Sprint
Anarchist
Jasper Krone
Breeders' Cup Saturday Races
Race 3 – BC Dirt Mile – One mile dirt
There are a few horses cross-entered in the BC Classic (Bright Future, Charge It, Dreamlike, Senor Buscador, Skippylongstocking), and Three Technique was also pre-entered in the Sprint. Zozos and National Treasure look like the two main early runners in the BC Dirt Mile, and Practical Move should be in a nice stalking spot behind those two. Defending champ Cody's Wish does his best running from off the pace and will be looking for some help up front.
Race 4 – BC Filly & Mare Turf – 1 1/4 miles turf
Overseas shippers are dangerous in the BC Filly & Mare Turf, so keep a close eye on Inspiral (GB), Lumiere Rock (IRE), and Warm Heart (IRE). Chad Brown has saddled the winner of this race four times and he pre-entered Gina Romantica, In Italian (GB), and McKulick (GB).
Race 5 – BC Filly & Mare Sprint – 7 furlongs dirt
Defending BC Filly & Mare Sprint champ Goodnight Olive is back for more for trainer Chad Brown. She remains in top form but will have to catch razor sharp early runner Society. If the pace heats up, watch out for Kirstenbosch in the late going.

Race 6 – BC Mile – One mile dirt
Overseas invaders hold the recent edge in the BC Mile with four wins in the last five runnings. Kelina (IRE) exits a win in a Group 1 race and Songline (JPN) is a sharp shipper from Japan. Some of the highly regarded North American pre-entries include Casa Creed for Bill Mott, Gina Romantica and In Italian (GB) for Chad Brown, and Up to the Mark for Todd Pletcher.
Race 7 – BC Distaff – 1 1/8 miles dirt
The three horses with the top Today's Racing Digest Final Time Ratings all like to set the pace, so something has to give. Adare Manor for Bob Baffert is the sharp local BC Distaff hope. Brad Cox brings in his improving Curlin filly Idiomatic, and Chad Brown send out promising sophomore filly Randomized.
Race 8 – BC Turf – 1 1/2 miles turf
Overseas runners usually dominate the BC Turf and this year should be no different. Aidan O'Brien has had plenty of success in this race and he sends out the highly regarded Auguste Rodin (IRE), Grade 1 Sword Dancer hero Bolshoi Ballet (IRE), and Broome (IRE). Recent Group 1 Champion Stakes winner King of Steel will be ridden by Frankie Dettori and he has won the BC Turf five times.
Race 9 – BC Classic – 1 1/4 miles dirt
The BC Classic lost a pair of Grade 1 winners. Geaux Rocket Ride was injured in a recent workout and underwent surgery on Oct. 29. Kentucky Derby hero Mage came down with a fever and he is expected to return as a 4-year-old. Check out the Digest Breeders' Cup page for my BC Classic articles and videos.
Race 10 – BC Turf Sprint – 5 furlongs turf
Anything goes in the BC Turf Sprint, and don't blink or you will miss this abbreviated turf dash. Caravel lit up the tote in the 2022 BC Turf Sprint and she is back to defend her title. She should impact the pace, and Beer Can Man and Motorious should make their presence felt in the lane if the fractions are honest.
Race 11 – BC Sprint – 6 furlongs dirt
Bob Baffert has saddled the winner of the BC Sprint five times and his 2023 entrant Speed Boat Beach is probably the one to catch. Elite Power won this race last year for Bill Mott and is a solid contender once again. Dr. Schivel, Gunite, and The Chosen Vron are also worth considering in an interesting renewal of the Sprint.