Reliable and Consistently Profitable Value Plays
Walk away from the track a winner with Turfdom's top 3 picks that include "Acceptable Betting Odds" and insider notes allowing you to make informed value based betting decisions so you can maximize your profit potential especially in the exactas and trifectas.
Free Turfdom Best Bets
Track
Price
No products are currently available.
About Rod Young the Publisher of Turfdom
In 1994, under the tutelage of his mentor Tim Osterman, Rod Young began reporting on and handicapping southern California horse racing for the betting public.  Every race day since that time Rod has published his daily Turfdom Tip Sheet and his highly informative weekly News and Notes along with his exclusive Horses To Watch Report.  During this time he as also written and published over 50 original handicapping books ranging in topics from little known long-shot angles to extensive sire stats and winning jockey trainer stats.  Rod knows this industry inside and out and has been a thoroughbred horse owner for over 22 years with multiple horses training at any given time.
With every edition of Turfdom you will get access to Rod's vast knowledge of trip handicapping, finding value on the tote board and the insider intricacies of handicapping California race tracks.
Customers Who Love Turfdom's Best Bets
"Your handicapping and track insights are outstanding and this comes from someone who has played the ponies for 55 years. Keep up the good work!!"
Ed O'Donnell, Prescott Valley, AZ
"If you boxed your first three horses in each race, you hit the both pick fours, both fives, and the pick six yesterday, not to mention all of those pick threes. As I have said many times in the past, you are the BEST I have ever seen."
Gene Mongiardini, Punta Gorda FL

"You need to tout your excellent record of picking winners and exactas. You keep me in the black meet after meet. It doesn't hurt to advertise, all the others do, and they aren't nearly as good as you."
Frank McDougall, Myrtle Beach, SC

Consistent Long-Term Positive ROI's You Can Bet On
# Past Meets with Positive ROI
Easily Uncover Value Plays that Win
Make Profitable Betting Decisions with Confidence
Get Turfdom's Winning Angles To Help Guide Your Betting Decisions
Turfdom's Best Bet Recent Results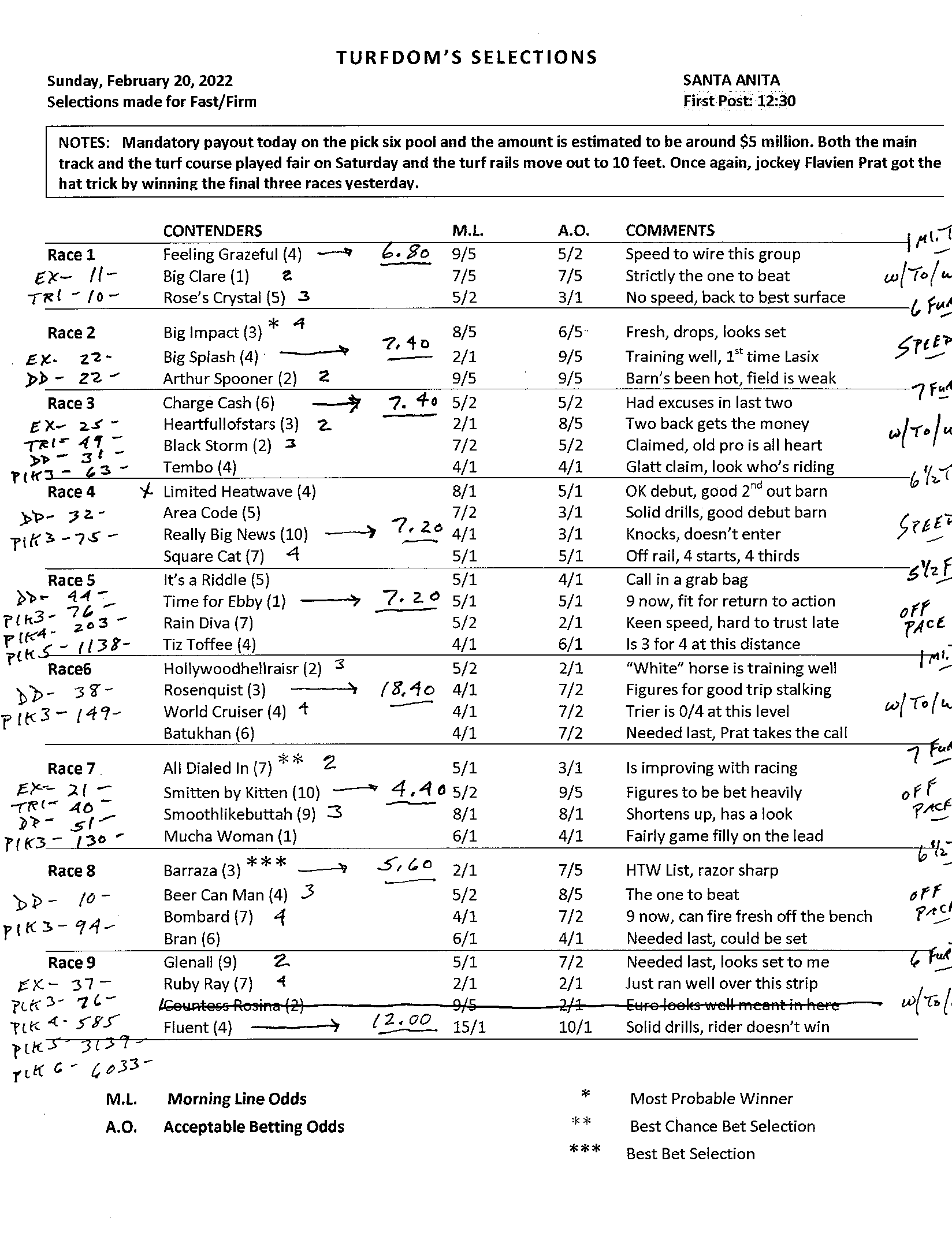 $12,296 In Total Payouts
Turfdom Best Bets February 20, 2022
Turfdom Best Bet Payouts
Pick 6 - $6,033.62
9 Winners (Avg. Payout $8.49)
Best Bet Selection Won and Paid $5.60
Pick 3 Payouts $511.75
Pick 4 Payouts $788.30
Pick 5 Payouts $3,139.50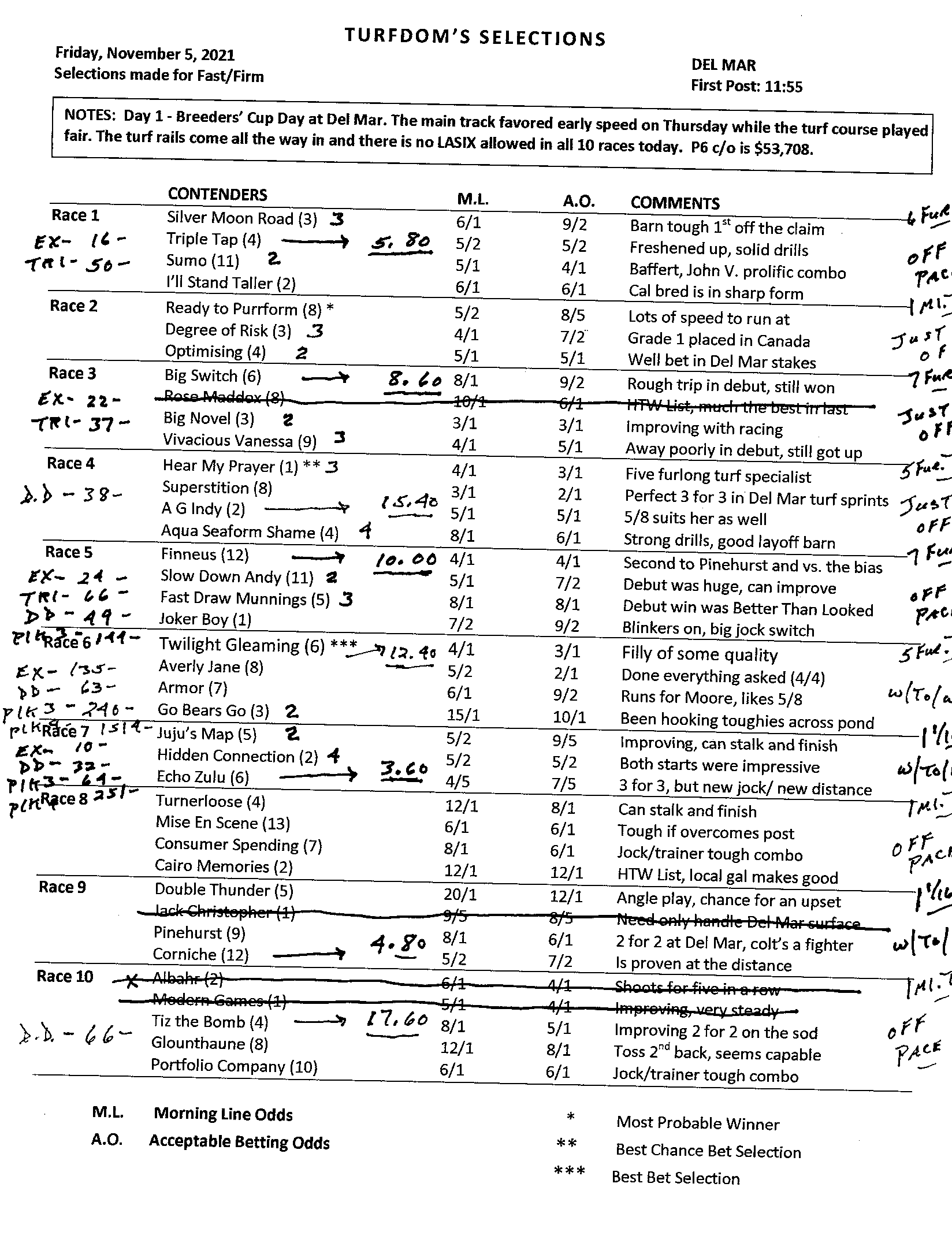 $1,504 In Total Payouts
Turfdom Best Bets November 5, 2021
Turfdom Best Bet Payouts
7 Winners (Avg. Payout $9.94)
Best Bet Selection: 1st- Paid $12.40
Pick 3 Payouts $447.70
Pick 4 Payouts $251.20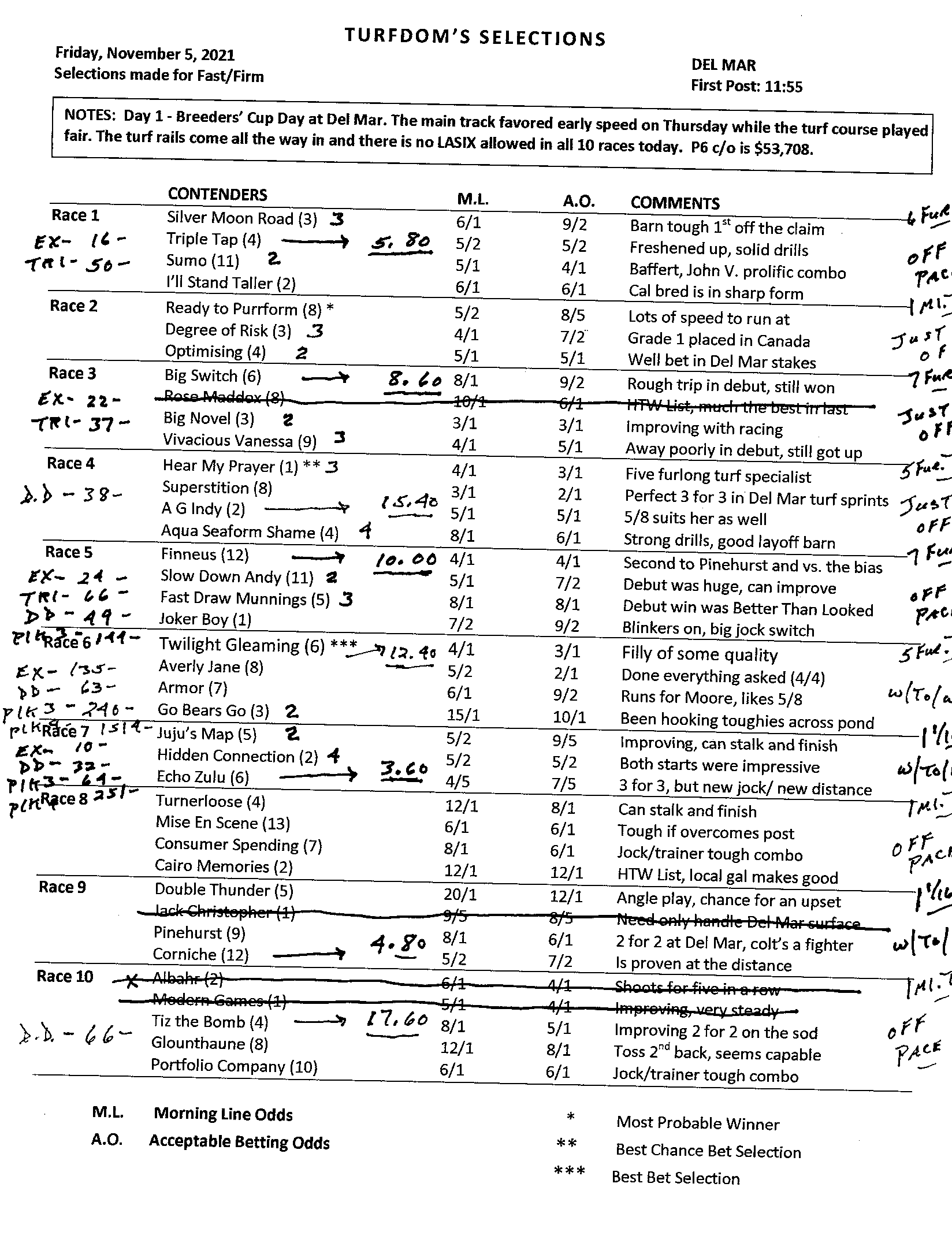 $7,939 In Total Payouts
Turfdom Best Bets July 31, 2020
Turfdom Best Bet Payouts
Pick 5 Payouts - $5,815.55
10 Winners (Avg. Payout $11.00)
Best Bet Selection Won and Paid $8.00
Best Chance Bet Selection Won and Paid $40.80
Most Probable Winner Won and Paid $4.20