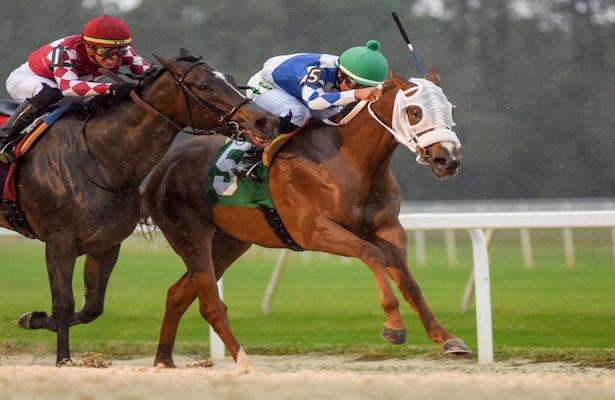 By Jarrod Horak
There were plenty of surprises in recent Kentucky Oaks 2023 prep races. Champion juvenile filly Wonder Wheel lost her first start of the year by a neck in the Suncoast Stakes, and Todd Pletcher's well-bred filly Julia Shining landed the show in that same race. Highly regarded Tom Amoss trainee Hoosier Philly finished a flat third in her seasonal bow in the Rachel Alexandra, and Pretty Mischievous has emerged as the winter leader of the sophomore filly division.
In other Oaks news, Chad Brown's filly Raging Sea, last seen landing the show in the BC Juvenile Fillies, has yet to record a workout in 2023, and she drops off my list.
Kentucky Oaks 2023 Points Race Results
Santa Ynez (1-8-23): Ice Dancing
Strong morning line favorite Justique spiked a fever and scratched. That left a 5-horse field and Ice Dancingwas the overwhelming 1-2 favorite. She ran like it for Prat/Mandella. Stablemates Parody and Fast and Shiny dueled. Huntingcoco stalked outside in 3rd, and Satin Doll and Ice Dancing were patiently handled. Ice Dancingmade a sustained outside run, reeled in the early runners in the stretch, and kicked away to win by 3 1/4 widening lengths. She was much the best and figures to enjoy getting back around two turns next time. Satin Doll just edged Fast and Shiny for 2nd, and it was a long way back to Parody and Huntingcoco. The final time was 1:22.78.
Busanda Stakes (1-14-23): Occult
Five fillies entered this 1 1/8 miles test on a good track at Aqueduct. Sweetest Princess, the longest shot on the board, carved out the splits and post time favorite Occult confidently tracked that one under Dylan Davis. Chad Brown's filly came after the leader around the far turn, and she got the lead and kicked away to score by 3 3/4 lengths. Gambling Girl was clearly second best and maiden Affirmative Lady completed the trifecta, and those two finished 2-3 in the Demoiselle (G2) late last year. Sweetest Princess weakened to 4th and Aniston trailed throughout, eased, and walked off. The final time was 1:54.78, and the winner is worth following.
Silverbulletday (1-21-23): The Alys Look
The track was fast for this mile and seventy yard contest, and Hayunevano got out there and set the pace. The Alys Look chased from 2nd and betting favorite Chop Chop stalked outside. The latter two stablemates dominated this one. The Alys Look struck the front and Chop Chop had dead aim, but the former refused to lose and scored by a heard fought length. Chop Chop was 13 1/2 lengths in front of show finisher Hayunevano. Forest Chimes was another neck back in 4th, and she was 8+ clear of Cotton Candy Annie, Amber Cascade, and Norah G. The final time was 1:43.55 and the top two ran well. The Alys Look sat the right trip and had a recency edge, and she is getting better for Brad Cox. Chop Chop was making her first start since her BC Juvenile Fillies debacle, and she ran okay, but I have this nagging feeling that she is better on turf.
Martha Washington (1-28-23): Wet Paint
This 1 1/16 miles Oaks prep was run on a wet fast track. Olivia Twist made the early running, even money favorite Defining Purpose chased from 2nd, and Taxed stalked from the outside post. Defining Purpose turned up the heat and gained a short advantage, but it would not last long. Taxed challenged for supremacy and Wet Paint started to come alive from off the pace under Flavien Prat. The latter found her best stride in the lane and came rumbling home to score by two lengths. Taxed, a 27-1 longshot, got past Defining Purpose for the runner-up spot. Take Charge Briana was a clear 4th and Olivia Twist and Key to Success trailed. The winner completed her journey in 1:44.62. Wet Paint is a well-bred Godolphin runner trained by Brad Cox, and I would not be surprised if she continued to progress.
Las Virgenes (1-28-23): Faiza
Faiza is not flashy but she keeps her mind on business and has a nose for the wire. In this flat mile affair, she sat comfortably in 3rd behind Sweet trouble and Broadway Girls. Ramon Vazquez had her inside early from the rail post, and her steered her out in the clear, and she got first run and held off Pride of the Nile to score by a half-length. Pride of the Nile made a run at the leader in the lane but could not get by. Justique rallied mildly for the show and was followed by Sweet Trouble, Uncontrollable, and Broadway Girls. The final time was an average 1:38.46. A quick note about show finisher Justique. This was the second time she lost her punch around two turns. She produces a strong kick in sprints and that is where her future lies.
Forward Gal (2-4-23): Red Carpet Ready
Red Carpet Ready ran her record to a perfect 3-for-3 with a comfortable 2 1/4 length tally in this extended sprint at the Gulf. She broke from a comfortable outer post Luis Saez, and she attended the pace while wide after a slight bobble at the start. She dueled, gained the advantage, and kicked clear in the stretch. Undervalued Asset chased the winner while racing wide and had aim in the lane, but could not make inroads in a solid runner-up effort. Atomically sat in midpack and was well clear of the rest as the beaten favorite. My value top choice Positano Sunset did not have the best start and completed the superfecta while no match for the top three finishers. Apropos, Flakes, Twice as Sweet, Arella Star, and Adeliese's Smile rounded out the order of finish. The winner completed her seven panel journey in 1:23.54. We will learn more about these if/when they stretch out in distance.
Suncoast (2-11-23): Dreaming of Snow
In a shocking result nobody was expecting, 38-1 outsider Dreaming of Snow got out there and controlled the tempo in her first start around two turns, and she never relinquished the lead. Last year's 2-year-old champ Wonder Wheel sat a comfortable stalking trip as the 1-2 favorite and had every chance in the lane, but she fell a neck short. My top choice Julia Shining bided her time while racing outside, and was grinding away in the lane but could not quite get to the top two finishers. She was well clear of Opus Forty Two, Charlie's Wish and Champagne Ceiling. Fast Tracked and Ticker Tape Home trailed. The final time was 1:40.18. Pace makes the race and the winner had everything her own way. Wonder Wheel's effort was okay and she probably deserves a second chance, but she may have peaked as a juvenile. The one horse I want out of this race is Julia Shining. Todd Pletcher's well-bred, lightly raced filly is just getting warmed up at a mile and forty yards, and she should continue to develop as the year progresses.
UAE Oaks (2-17-23): Mimi Kakushi
Mimi Kakushi won as the favorite in this Oaks point race at Meydan Racecourse in Dubai. It was US runner Ami Please taking the early initiative as expected, and she was on the lead for quite some time. Mimi Kakushi kept inching closer and was inevitably wearing down the front runner, and she edged away late to score by 1 1/4 lengths. Ami Please was clearly second best and Asawer checked in 3rd. The final time was 2:00.02 for 1,900 meters, which equates to about a 3/16 miles. Right after the race, Mimi Kakushi's connections mentioned the UAE Derby or Kentucky Oaks as possible future engagements. Doug O'Neill, trainer of Ami Please, said the Kentucky Oaks is a consideration, but she will likely need to pick up more points to quality for that event.
Rachel Alexandra (2-18-23): Pretty Mischievous
Miracle broke on top from the outside post and she was crawling on the front end after an opening quarter in 25.02. While that was happening, post time favorite Hoosier Philly was last of six after bobbling at the start. Miracle, a 13-1 shot for Todd Pletcher, had theft on her mind, and she stayed clear until the stretch. At that point, presser/stalker Pretty Mischievous applied more pressure, and those two kicked away from the rest. Pretty Mischievous was moving a bit better in the late going and prevailed by 3/4ths of a length. Miracle was 7+ clear of Hoosier Philly. The latter lost her best chance at the start, and the slow pace did her no favors, but it would have been nice to see her finish a bit closer to the top two. Vahva finished 4th and is probably best sprinting. Chop Chop weakened to 5th and appears most effective on turf. Knockyoursocksoff lost contact with the field and was eased in the lane. She is another with better movement on the turf course. The final time was 1:45.15. Hoosier Philly was much the best over Pretty Mischievous when those two met in the Golden Rod in November. You almost have to give Hoosier Philly a mulligan due to her strong juvenile form, but it is possible that she has not progressed since last year.
————
Kentucky Oaks 2023 Points Race Results
Pocahontas (10-4-3-2-1) – Sep. 17 – Winner: Fun and Feisty ($14.46)
Frizette (10-4-3-2-1) – Oct. 2 – Winner: Chocolate Gelato ($5.30)
Alcibiades (10-4-3-2-1) – Oct. 7 – Winner: Wonder Wheel ($10.20)
Chandelier (10-4-3-2-1) – Oct. 8 – Winner: And Tell Me Nolies ($18.80)
BC Juvenile Fillies (30-12-9-6-3) – Nov. 4 – Winner: Wonder Wheel ($15.00)
Golden Rod (10-4-3-2-1) – Nov. 26 – Winner: Hoosier Philly ($2.96)
Demoiselle (10-4-3-2-1) – Dec. 3 – Winner: Julia Shining ($3.10)
Starlet (10-4-3-2-1) – Dec. 10 – Winner: Faiza ($3.00)
Untapable (10-4-3-2-1) – Dec. 26 – Winner: Pretty Mischievous ($5.40)
Sant Ynez (10-4-3-2-1) – Jan. 8 – Winner: Ice Dancing ($3.00)
Busanda (20-8-6-4-2) – Jan. 14 – Winner: Occult ($4.80)
Silverbulletday (20-8-6-4-2) – Jan. 21 – Winner: The Alys Look ($6.60)
Martha Washington (20-8-6-4-2) – Jan. 28 – Wet Paint ($8.00)
Las Virgenes (20-8-6-4-2) – Jan. 28 – Faiza ($4.00)
Forward Gal (20-8-6-4-2) – Feb. 4 – Red Carpet Ready ($6.60)
Suncoast (20-8-6-4-2) – Feb. 11 – Dreaming of Snow ($78.00)
UAE Oaks (50-20-15-10-5) – Feb. 17 – Mimi Kakushi
Rachel Alexandra (50-20-15-10-5) – Feb. 18 – Pretty Mischievous ($18.20)
Honeybee (50-20-10-5) – Feb. 25
Santa Ysabel (50-20-15-10-5) – Feb. 25
Davona Dale (50-20-10-5) – March 4
Busher (50-20-15-10-5) – March 4
Cincinnati Trophy (20-8-6-4-2) – March 4
FG Oaks (100-40-30-20-10) – March 25
Bourbonette Oaks (50-20-15-10-5) – March 25
Sunland Park Oaks (50-20-15-10-5) – March 26
GP Oaks (100-40-30-20-10) – April 1
SA Oaks (100-40-20-10) – April 1
Fantasy (100-40-20-20-10) – April 1
Ashland (100-40-30-20-10) – April 7
Gazelle (100-40-30-20-10) – April 8
Beaumont (10-4-3-2-1) – April 9
Top 24 Kentucky Oaks Points Leaders (through 2-24-23)
63 Points: Pretty Mischievous
50 Points: Mimi Kakushi
48 Points: Wonder Wheel
25 Points: Hoosier Philly
24 Points: The Alys Look
20 Points: Red Carpet Ready
20 Points: Wet Paint
20 Points: Dreaming of Snow
20 Points: Miracle
20 Points: Occult
17 Points: Chop Chop
16 Points: Julia Shining
15 Points: Leave No Trace
13 Points: Vahva
12 Points: Pride of the Nile
11 Points: Gambling Girl
10 Points: And Tell Me Nolies
10 Points: Fun and Feisty
10 Points: Affirmative Lady
09 Points: Justique
09 Points: Uncontrollable
08 Points: Taxed
07 Points: You're My Girl
—————
Jarrod Horak's Fabulous Five Kentucky Oaks 2023 Contenders (2-24-23)
#1 – JULIA SHINING – Malathaat's sister was a solid 3rd in her Suncoast return. Needs more ground.
#2 – HOOSIER PHILLY – 2022 Golden Rod winner had bad start behind slow pace in Rachel Alexandra.
#3 – PRETTY MISCHIEVOUS – Rising filly won the Untapable and Rachel Alexandra in her last pair.
#4 – WONDER WHEEL – Juvenile filly champ missed by a neck in her seasonal bow in Suncoast.
#5 – OCCULT – Easily graduated second time out and cruised in her stakes bow in the 9f Busanda.