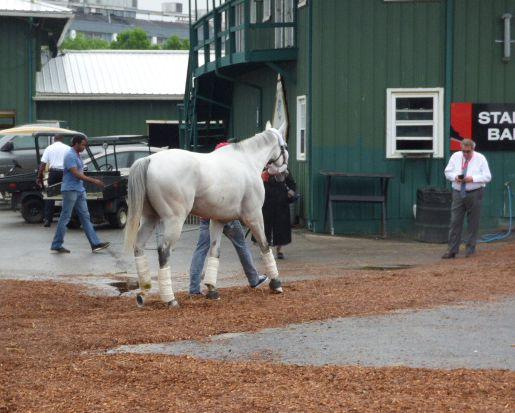 By Jarrod Horak
The 2023 Preakness field is set and Mage is the 8-5 morning line favorite. His biggest hurdle might be the lack of pace in the paper race, and in this report we will take a look at the likely race shape. There are no confirmed front runners in the field so we have to dig a bit deeper. Post positions, recent workouts, and past running lines will be studied to see which runner is most likely to carve out the fractions at Pimlico. Finally, Today's Racing Digest Pace Ratings will be used to figure out the early position of each of the eight entrants.
Preakness 2023 field with morning line odds:
1 – National Treasure (4-1)
2 – Chase the Chase (50-1)
3 – Mage (8-5)
4 – Coffeewithchris (20-1)
5 – Red Route One (10-1)
6 – Perform (15-1)
7 – Blazing Sevens (6-1)
8 – First Mission (5-2)
Three Preakness entrants have early-pressing speed beginning with National Treasure. He drew the rail and adds blinkers, and he is one of the more likely pacesetters. Coffeewithchris drew comfortably in the middle and he can either see the pace or press National Treasure. First Mission is the other runner with speed, and he figures to stalk from the outside post.
National Treasure has been aggressively handled in his recent workouts. He had a bullet move on May 6 and another on May 12. Bob Baffert likes to work his horses hard for Triple Crown races and he knows what it takes to win the Preakness. His runners have captured the second jewel of the Triple Crown seven times, and John Velazquez has had plenty of success with this barn over the years. There is plenty of evidence to suggest that National Treasure will set the pace.
Coffeewithchris is the least fancied of the three forwardly placed runners, and he also has the look of an extended sprint specialist. He stretched out to two turns in the Private Terms Stakes at Laurel Park on March 18, and he pressed below par fractions and ended up a clear second as the beaten favorite. Last time, he was hustled away from the inside post in the Federico Tesio Stakes, and he weakened to finish in midpack after dueling on the lead through lively fractions. I see no reason to send him from his middle draw, especially considering that this race does not have much early zip. He lost ground in the stretch in his last two starts and his regular rider Jaime Rodriguez is going to want to reserve some energy for later in the race. His two works since the Tesio were very controlled.
First Mission was vey comfortable stalking moderate fractions in his last two route starts and he won both of those races. Luis Saez is going to watch the early action unfold from the outside post, and he will probably position his mount a couple of lengths off the early lead. He had a fast workout under the Twin Spires on May 13 and should be very handy from a perfect draw.
Today's Racing Digest Pace Ratings (2023 Stakes Races – Most Representative Line)
National Treasure – 140 (SA Derby)
Coffeewithchris – 134 (Private Terms)
Mage – 125 (Florida Derby)
First Mission – 122 (Lexington)
Blazing Sevens – 114 (Blue Grass)
Chase the Chaos – 107 (San Felipe)
Perform – 101 (Tesio)
Red Route One – 78 (Bath House Row)
It sure seems like the plan is to put National Treasure on the lead. Based on the Digest numbers, he won't have to work very hard to get to the front. In the Santa Anita Derby, he stalked the pace and they were not exactly flying early that day. The only time he set the pace was in his career debut in a dirt sprint at Del Mar last summer, and he smartly wired the field that day. He wore blinkers in that event, and he took them off in the American Pharaoh second time out. He put them back on in the BC Juvenile, and he stalked his stablemate Cave Rock in both of those races. He took blinkers off and stalked above par fractions in the Sham, and he had to back out of the San Felipe with a sore foot. The SA Derby was his first start in three months and he looked like a short horse that day. It looks like the screws have been tightened for the Preakness.
Coffeewithchris has the look of an outsider in this race, and I believe John Velazquez will back off and let this runner set the tempo if he is aggressively handled out of the gate. There is no doubt that he is quick enough to make the lead if he duplicates his pace ratings from the Tesio, but those aggressive tactics did not work for him that day. Plus, he drew the rail in that event and was forced to go early to maintain a forward position. I chose the Private Terms as his representative pace line because the Preakness race flow should be similar to that event. They got him to relax in second in the Miracle Wood Stakes Feb. 18, and he captured that one-turn mile affair. His connections would probably be happy if he was tracking National Treasure though moderate fractions.
Mage comes up third on my projected pace line from the Florida Derby, but I do not actually believe that will happen. He did wire the field in his seven panel bow but the pace was slow that day. He has an uncomfortable start and stalked the pace in the Fountain of Youth second time out, but he was wide and came up empty. He broke slow, circled the field, got to the front in the stretch, and was run down by Forte in the Florida Derby. The pace was fast that day, and he broke slow and got another great setup in the Kentucky Derby, and he was the best closer on he first Saturday in May. He has found his groove as a late runner in these graded routes, and a more realistic early placing might be somewhere around fifth.
First Mission has been stalking below par fractions. Compare that to Mage. The Derby winner has been chasing strong fractions and that is why his pace ratings are higher on paper. In reality, First Mission will do what he has been doing in his routes. He chased from second and third in his last two victories, and he will almost certainly park himself in the third spot from the outside post.
Blazing Sevens will probably swap spots with Mage in the early going. He did make an earlier move with the addition of blinkers in the Blue Grass, and I can see him sitting in midpack as they head around the first turn and into the backstretch.
I used the San Felipe as the pace line for Chase the Chaos. That was his only conventional dirt stakes line, and he will probably stay near the back of the pack throughout.
Perform used to show early interest in the maiden ranks but those were all one-turn races. He won his last two route starts from off the pace and his newfound patient style has been the key to his success. He will probably be sixth or seventh early.
Red Route One is almost certainly going to try to go last-to-first. He just has no other way to go. He likes to sit back and make one long run and is entirely dependent on pace.
In conclusion, National Treasure and First Mission seemingly have the tactical advantage. The former is capable of wiring the field from the inside post, and First Mission can stalk while out in the clear and get first run. They are both viable alternatives to late running Derby winner Mage.