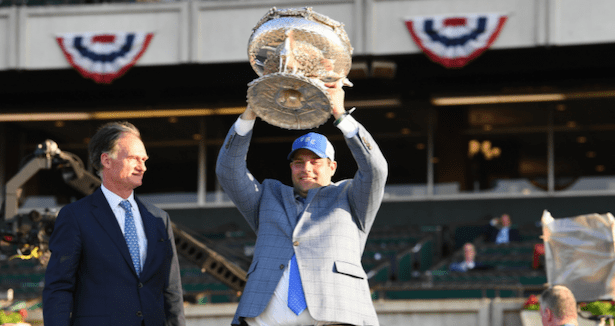 By Jarrod Horak
The horses are obviously the star of the show, but Breeders' Cup trainers are a big part of the story. In this report, I will take a look at three trainers to keep an eye on for both Breeders' Cup days at Santa Anita Park on November 3-4, 2023.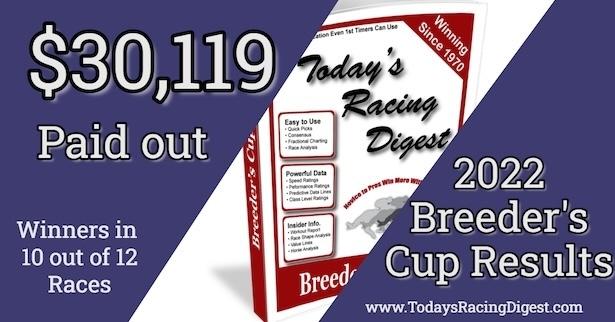 Breeders' Cup Trainers to Watch
Charles Appleby is the first name on the Breeders' Cup trainers to watch list, and he is a remarkable 9-for-18 in the Breeders' Cup. All nine won on turf. Six of his winners were bred in Ireland, and the other three were bred in Great Britain. He won the BC Juvenile Turf three times (Outstrip, Line of Duty, Modern Games). He saddled the BC Mile winner in 2021 and 2022 (Space Blues, Modern Games). In 2021 and 2022, he saddled BC Turf winners Yibir and Rebel's Romance. He captured the BC Filly & Mare Turf in 2017 with Wuheida, and the BC Juvenile Turf Sprint in 2022 with Mischief Magic. He figures to bring some live runners to Santa Anita for the 2023 Breeders' Cup including Master of the Seas (BC Mile).
Brad Cox is a 9-for-31 Breeders' Cup trainer, and Monomoy Girl was his first winner. She captured the BC Distaff in 2018. He won the BC Juvenile Fillies in 2019 (British Idiom), and took the BC Filly & Mare Sprint that same year with Covfefe. He had tremendous success in 2020 with Aunt Pearl (Juvenile Fillies Turf), Essential Quality (Juvenile), Knicks Go (Dirt Mile), and Monomoy Girl (Distaff). Cox won the 2021 BC Classic with Knicks Go, and got home longshot Caravel in the 2022 BC Turf Sprint. He has multiple live Breeders' Cup contenders this year including Timberlake (BC Juvenile), Caravel (BC Turf Sprint), Idiomatic and Wet Paint (BC Distaff), Zozos (BC Dirt Mile), and Saudi Crown (BC Dirt Mile or Classic),
Richard Mandella is the final name in the 2023 Breeders' Cup trainers to watch list. He is 9-for-48 with his Breeders' Cup starters. That is a solid overall record, but it is even more impressive when you realize that all nine of his wins occurred at Santa Anita Park, the site of the 2023 Breeders' Cup. He won two races in 1993 (Phone Chatter, Kotashaan), and blew up with four winners in 2003 (Halfbridled, Action This Day, Johar, Pleasantly Perfect). Beholder won the BC Juvenile Fillies in 2012 and the BC Distaff in 2013, and she won the Distaff again in 2016. He has a good chance to add to that total in 2023 with Tamara (BC Juvenile Fillies), Lane Way (BC Turf Sprint), and Geaux Rocket Ride (BC Classic).
Check out these other Breeders' Cup 2023 articles:
Breeders' Cup Mile 2023 Angles
Breeders' Cup Distaff 2023 Angles
Breeders' Cup Turf 2023 Angles
Breeders' Cup Classic 2023 Angles
Breeders' Cup Turf Sprint 2023 Angles