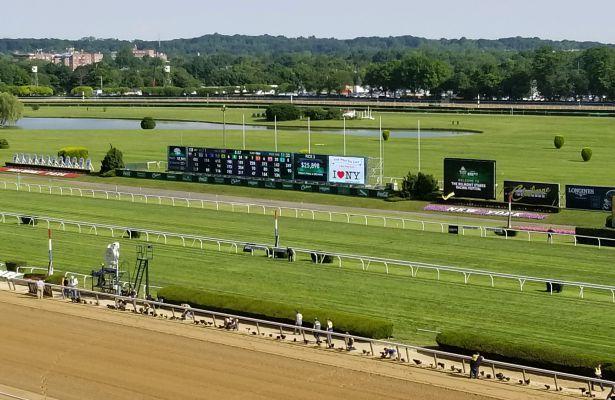 By Jarrod Horak
The 2023 Belmont Stakes is shaping up as a very good betting race. Kentucky Derby winner Mage will not be running at Belmont Park after a show finish in the Preakness crushed his Triple Crown dreams, but National Treasure, the wire-to-wire winner of that race, is eyeing the final jewel of the Triple Crown.
It has been a week since National Treasure stole the Preakness for John Velazquez and Bob Baffert. He arrived at Belmont Park on May 24 and is stabled in the barn of trainer John Terranova. That is a typical move for Baffert's New York shippers. American Pharoah and Justify did the same thing prior to winning the Belmont Stakes and completing their Triple Crown sweeps in 2015 and 2018. The current Preakness hero visited the track on Thursday and Friday, and Baffert needs to see a solid workout before he fully commits to the Belmont Stakes.
Arabian Lion and Reincarnate are also under consideration for the Belmont Stakes for Baffert. The former is currently under Baffert's watchful eye in California and his Belmont Stakes status is still undecided. The latter chased the fast Derby pace and melted, and has not worked since that race.
Todd Pletcher's two-year-old champion Forte was the Kentucky Derby morning line favorite but was forced to scratch out of that race with a bruised foot. He was placed on the 14-day veterinary list after that, which meant no Preakness for him. He had his first breeze in more than three weeks on April 21, and had to work in front of the veterinarian at Belmont Park on May 27. He had a strong five panel move on Saturday and galloped out effortlessly. His final hurdle is a post-work blood test, and if that comes back clean he will be removed from the vet's list and will be cleared to run at Belmont Park on June 10.
Forte's highly regarded stablemate Tapit Trice had his second workout since running seventh in the Kentucky Derby, and it was a very strong five furlong move in 1:00 and change. He dusted his workmate Classic Catch and galloped out with oodles of energy. The Grade 2 Tampa Bay Derby and Grade 1 Blue Grass hero appears to be thriving in New York.
Prove Worthy, a lightly raced son of Curlin, easily broke his maiden at 1 1/4 miles on dirt under the Twin Spires in his third lifetime start on May 2. He had an easy half-mile breeze at Belmont Park on May 23 and remains possible for the Belmont Stakes for Todd Pletcher.
Kingsbarns was Pletcher's other potential Belmont starter, but the Louisiana Derby winner had a bout of colic on Friday morning and is out of the race.
Angel of Empire, third in the Kentucky Derby, is still at Churchill Downs, and he breezed five panels in 59.80 at that venue on May 27. He went in company with stakes winner Warrant. He won the Risen Star and Arkansas Derby at 1 1/8 miles earlier this year for Brad Cox.
Hit Show exits a deceptively good fifth in the Derby. He was relatively close to the very fast pace on the first Saturday in May and made a bit of a premature move before flattening out late. He had a nice five panel move on May 27 at Churchill Downs. He worked in company with Salute the Stars and stopped the clock in 1:00.20.
Arcangelo is a lightly raced son of Arrogate and he is rapidly developing. He went last-to-first in a fast flat mile maiden race at Gulfstream Park on March 18, and ran down a game Bishops Bay to take the Peter Pan Stakes by a head last time. His lack of seasoning is problematic but he is definitely on the upswing.
Raise Cain seemingly came out of nowhere when he romped in the Gotham Stakes in March. He was fifth in the Blue Grass and eighth in the Kentucky Derby in his last pair. His last published workout was an easy half-mile breeze in 50.80 at Keeneland on May 22.
Red Route One, most recently fourth in the Preakness, arrived at Belmont Park on May 21. Steve Asmuseen's late running son of Gun Runner, has been galloping regularly and figures to have a final breeze in the near future.
Il Miracolo has been confirmed as a Belmont Stakes starter after a bullet workout at Gulfstream Park on May 26. Antonio Sano's Gun Runner colt won an optional claiming affair in Florida on May 11 but is really going to have to pick up his game. He finished up the track in each of his five stakes starts.
Belmont Stakes hopefuls as of 5-27-23
Probable: Angel of Empire, Forte, Hit Show, Il Miracolo, National Treasure, Raise Cain, Red Route One, Tapit Trice
Possible: Arabian Lion, Arcangelo, Prove Worthy, Reincarnate