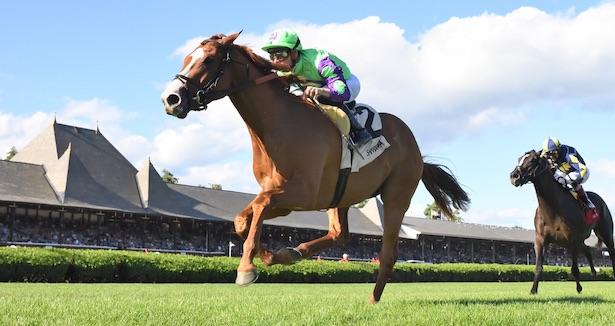 By Jarrod Horak
We made it to the final week of the Saratoga meet. It has been tumultuous summer at the Spa, and let's hope that we can end the season on a high note with safe trips for all horses and riders. There are a trio of stakes races during the week including a pair of Grade 3's. 
Click here for Saratoga Racing Picks, Tips, and Insider Analysis
P. G. Johnson Stakes – August 30 – Race 9 – One mile dirt
This race was originally scheduled for 1 1/16 miles on the inner turf, but it rained again and it will now be run at one mile on the main track. The dirt oval is sloppy as of this writing. This started out as an 11-horse field but is down to five after six scratches (Gala Brand, Madame Mischief, Cynane, Brocknardini, She Feels Pretty, Hard to Justify).
Miz Sense was the lone main track only entrant and she is the probably one to beat. Todd Pletcher's $500k Street Sense filly won her local debut at one mile on fast dirt on July 30. That race was also originally scheduled for turf and she sat back and blasted home to win by 4 1/4 lengths. Jose Ortiz rides back.
Dancing Spirit chased the pace and held the place in her all-weather sprint bow at Presque Isle. She was 8-1 in a local turf route second time out, and she stalked from the outside post and got the job done by a half-length. Irad Ortiz Jr. is her new rider and her early-pressing speed should serve her well in this spot.
Takemetothebeach got to the front and defeated Dancing Spirit by a length and a half at Presque Isle on July 17. She might be the target.
Magic Cross romped in her dirt sprit bow at Belmont and was a well-beaten fourth in the local Adirondack (G3) second time out. The daughter of Good Magic is bred to handle the added ground of this race. Bill Mott is probably not upset that this race was moved to dirt.
Villi Olento is a still maiden after three unplaced efforts at Woodbine. She moves to the Chris Englehart barn and Mr Speaker is an okay wet track sire. She is probably overmatched.
This race probably comes down to Miz Sense and Dancing Spirit, and the latter might be in front turning for home. Let's see how the track is playing. The weather is improving and there is a good chance that the track will be drying out throughout the day. A deeper, tiring surface would favor Miz Sense.
Grade 3 With Anticipation – August 31 – Race 7 – 1 1/16 miles inner turf
The weather forecast is promising for Thursday and they should be back on turf. We have four horses between 3-1 and 4-1 on the line, and this is shaping up as a competitive betting affair.
Gala Brand was also entered in Wednesday's P. G. Johnson Stakes, and Bill Mott is looking like a genius now after that race was moved to dirt. This $30k Violence filly showed a big late kick in her winning turf sprint bow on Aug. 3. She got plenty of pace help in that event but you have to give her major props for making up more than 14 lengths in the final furlong and a half. Jose Ortiz is her new rider and she will try to get involved from off the pace. She is the lone filly entered in this heat.
Spirit Prince is the 3-1 morning line favorite for recently hot trainer Christophe Clement. He stalked outside and missed by a half-length in his local turf route debut on July 22. The course was listed as good that day and he ran a quality race under Manny Franco. He adds blinkers and Flavien Prat takes the call, and he shows three local workouts since his bow.
Carson's Run rallied wide to graduate by a neck in his turf route bow at Saratoga on July 29. The $170k Cupid colt is the second entrant for Christophe Clement, and his winning rider Dylan Davis stays put.
Nomos looked good as the favorite in a flat mile turf race at Monmouth Park on Aug. 6. He stalked the pace from post 2, angled out, and pulled clear to win by 4 lengths. Irad Ortiz Jr. is his new rider and he drilled a local turf bullet for this engagement on Aug. 24.
Wine Collector, Market Street, Get Spooled, and British Sea are all capable of impacting the pace, and their presence in this race should help the more highly regarded runners listed above.
Gala Brand is the most interesting entrant in this race and I would consider backing her if her morning line price holds up. Spirit Prince, Carson's Run, and Nomos demand respect in this race as well.
Grade 3 Saranac Stakes – September 1 – Race 4 – 1 1/16 miles inner turf
I just checked the Saratoga Springs weather forecast for Friday and it is supposed to be sunny and 75. The nice weather is supposed to last through the end of the meet.
Carl Spackler (IRE) is the clearly one to beat on paper. He missed by a head in his turf route bow at Gulfstream and the top two finished well clear of the rest. Far Bridge nipped him that day and that runner captured the Belmont Derby (G1) on July 8. Chad Brown's promising colt graduated by 8 3/4 lengths second time out and that effort earned him favoritism in the American Turf (G2) at Churchill. He stalked wide and faded that day, and the winner and show finisher were both next-out stakes winners. Carl Spackler got sick after the American Derby and resurfaced in the Grade 2 Hall of Fame Stakes at Saratoga on Aug. 11. That race was moved back a week because of bad weather, and the son of Lope De Vega (IRE) did not disappoint., He sat back while always moving like a winner, and he kicked it in high gear and the stretch and scored by 2 1/4 lengths under Tyler Gaffalione. The only question regarding this race is timing. Since the Hall of Fame was pushed back a week, he only has three weeks between starts instead of four.
Chad Brown also entered Activist Investing. He had an uncomfortable start and trip when splitting a 10-horse field in his turf route bow at Saratoga last summer. He was the third head on the line as the beaten favorite second time out, and he added blinkers and broke though with his first win at Aqueduct last fall. He went to the sidelines after that and returned with a smart local turf win at 1 1/8 miles on Aug. 13. He reunites with his winning maiden pilot Flavien Prat.
Taking Candy exits a gritty nose victory as a 12-1 longshot on July 22, and he came right back with a local training track bullet on Aug. 26. My big problem with his is his speed rating pattern. He never got seriously involved in his local turf route bow last summer. He returned with a nice maiden victory at 8-1 odds under the Twin Spires second time out, and regressed in his first start vs. winners at Ellis Park on June 24. He bounced back last time and might be in for a regression if his up and down pattern continues.
Kent show finisher Freedom Trail, overseas shipper Yacowlef, Audubon runner-up Mendelssohns March, and surface switcher Lost Ark round out the seven turf entrants. Gilmore is entered for main track only purposes.
I am a fan of Carl Spackler and he probably wins this if he can turn around quickly and run two alike. If he fails to duplicate his last, and Taking Candy bounces, that leaves Activist Investing as the possible winner. All that being said, I still think Carl Spackler wins this.