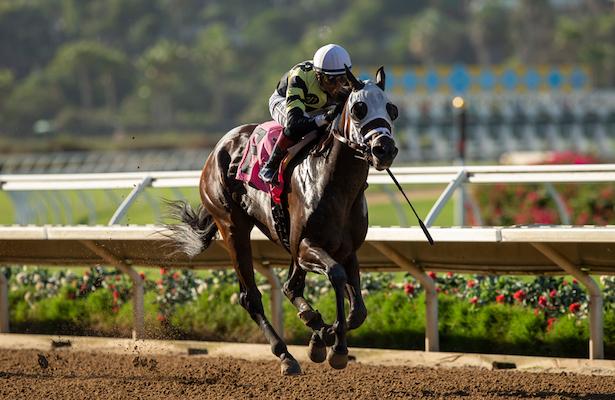 By Jarrod Horak
Del Mar is definitely a horse for course track. It is truly a unique experience with ocean breezes, tidal shifts, and ever-changing salty moisture content. Some horses thrive at the seaside oval and closers seem to love the turf course, but some horses fail to rise to the occasion. Take these two well-known examples from the latter category.
Click here for Del Mar Racing Picks, Tips, and Insider Analysis
The mighty Cigar brought a 16-race win streak to Del Mar in 1996, and lost the Pacific Classic to Dare and Go in a shocking result.
Arrogate won a 3-horse optional claiming route at Del Mar in 2016 but that was the end of his success at the seaside oval. In 2017, he lost as the favorite in the San Diego (G2), Pacific Classic (G1), and BC Classic (G1). He just was not the same horse at Del Mar.
Some big names loved Del Mar. Skimming was a perfect 4-for-4 at Del Mar. He won the San Diego Handicap and Pacific Classic in 2000 and 2001. Zenyatta competed at Del Mar three times, capturing the Grade 1 Clement L. Hirsch in 2008, 2009, and 2010. That was the Polytrack era. California Chrome won the Graduation Stakes in 2013, the Grade 1 Hollywood Derby in 2014, and the San Diego (G2) and Pacific Classic (G1) in 2016.
Without further ado, check out my 5 horses to watch at the 2023 Del Mar summer meet below.
Chismosa – A perfect 3-for-3 record at Del Mar last summer stamps her as a bonafide horse for course. Two of her wins were CA-bred stakes victories (CTBA, Generous Portion). She was third in the Melair and second in the Great Lady M (G2) in her last two stakes starts. She worked five panels in 1:00.80 at Los Alamitos on July 19. They have all sorts of options for her this summer. She is eligible for the Fleet Treat Stakes for state bred sophomore fillies dashing seven panels on July 27. The Rancho Bernardo (G3) for fillies and mares at 6 1/2 furlongs on Aug. 27 might be in play. If they want to go long, the Torrey Pines (G3) on Sept. 2 is an option.
Dr. Schivel – His Del Mar record is stellar. As a 2-year-old in 2020, he broke his maiden in August and won the Grade 1 Del Mar Futurity in September. In 2021, he captured the Grade 1 Bing Crosby and lost a heartbreaker by a nose as my top choice in the BC Sprint. He is training steadily at Santa Anita and is probably targeting the Bing Crosby on July 29.
Elm Drive – She captured the Sorrento (G2) at Del Mar as a juvenile in 2021, and I really like her form this year. She won the Monrovia (G3) in April and scored again in the Mizdirection in May. Last time in the Great Lady M (G2) on the Fourth of July at Los Al, she dueled with Eda and was the third neck on the line in a clear show finish. She had a workout at Santa Anita on July 16 and she is a stakes winner on dirt and turf. A possible turf option for her is the Daisycutter Handicap on July 28. Another potential target is the Rancho Bernardo (G3) at 6 1/2 furlongs on dirt on Aug. 27.
Irideo (ARG) – This South American transplant had success at Del Mar last summer. He won the Wickerr Stakes in July and rallied for the place in the Del Mar Mile (G2) in September. In his last two starts at Santa Anita, he completed the exacta in the American Stakes (G3) and Shoemaker Mile (G1). His most recent published workout was on July 16 and he is nominated to the Wickerr Stakes on July 23.
Warrens Candy Girl – This CA-bred daughter of Clubhouse Ride is trained by Craig Lewis and she clearly likes the Del Mar turf course. She broke her maiden at the seaside oval in a state bred turf route in 2021, and won another flat mile turf affair later that year in the fall. Last summer, she rallied to win an optional claiming turf route in August, and clicked right back a week later in the Solana Beach Stakes. She had some success at Santa Anita earlier this year. She was a good second on March 5 and picked up her first win away from Del Mar at the Great Race Place on April 22. She is nominated to the $100,000 Osunitas Stakes at Del Mar on July 22.
Are you interested in more Del Mar content? Check out the links below:
Del Mar 2023 summer meet trainers to watch