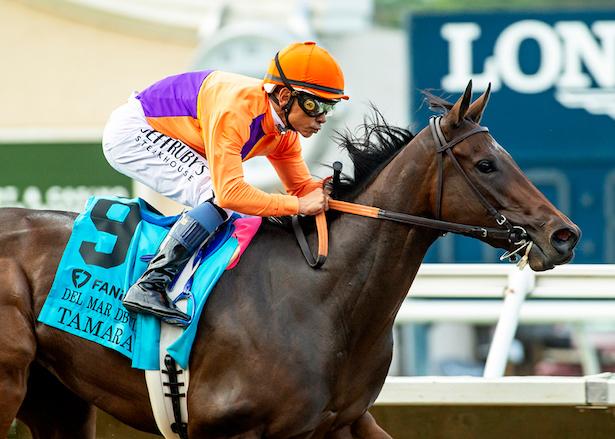 By Jarrod Horak
The closing week stakes races at Del Mar featured some excellent performances, but none were better than Tamara in the Grade 1 Del Mar Debutante on Saturday, Sept. 9. She won for fun and stamped herself as the early favorite for the BC Juvenile Fillies. That does it for my Del Mar coverage. I will be posting many more handicapping articles and videos in the coming days and weeks. Stay tuned, and keep on cashing!
I'm Smokin – Sept. 8 – 6 furlongs dirt
Lord Prancealot set a pressured pace (22.39, 46.19). I pegged Last Call London to turn the tables on that one, and my top choice did all of the pace dirty work. Lord Prancealot faded in the stretch and this one came down to Last Call London, outside stalker Dr. No No, and closer Mici's Express. Last Call London had a short advantage in the stretch and Dr. No No came after him and poked his head in front. Mici's Express came after the latter and surged at the end but came up a nose short. Dr. No No completed his six panel journey in 1:11.67 and paid $7.40. Mici's Express just missed in a fine effort, and Last Call London was another half-length back in third and was 3 1/2 lengths in front of Smokem Ez. Lord Prancealot was next and Shady Appeal trailed. Ramon Vazquez rode the winner for Brian Koriner.
Del Mar Juvenile Fillies Turf – Sept. 9 – One mile turf

I was not completely sold on the July 29 turf route the two favorites of this race were exiting, and I wanted a bit more value. The Digest numbers pointed me in a different direction and I landed on Flattery. She clearly owned the best Digest Last Fraction (23.1), and she was a likely winner of this race if she could duplicate her Aug. 19 closing kick. Best of all, she was not the chalk. That distinction went to Loterie (IRE) and Angiolleta (IRE), and they were the aforementioned July 29 fillies. The pace was lively in here with a 21.98 opening quarter and a half in 46.33. As mentioned earlier, Flattery was the best closer, and she drove that point home with a good looking wide late move under Juan Hernandez. She struck the front in the lane and scored by a length. Loterie rallied for the place and Angiolleta was best of the rest in third. Tambo chased the pace and weakened to fourth, and was followed by Cailin Dana, Auratium, Double Bay (IRE), and fading front runner Bossy Bruin Gal. The final time was 1:36.86 and Peter Eurton's filly paid $8.60. I forgot to mention the jockey-trainer team stats. Prior to this race, the Digest had Hernandez and Eurton at 13-for-20 together. Impressive numbers to say the least.
Grade 2 John C. Mabee – Sept. 9 – 1 1/8 miles turf
It was tough to garner much value in this 6-horse turf route. I picked Turnerloose in the Yellow Ribbon (G2) on Aug. 12, and she was rank and uncomfortable in her first start after a layoff that day. I gave her another chance in this race in the hopes that she would be forwardly placed and more relaxed through tepid splits. She did go much better. Antonio Fresu put my top choice in the race early through reasonable splits of 24.12, 48.22, and 1:12.61. Free and Humble actually had the edge by a length through the opening quarter, but Turnerloose was in front after that. Free and Humble was resurgent and tried to turn up the heat on Turnerloose. Oakhurst was working out a nice inside stalking trip under Juan Hernandez, and race favorite Closing Remarks was under restraint near the back. Umberto Rispoli was aboard the latter, and she started to gather momentum around the final turn and into the stretch. She quickly reeled in Turnerloose and went right on by to score by 1 3/4 lengths, and she paid $4.80 to win. Turnerloose fended off late runner Paris Peacock to secure the place, and Oakhurst failed to quicken and ended up an even fourth. Neige Blanche (FR) never got seriously involved at a distance too short for her, and Free and Humble faded to last. The final time was 1:48.23 and Closing Remarks is enjoying a fine season. In addition to this graded win, she also took down the Royal Heroine Stakes (G2) on April 1, and the Grade 2 Yellow Ribbon at Del Mar on Aug. 12.
Grade 1 Del Mar Debutante – Sept. 9 – 7 furlongs dirt
I covered the Del Mar Debutante for the Digest in an article and video, and this result turned out much like the Pacific Classic in regards to wagering success. Dreamfyre figured to be a strong pace presence but she scratched. Where's My Ring flipped behind the gate and scratched as well. That left a dozen fillies to contest this extended sprint, and Pushiness was quickest early through a quarter in 21.85. Tamara, the solid betting choice at 1.30-1, was content to chase the pace in second under Mike Smith. The half was run in 44.45 and there was no change up front, but Tamara could wait no longer and she suddenly took control of the race with a strong burst of speed. She was quickly well clear as Pushiness began to fade, and one late runner caught the eye. That was Laurent and she rallied wide from post 11 and took up the chase turning for home. Tamara ($4.60) was far in front at this point and showed no signs of slowing down. She cruised across the line by 6 3/4 lengths in a visually pleasing effort. Laurent was clearly second best and Gate to Paradise found her best stride in the lane and was a clear third in a solid effort. Chatalas sat a decent stalking trip but had no answer in the stretch and ended up fourth. Next Right Thing was last for a half mile or so and went from 12th to 5th at 103-1. Motet was next at 143-1 and was followed by a fading Pushiness, inside stalker Julias Dream, Benedetta, Pretty Layla, Hope Road, and Cheeky Gal. The final time was 1:22.41 and Richard Mandella saddled the winner. Tamara, a Bolt d'Oro filly, has a famous mom, champion Beholder, and she looks to follow in her footsteps. This race puts her at the top of the conversation for the BC Juvenile Fillies at Santa Anita. She was sharp in her debut as well and is bred to handle two turns. I mentioned in my Digest article that Laurent might be the best closer and that was the case. I keyed her in third in the trifecta, along with Gate to Paradise. The latter was a maiden second timer for John Shirreffs, and I said to watch out for her underneath. Maiden second timer Skinner completed the trifecta in the Del Mar Futurity last summer for Shirreffs, and this $950k Arrogate filly did the same thing in this spot. She is one to keep an eye on. Chatalas was an okay fourth and has some ability. 
Grade 3 Del Mar Juvenile Turf – Sept. 10 – One mile turf
The Digest Last Fraction angle on turf strikes again, and I had this one as well. Endlessly was clearly the best finisher (22.7), and just like Flattery in the filly version of this event on Saturday, he was not the favorite. Boltage was the chalk and I can see why bettors liked him. He looked good in his flat mile turf maiden win on Aug. 24, but his Last fraction was just 24.6. Plus, Endlessly ($7.60) had the best Digest Final Time Rating, and he rolled on by Boltage in the stretch to win by 2 1/4 lengths under Juan Hernandez. Lord Bullington found his best stride in the lane and rallied for the place under Flavien Prat at 9-1 odds. Boltage stalked the pace but could not go with the top two late and settled for the show. Andreadytorumble rallied from last to complete the superfecta, and Bear River, Glandford (GB), and Sea Singer (IRE) were next. Des Doigts set the early pace, weakened, and eased and walked off. The fractions were 22.71, 46.61, 1:11.44, and 1:23.33, and the winner stopped the clock in 1:35.28. Michael McCarthy was the winning trainer.
Grade 1 Del Mar Futurity – Sept. 10- 7 furlongs dirt
I covered the Del Mar Futurity for the Digest in an article and video, and everyone had the 1-9 winner on top. Mirahmadi set the pace and that was not a surprise, but I was expecting someone to challenge him. He was out there by himself under Juan Hernandez though fractions of 22.18, 45.17, and 1:09.33. Prince of Monaco, the overwhelming favorite at a nickel on the dollar, chased from second, cruised up to his stablemate in early stretch, and took the lead under Flavien Prat. It looked like he might edge well clear, but Mirahmadi dug in and fought all the way to the end, but Prince of Monaco had this one in the bag and scored by 3/4ths of a length. Mirahmadi was clearly second best and Next Level found his best stride in the lane and checked in third. Raging Torent, Mary's Boy Bolt, and Rothschild also ran. Valiant Knight scratched. The final time for seven panels was 1:22.65 and Bob Baffert saddled the top two finishers. Prince of Monaco is a perfect 3-for-3 and continues to be a nice prospect. It looked like Prat did not want him to do much after the race, and that is understandable after his fast win four weeks earlier. Mirahmadi, a $1 million son of Into Mischief, should not be a maiden much longer. He had some fight in him today and galloped out in front after the wire. I can see Next Level continuing an upward trajectory for Team Desormeaux. After they galloped out into the turn, he was in front, and this was probably Keith D wanting him to get as much out of the race as he could. He does great work with these bargain purchases.