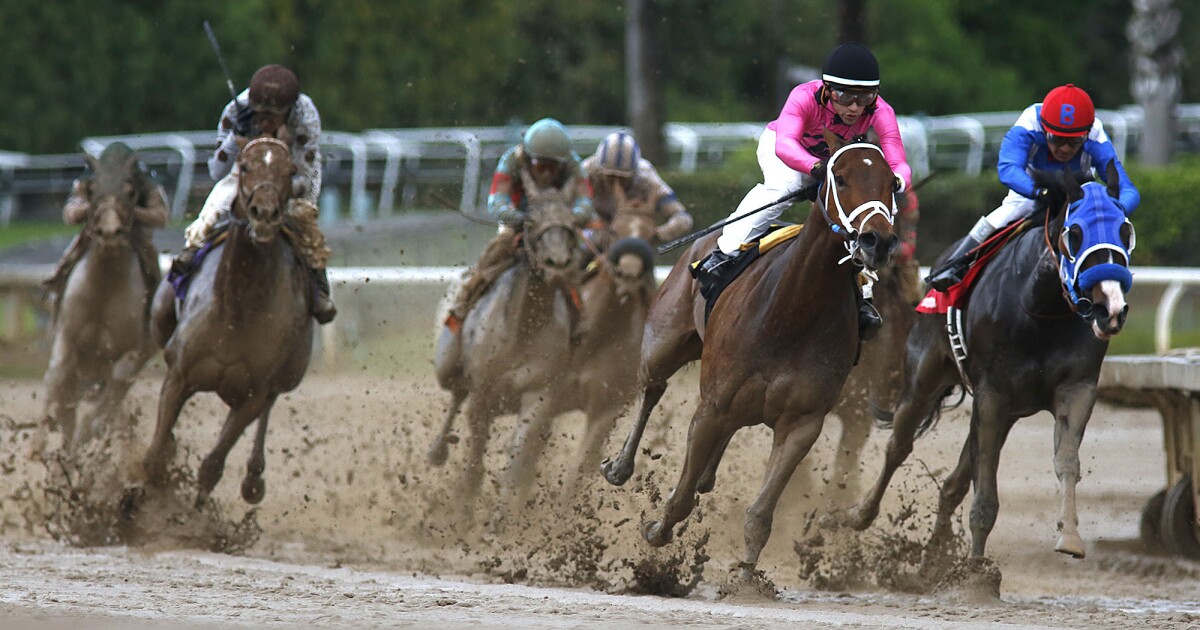 Del Mar's second week of racing was just as good as their first week with plenty of full fields and a number of good priced horses crossing the finish line first. With Saratoga having plenty of five horse fields in their stakes races, Del Mar is having anywhere from 9 to 14 horse fields for their added money events. And that's just not the norm for California racing. And as good as Saratoga is, and it's very good, the seaside track just north of San Diego has finally caught up with them. Plus Del Mar never has to worry about those "muddy,sloppy" racing surfaces.
Through the first two weeks of racing at Del Mar, there is a definite bias on the main track. Through 7 race days, the outside lanes are definitely the place to be, and even if you are drawn inside, which of course is a negative, if you can get to the outside sometime during the race, it greatly increases your chances of success. Rally wide closers from off the pace are winning most of the dirt sprint races. You know the track maintenance crews are aware of this, so they will be taking steps to level the playing field, if they possibly can.
The turf route races are mostly being won from off the pace, but that doesn't mean from way off the pace. Horses coming from the mid pack, say 6 to 8 lengths back, are having the most success. The 5/8 turf sprints favor early speed and stalkers. Unless the fractions are really quick, there just isn't enough time to get up from too far back, and wide trips at five furlongs are the kiss of death on the turf. You've got to save ground and find a seam at the top of the stretch.
Umberto Rispoli and Hector Berrios are the best at doing this so far and J.J. Hernandez isn't far behind. Berrios and Hernandez both won three on Sunday and Hector also won three on Saturday. In fact, Berrios won both of the feature races both days as well, the Grade 1 Bing Crosby on Saturday and the Grade 2 Eddie Read on Sunday. Del Mar certainly knows how to increase handle. On just the 2nd weekend of the meet, they made the pick 6 a mandatory payout. As we have said many times, this is the time to play this wager. The c/o was around $364,000 but the patrons added over $3 million to the pool. The sequence was very difficult with plenty of full fields and many wide open unclassified races. The winning payoff was $15,915 for the 20 cent wager with only one favorite in the sequence and that was Mega Moon in the finale at $8.60. There were two $20 horses and two other double digit win mutuels. Racing returns this week on Thursday with an 8 race card as well as Friday, with a very good 8 race card. Friday's 1st post will once again be 4 PM.
To get the most recent updates on how the track is playing and where the race advantages might be Today's Racing Digest's Del Mar Complete Digest gives you everything you need to know.  Each daily edition includes our exclusive Track Bias Report , Post Positions of Winners By Size of Field Report, Track Profile Report, and the Digest's exclusive Race Sheets with expert daily race analysis and horse comments.