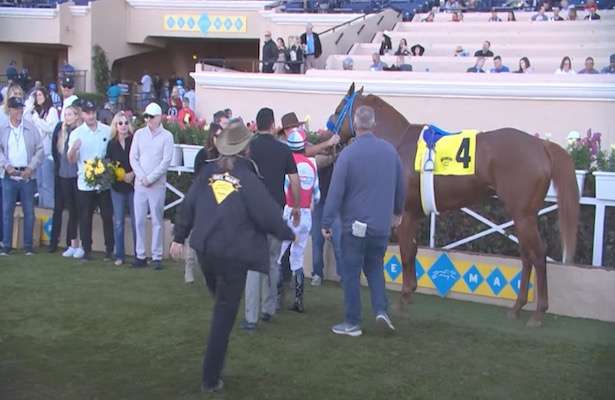 Del Mar – November 29, 2022
By Turfdom
DOINITTHEHARDWAY (November 25) Two year old Street Sense filly for Bob Baffert made her first try going two turns in Friday's second, a mile main track affair for maiden special weights. Off at the 2nd choice in the wagering at 5/2 in a six horse field, she was hustled away from the gate by J.J. and dueled with the favorite into the clubhouse turn. She settled in 2nd down the back side just one length back of the leader who was the odds on favorite. She took a run at her at the ¼ pole, stuck her nose in front at the top of the lane, and battled gamely down the stretch to finish 2nd beaten one at the wire. This was a strong race and they won't beat this filly next time to the post.
MR FISK (November 25) Two year old colt for Bob Baffert made start #2 and 1st around two turns on Friday in a maiden special weight at one mile on the main. Off at 18/1 off a poor debut in this field of 9, he broke OK under J.J. and was fifth down the back side but just 3 lengths off the leaders. He was still 4th at the top of the lane and was four back, but he put in a good stretch run out in the middle of the track to get up for second beaten one at the wire. The winner was his barn mate who went wire to wire at even money. Sons of Arrogate usually get better with experience and his third start should be his best. He improved a ton with the stretch out. Tab and follow.
TONY ANN (November 26) Four year old filly for Phil D'Amato, who had been away from the races since March, was in on Saturday for the 3rd allowance condition at 5/8 on the turf, 3 and up. Off at 7/2 in just a five horse field, she broke OK under Berrios and laid 3rd down the back side just 3 lengths off the pace. She was on the fence and loaded at the top of the lane just waiting for a seam. The leader drifted out at the 1/8 pole and "Tony" exploded on the fence and won easily going away by a length and a half. This filly was making just her 7th career start but she has 4 wins and two thirds in those races. She is best at going long and D'Amato must now run her in stakes, which she can probably handle at this point in her career. She is turf only and can come right back up at Anita, maybe even down the hill.
SPUN INTENDED (November 26) Two year old colt for Mark Glatt was in on Saturday for career start #2 in a maiden special weight affair at six and a half on the main. Bet down to 4/5 off his good second in his debut, this rocket ship for Glatt made that look extra good as he sailed on home to win by 7 beating 3 Baffert runners in the process. The time was quick with early fractions of 21.95 and 44.20 for the half of which he participated in. This one is ready for stakes action and may just be a future star in our game.
SAVILE ROW (November 26) Four year old colt for Tim Yakteen was entered in the first allowance condition on Saturday at ¾ on the main. Off at 11/1 in a field of 8, he broke awkwardly away from the gate and quickly spotted the field four lengths. He was sixth down the back side racing about 4 to 5 lengths wide, made a run at the top of the lane, then finished with good courage to nab third, beaten two at the wire. There was a strong speed bias in place on Saturday and he was the only one closing in the lane. He was beaten by two that dueled out on the pace. He's good enough to knock out this condition on a fair race track. Follow.