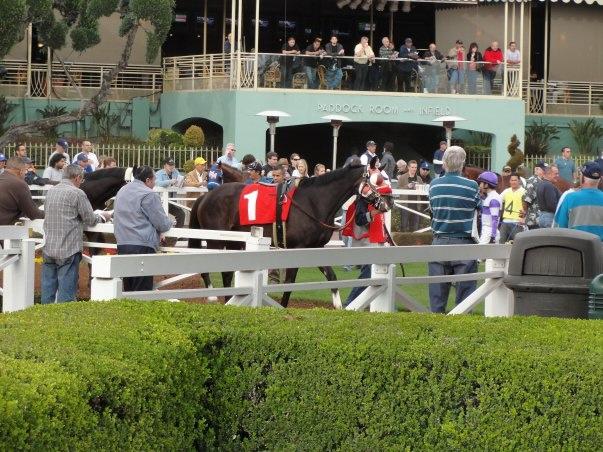 By Jarrod Horak
The Breeders' Cup Saturday card is complete and this is my second article recapping the Nov. 4 races. I covered BC Friday results yesterday, and in my first BC Saturday recap article, I reviewed the BC Dirt Mile, Filly & Mare Turf, Filly & Mare Sprint, Mile, and Distaff. This time, I will go through the remaining four Breeders' Cup Saturday results.
Breeders' Cup Saturday Results
BC Turf
An overseas runner was a slam dunk to win this race. There were multiple overseas shippers to choose from and the bettors landed on Auguste Rodin (IRE) for Ryan Moore and Aidan O'Brien. He was patiently handled, advanced steadily near the inside, and got clear and finished with energy in a 3/4 length victory over Up to the Mark. The latter stalked wide under Irad Ortiz Jr. and held off Japanese invader Shahryar for the runner-up spot. Gold Phoenix (IRE) rallied for 4th as one of the longest shots on the board. The final time was 2:24.30.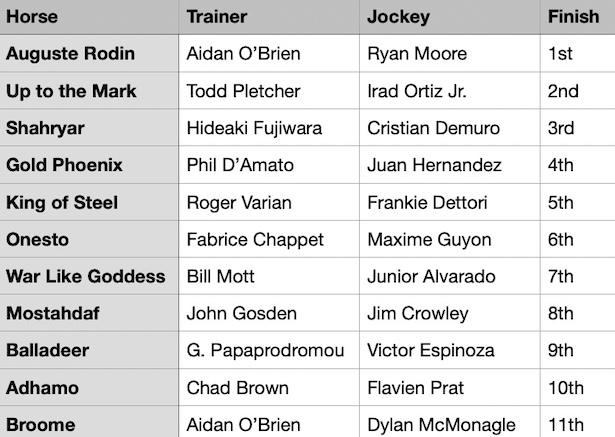 BC Classic
Arabian Knight was my top choice and his rider Flavien Prat was intent on the lead from post 11. He went too fast in the opening quarter (22.46) and remained a length and a half to the good through a half-mile in 45.73. Saudi Crown was pressing outside and betting favorite White Abarrio was in a great tracking spot inside. Arabian Knight's lead shrunk to a half-length after six panels in 1:10.28. White Abarrio started to make his move and you could tell early on that he would be a big factor in this race. He shifted out, cruised right up to Arabian Knight, and went right on by in the stretch and easily held off stalker Derma Sotogake (JPN) to win by a length. The latter was making his first start since the Kentucky Derby and ran a great race at 26-1. Proxy closed down the middle of the track to edge Arabian Knight for the show by a neck. Ushba Tesoro (JPN) made a threatening bid but flattened out and finished 5th. The final time was 2:02.87 and Irad Ortiz Jr. rode the winner for Rick Dutrow. 
BC Turf Sprint
Live In the Dream (IRE) is blazing fast early and he was clear through a quarter in 21.15. You just knew he would not be able to keep up the tempo and this race was ripe for a closer. That was my idea after looking at the race shape and I landed on Motorious (GB). Others had the same idea and he was bet down to favoritism under Flavien Prat, but he has an uncomfortable trip and ended up 5th. Nobals got the right journey under Gerardo Corrales. He saved ground and stayed within hailing distance, and he rallied inside and edged an unlucky Big Invasion by a neck. The latter saved all the ground from the inside post but got stuck in traffic and just missed. Aesop's Fables was along for the show and Live In the Dream weakened to 4th. The final time was 55.15 and Larry Rivelli saddled the winner. 
BC Sprint
Speed Boat Beach was the quickest out of the gate and it briefly looked like he would control this race, but Nakatomi was a a surprising pace presence from the inside post, and Gunite pressed from the outside post. The opening quarter was 21.99 and the half was 44.35. Speed Boat Beach kept trying on the front end but last year's BC Sprint winner Elite Power sat back early and ended up working out a perfect outside stalking trip. He was ready to pounce under Irad Ortiz Jr, and he did just that in the lane. He wore down the leaders outside and scored by a length and a half. Gunite held 2nd over a resurgent Nakatami. The latter battled on the pace from the rail early, dropped back to 4th, and got past Speed Boat Beach for show honors. The was the final Breeders' Cup 2023 race and Elite Power stopped the clock in 1:08.34. Bill Mott picked up his third BC win this year, and the same goes for jockey Irad Ortiz Jr. and Elite Power's sire Curlin.